On a spring golf trip to Florida this year, a friend took me to the town of Celebration to get something to eat. It is, without a doubt, one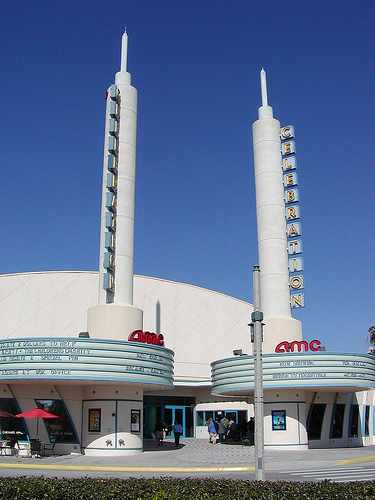 of the creepiest places I've ever been. I think he did it  just to freak me out.
Created by the Walt Disney Company to be the ideal location for its employees, the "master-planned community" has structures designed by, according to Wikipedia, such noted architects as Micheal Graves, Philip Johnson and Cesar Pelli. The golf course, a Robert Trent Jones design, is very, very green, too green.
The store fronts of Celebration look as if they popped out of a 1950s Wonderful World of Disney episode, especially the cinema, pictured at right. The design of the houses cover the gamut from prairie homestead to Cape Cod saltbox to southern plantation, jammed right next to each other.
The "authentic" restaurant cuisine ranges from  New England seafood, to New York pizza, to Thai.
Every night at 8, it "snows" on one of the streets.
Celebration is somebody's idea of the "perfect" town. It gave me the heebie-jeebies. I spent the entire time there wondering if the workers were actual people or robots like in the movie Westworld.
Whenever I see Augusta National Golf Club, I get the same feeling. I'm not looking at a golf course, I'm looking at somebody's idea of what the ideal golf course is.
That means the pine straw underneath the trees is trucked in because the indigenous pine straw apparently doesn't have the right look. The famous azaleas that flower every tournament week are manipulated indoors so that they bloom on command and for television.
The dirty secret on the agronomic side is that Augusta uses more green paint than anyone, that's why you rarely if ever see turf that appears to be brown, tan, henna, etc. The undesired hues have all been spray-painted away.
Not only are there banned colors, but, as we famously know, there are banned phrases. We won't hear "rough" or "gallery" during the telecasts. It's "first cut" and "patrons."
We also won't hear certain names, the most obvious is Jimmy Demaret. He's the answer to the trivia question, who's the first golfer to win three Masters? He won three times in eight years, 1940, '47 and '50. The tournament wasn't played from 1943-'45.
As the story goes, he and Bobby Jones were longtime friends. Then one year, well after his playing days were over, Demaret made the off-handed remark that the attendance for that year's Masters appeared to be smaller than the previous year. Jones took it as an insult, never talked to Demaret again and denied him in perpetuity his rightful place as one of the best ever to grace Augusta with his presence. Ben Hogan won twice and there's a bridge named in his honor.
I have this image of trying to bring up Demaret to a group of Augusta members as they all instantly clamp their hands over their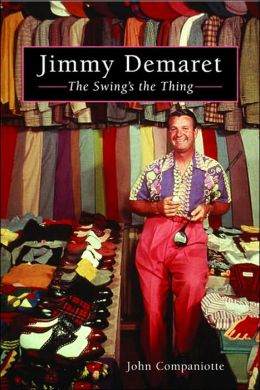 ears and blabber, "lalalalalalalalalala," until I walk away in frustration.
In the land of green jackets, if you don't say it, it doesn't exist.
Augusta also plays make-believe with its public image. They all must be so proud that two women, one who is African American, are now members, Condi Rice and Darla Moore. That fact, though, doesn't absolve the past sins of racism and sexism at the club. Sally Jenkins in a piece for Golf Digest points out how little the move means.
"In a speech at the Republican National Convention delivered nine days after receiving her invitation to join Augusta, Rice gave us a clue as to what membership does—and doesn't—mean to her. 'Self-esteem comes from achievement, not from lax standards and false praise,' she said. Clearly, this is not a woman in need of lame gestures of affirmation."
You can read the article by clicking here.
I respect the work the crew members put in to get the Augusta course ready for the tournament, but I don't respect what Augusta does for golf.
In an email, one of my friends criticized the "pernicious aspect of the Augusta Syndrome."
Pernicious means harmful often in a gradual or subtle way. It's a great word and fits wonderfully with his use.
My friend went on to write, that to him Augusta flaunts the fact that the higher the Stimpmeter reading, the better the putting surfaces.
"Pool-table greens may be necessary to prevent the best golfers in the world from shooting 24-under and embarrassing the green jackets. But they do nothing for the average golfer except to push his dues and green fees higher, especially in areas and seasons where it does indeed require massive amounts of water and chemicals to keep fast greens from dying."
He's right, of course. His point made even more impressive by the fact he's not an agronomy guy, just a golfer who figured it out. I wish more would.
I'll watch the Masters because it's a major, not the most prestigious major if you understand that golf wasn't invented in the United States. The most prestigious major is the Open Championship, no matter what Augusta and Jim Nantz want you to pretend. This year it's being played at Muirfield Golf Links in Gullane, East Lothian, Scotland. There's lots of turf there that isn't green.
Sitting in front of my television this week, I won't be enamored with the golf course or the event. I understand what Augusta really stands for and I'm not going to pretend I don't.