Once again, I convened the knuckleheads for a party in conjunction with the final round of the Masters, as we do almost every year The exception is when the green jackets of Augusta National Golf Club think it's appropriate to conduct a golf tournament on Easter Sunday.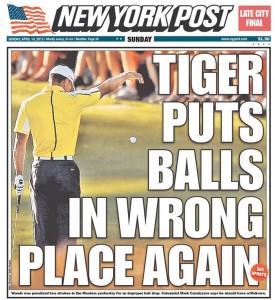 We drank many a beer, downed a celebratory tequila shot (some people went back for a second), devoured much sushi and rooted against Tiger. We discussed the ball drop fiasco for a bit but no punches were thrown.
This year, there were the usual characters at my abode with one new arrival (owner of Otto and Lily). Unfortunately, there were a couple of WDs due to flu-like symptoms. The two doctoral candidate mathematicians were back for a second year in a row. Fortunately, we did not have to listen to ramblings about polynomials this time. There was, however, a short, interesting conversation about perfect numbers and casting out nines.
Anna, also explained how by "running the numbers" she decides whether to end or continue a romantic relationship.
We enjoyed the golf and Adam Scott's first victory in a major and would have delighted in Angel Cabrera winning a third major and second Masters. The tournament, though, didn't have the same  entertainment value as when Eldrick Tont "Tiger" Woods is in the hunt. Then, the announcing core lead by Jim Nantz fall all over themselves trying elevate Woods from mere mortal golfer to god — "a" god, not "the" god, I don't think.
Woods came into the day with a slim chance of winning, but a 1-over-par front nine ended all hopes. Mind you, it was great fun to listen to the announcers rationalizing Woods's poor putting by blaming it on the rain that was falling. Woods is a professional. He knows how to adjust when greens lose pace because of moisture. Although for his part, Woods did say the putting surfaces were slower than previous rounds. Yeah, sure.
Even so, there was still plenty of entertaining blabbing going on from the announcers and from those of us watching TV.
Verne Lundquist killed the room when he yelled "Ole´!" after Spaniard Gonzalo Fernandez-Castano sank a ridiculously long putt.
This left us to ponder what dumb exclamation would have exited Lundquist's mouth had Adam Scott (Australia), Bernhard Langer (Germany), Thorbjorn Olesen (Denmark), Tim Clark (South Africa) or  Ryo Ishikawa (Japan) made the same putt. "Banzai!" perhaps in the case of Ishikawa?
We do send out a big thank-you to Ian Baker-Finch for saying after Woods made a birdie on 9: "He's walking faster. He's energized."
You can  tell a comment is truly dumb when the non-golf fans in our group burst out laughing.
There were some of us hoping that Cabrera's presence at the top of the leader board would incite some over-the-top yapping. In 2011, when he was also in the hunt for the title, Baker-Finch thought it vital to inform us that Cabrera was so poor and hungry as a child in Argentina that he stole chickens. This inspired longtime party attendee Randy to scream: "They just called him a thief on national TV!"
Much to our chagrin, this year Baker-Finch avoided any reference to Cabrera, or anyone else, committing a felony.
Of course, Nantz had to make an Everest out of the monumental achievement Scott accomplished in becoming the first Australian to capture the Masters, especially since nine months ago Scott bogeyed the last four holes of the Open Championship on Sunday's round to lost by one.
When Nantz, though,  said, "And you know the whole world is watching this right now," he entered territory of ridiculous over-hype for which he is famous and that has made millions of teeth grind. I'll bet a lot of money the inhabitants of most of Africa were unaware the tournament was even being played.
Nantz, though, might not have overstated when he said all of Australia was glued to the boob tube. This morning a friend forwarded an email from his brother-in-law living in Australia. In response to how big Scott's victory was, the guy wrote: "HUGE!! Whole country was watching. When he yelled out 'C'mon Aussie!!' after he drained the putt on 18 I could hear people in neighbouring houses shouting out."
Now, that's cool.
Interesting to note, though, out of three choices in a poll conducted by The Age newspaper that asked what is Australia's biggest sporting accomplishment,  Scott's feat finished third.
From the partygoers, the Rick took top honors. His rant about the poor portrayal of vampires in movies has to be one of the five all-time best in the history of the gathering. His phrase, "an escapade of people," was also memorable.
Rick was one of those who went back for a seconds on the tequila.
Add it all up, including Tiger not winning, and the party was a success—I think. Mind you, I'm not a mathematics PhD candidate, so maybe my addition is off.