After Eldrick Woods's dramatic victory in the Memorial Tournament Sunday it was a race to see who would say the dumbest comment and over blow the victory.It appears that the Golf Channel's Rich Lerner gets the award. My money would have been on his compatriot Kelly Tilghman. It was Tiger's 73 title, tying him for second with Nicklaus, nine behind Sam Sneed.
Commenting on the fact that this season Woods won the Memorial, hosted by Jack Nicklaus, and the Arnold Palmer Invitational, hosted by Palmer, Lerner called Tiger's feat "The Legends Slam," in reference to golf's Grand Slam, winning all four major in one season. Lerner was so eager to hoist a manufactured title on Woods that he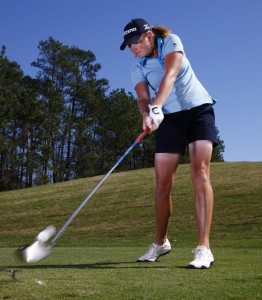 left out the Byron Nelson Championship, which Woods did not win, Jason Dufner did two weeks ago. Either that or Lerner doesn't consider Nelson a legend. It's possible since the Golf Channel's sense of history rarely goes back beyond the Nicklaus years. Nelson had 52 PGA Tour victories including five majors. In 1945 Nelson had the greatest season in the history of golf winning 18 times including 11 victories in a row.
Meanwhile, over at the LPGA's ShopRite Classic, the Golf Channel's Jerry Foltz interviewed tournament winner Stacey Lewis, who just won. She also captured the previous event, the Mobile Bay Classic, held five weeks ago. Her first victory was a major, the 2011 Kraft Nabisco. Lewis ranked no. 3 in the world with the victory, is the highest seeded American.
Following the round, Foltz addressed the fact that Lewis, who had a six-shot lead to start the day, stumbled in the middle of the round before "correcting" herself and winning by four.
"Walking off the 13th green you made a gesture with your putter, you slammed  it into your bag, something that doesn't make your parents proud. I know they were on the edge of their seat by then,  Dale and Carol back home, but that fired you up didn't it?"
Glory hallelujah, Lewis didn't pull the usual fake apologetic routine, she owned up to her actions and said they were justified.
Said Lewis:  "It did. I needed to release a little bit of the energy I had built up. It honestly helped me calm down. I know some people don't like it, but it helped me."
Lots of people think anger has no place on a golf course and with the exception of Ben Hogan, no angry golfer was ever successful. Lewis, I'm happy to report, proved otherwise. I hope this leads to a trend, not golfers going ballistic on  the course, but professional golfers giving insightful, honest answers to questions from the media.
I was going to make a comment about CBS announcer Jim Nantz stepping all over the audio of Woods and Nicklaus talking to each other just as Tiger walked off the 18th green Sunday but I'll leave that to one of my fellow writers from TheAPosition.com, David Desmith, who posted this on Faceb00k.
"Golf's two greatest players are standing there talking and Jim The *@^#%@%* Nantz won't shut his f'ing mouth so we can hear what they're saying! Thanks a pantload Jim. We'd much rather hear more of your time-tested cliches than know what Nicklaus is saying to the guy who just hit a miraculous shot to tie his PGA Tour win record at his own event. Great coverage, CBS. Next time, muzzle Nantz!!!!"