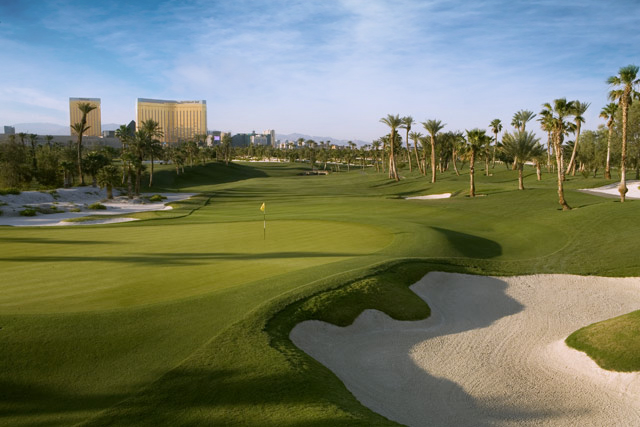 When speaking about world-class service, friendly staff, and incredible hospitality, Walters Golf is at the top of my list! A division of Walters Group and started by Entrepreneur Bill Walters- Walters Golf is known leader in the golf industry with their first class facilities including Bali Hai Golf Club, Royal Links Golf Club, and Desert Pines Golf Club. I had the chance to play all three golf courses and meet the executive staff behind the scenes that make up this leading organization.
Located right off the Las Vegas strip, Bali Hai Golf Club is as beautiful as it is challenging. Lee Schmidt and Brian Curley designed the course in 2000, bringing the authenticity of tropical design, beautiful white Augusta sand, and the volcanic rock lining the creeks along numerous fairways and greens. Bali Hai gave me the sensation that I was in Indonesia and all I was missing was someone fanning me with a banana leaf and feeding me grapes!
I have played many golf courses around the world and have rarely been treated with the level of kindness that Walters Golf staff displayed. For example, my driver head became loose on the course, and within 10 minutes, it had been taken back to the club house and fixed. There is no doubt, that Walters Golf chooses the best staff to represent their company.
Inside the clubhouse, resides a restaurant called Clli– a perfect venue to host a special event, meeting or meet up for drinks after the round. Featuring American cuisine with Asian influences, the views of the golf course and tropical setting is an oasis in itself. I highly recommend playing Bali Hai Golf Club, the little piece of tropical heaven on the Las Vegas strip.