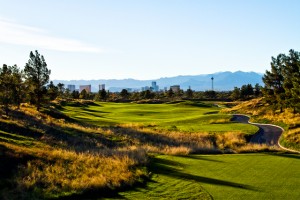 Most people who play golf, will not venture out to every golf course where the British Open is played. The Royal Links Golf Club in Las Vegas, is the perfect collaboration of golf and convenient location. Designed by Pete Dye, the links-style golf course features eleven British Open rotation courses, some include Turnberry, Royal Liverpool, Prestwick, and St. Andrews. I have never played abroad at any of these courses and have only seen them on television during the British Open Championship, so it was a treat to experience all that Royal Links Golf Club has to offer.
Speaking of offerings, it wouldn't be quite like Vegas without some entertainment, right? The caddies at Royal Links are a lot different than typical golf courses. For $225, a foursome can reserve a Par Mate– female caddies dressed in a skimpy outfit, knee high socks, and a smile. Most women wouldn't exactly be keen on the idea of a beautiful female caddying for their foursome, so it's safe to say this perk is especially popular with the male golfers. However, after having Par Mates Katie and Crystal as our caddies for the day, it was nice to see the class and happy nature they exuded.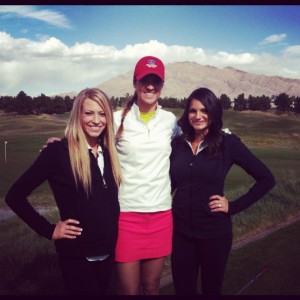 Walters Golf Group has set the standard with their courses. Royal Links old world charm set the tone for any type of golf outing or occasion.