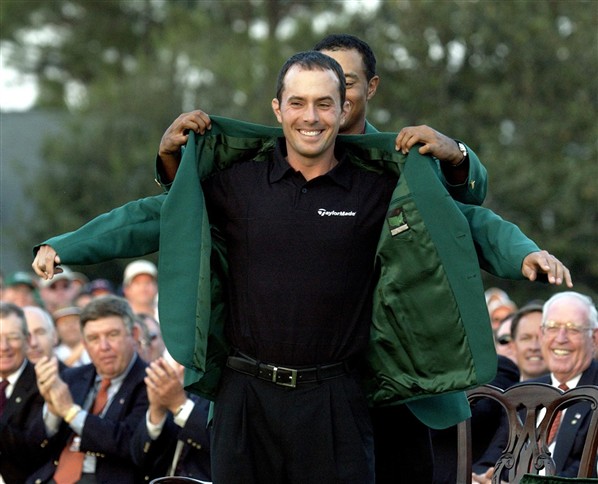 The year was 2003. It seems like yesterday. In approximately 37 hours, Mike Weir will be slipping on a green jacket. Doesn't matter. Right now, I'm standing at the entrance to Augusta National. I'm going to visit heaven's golf course.
THE INVITATION
In the early days of Michigan Golf Live Radio (MGL), I had a day job as Development Director for a homeless shelter in Flint, MI. Yes, THAT Flint. One method we (and most all charities) employed for raising funds was through mailing appeal letters to existing and prospective donors in the area. To accomplish that very demanding task, we worked with a vendor based in Pasadena. That vendor was founded by "Mr. G," a kind, thoughtful southern gentleman who spent most of his time in a gorgeous home located between Atlanta and Augusta, at Reynolds Plantation.
When the account rep from Mr. G's company learned of my passion for golf, she told the boss, and in the winter of early 2003, he extended an invitation for me and another client to fly down, stay at his home, play golf, and spend all day Saturday at the Masters. I nearly fell out of my chair with excitement.
I was finally going to Augusta!
THE WAIT
Could time possibly move ANY slower? Like a little kid counting down the days to Christmas, I began to cross out days on my desktop calendar. February and March seemed to contain 90 days each. Remember the old ketchup commercial with the theme of "Anticipation"? Compared to how slowly the calendar was moving for me, that ketchup was cascading out of the bottle like a Level 5 raging white-water rapids run.
I vowed to never get upset with my children if they grew impatient in the days leading up to Christmas. I've since shattered that vow numerous times, but at the time it seemed fairly mature to at least put it in play.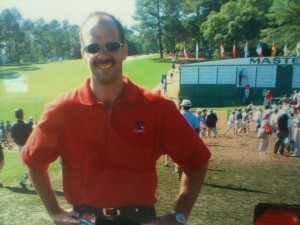 ARRIVAL
Mr and Mrs G couldn't have been more gracious hosts. Their lovely home had plenty of everything – food, bedrooms, fantastic golf courses, and the type of southern hospitality you couldn't purchase with any amount of money. They were awesome.
We played golf on Friday, enjoyed dinner with them Friday evening, and went to bed knowing that an early alarm was the only remaining barrier in what had been an excruciatingly slow countdown to my long-awaited day at the Masters.
After a 90 minute drive, we (Jerry from Columbus, Ohio was the other guest) stood at the main entrance to Augusta National. It was a quiet, pastoral setting that I was certain would be shattered the moment the gates opened. I was wrong.
When it was time to enter, the crowd walked with purpose, but no one broke into a run. It was quiet, respectful, and amazing.
Thanks to a weather delay on Friday, Round 2 play hadn't yet finished. We were going to be blessed with more than just the normal Saturday round. Bonus golf at heaven's course!
AMAZEMENT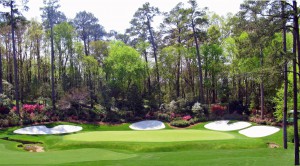 Our first stop on the day was in the merchandise center where I spent like a drunken sailor. Prices were irrelevant as I grabbed up a little of everything in sight. Only when I got to the registers did reality reach out and slap me with the gentle grace of an MMA knockout blow. I quickly shook off the impact of a $600+ tab, ran the goods out to the car (who wants to lug stuff around all day?), and got ready to soak in the scenes of my first Masters.
Five minutes later, there I stood with the 9th green to my right, the 18th to my left. I squinted to be sure I was seeing what I thought I was seeing. Is that…Jack Nicklaus coming up the 9th? Yep. Wait! Why is everyone murmuring behind me? I turned just in time to see Arnold Palmer walking off the 18th.
I had been on the course for less time than the commercials in a sitcom and had just been within tackling distance of the two greatest living legends in all of golf. I was floating and am pretty sure Arnie smiled directly at me. And no, I don't care if everyone else thought the same thing.
LUNCH
After Round 2 play officially ended, it was time to grab a bite to eat. We had a couple hours until the 3rd would commence – an ideal time for some fuel and a walk. Jerry and I made our way to one of the concession tents that are somehow invisible on television.
Jerry had offered to buy lunch, which is one of my favorite songs ever. We loaded up with 4 sandwiches, chips, lemonade, ice cream – I looked like a looter slowly fleeing the scene of the crime.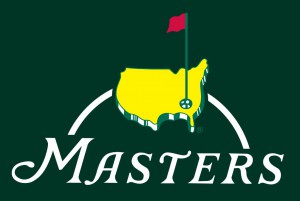 In a scene likely repeated thousands of time each year, we watched as the cashier began to total up the damages. $11.75. That's it. As Jerry dug out the cash, I tossed the cashier the softball comment she had been waiting to smash over the fence.
"Sir," she said, "this is Augusta National. We don't need your money here."
THE DEBACLE
Our day was done. Jerry and I were exhausted, exhilarated, and in need of a shower. We left Augusta and began the drive back to Mr. and Mrs. G's home in Reynolds Plantation. After getting cleaned up, we joined our host couple – along with our account rep – for dinner at one of the restaurants in the community.
Then, it was back to the house where everyone turned in. Except for me. I was too amped up to sleep. The G's had a nice screened in sun porch off the kitchen, so I quietly went into that room, closed the door so the noise wouldn't bother anyone else, turned on Golf Channel, and soaked in the highlights from the day.
It wasn't long until nature called. It wasn't a casual whisper, it was a screeching command akin to that of a drill sergeant. I climbed out of my comfy chair and headed back into the house to use the restr– uh oh. The door back into the kitchen was locked. Everyone else was asleep.
I noticed a screen door off the sun porch, leading out into the pitch black Georgia night. I was barefoot in a world of pine needles as I made my way outdoors, feeling around for some solution that would get me back in the house without waking everyone up.
After stepping on every sharp object ever found in nature, I made my way around to the front porch and prayed the door would be unlocked. It was a realistic hope based on the southern gentility of the neighborhood…but locked it was.
I had already relieved myself outside during the barefoot survival walk, but still thought it might be fun to sleep indoors. Did I mention that I was also now locked out of the sun porch? Yep.
Time for Brilliant Idea #4 – the pine cone toss. Having stepped on several dozen pine cones with my bare feet, I was fully aware that the entire perimeter of the house was blanketed in these natural projectiles. If I could just reach a third floor window and get the attention of Jerry or our account rep (both sound asleep in room on opposite ends of the house), they could let me in and our hosts would never need to know what was taking place.
I began an aerial assault on the home. My precision was admirable, making direct cone-to-window contact on numerous occasions. I was certain it would roust the sleeping inhabitants. I was wrong.
After throwing enough ammo that I was thinking of scheduling Tommy John surgery, I was ready to throw in the towel. I headed back to the front door prepared to ring the bell and face the music of utter and complete embarrassment. I tried one more time to "quiet knock" on the door. Why? I have no idea.
But it worked. I looked in the window and saw a nearly comatose Jerry walk across the balcony, peer at me through the window, and make his way down the long staircase to the front door. His greeting was priceless: "What the hell are you doing out here?"
THE PAYOFF
Breakfast time on departure day. Mr. and Mrs. G wanted to hear more about Saturday at Augusta. They had been there numerous times but got an even bigger charge out of hearing the excitement in the voices of their guests. After regaling them with Masters-related stories, I decided to come clean and tell them about the drama of just a few hours prior.
They were laughing to the point of tears before Mrs. G said, "follow me," and headed towards the front door. There, sitting ON TOP of a large milk can, was a key.
That's where they keep the key. In plain sight. On top of the can. I'll never know why.
EPILOGUE
After writing numerous notes of thanks to the G's and my account rep, I knew beyond any doubt that I would soon be returning to Augusta as a member of the media. After all, my little show was growing in size and stature. We frequently welcome guests from the upper echelons of the game. I was incorrect. Thus, my prior blog about the endless quest to be credentialed for the Masters.