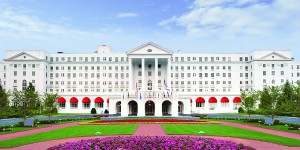 It's not easy to turn this seasoned golf traveler into a gawking, slack-jawed tourist – but in early May I found a place that did exactly that – The Greenbrier in White Sulphur Springs, West Virginia.
As we begin this journey to "America's Resort," you should know up front that  the assessment  comes with some baggage. Unfairly, The Greenbrier had two strikes against it before I even started packing for the trip:
STRIKE ONE – For the past 15 years, I have had a very close partnership with historic Grand Hotel on Mackinac Island. This special place has a firm hold on the top of the leaderboard for my family. Its excellence in every aspect of the guest experience, the personal touches infused into every visit, and the 60+ rooms we book with them every season have set an incredibly high bar of comparison for every other destination.
STRIKE TWO – Getting there. My choices for the trip from Michigan to White Sulphur Springs were either three flights and a 90 minute drive, "beaming" there through the use of what appears to still be shaky Star Trek technology, or a 10-hour drive. Of those options, the drive is by far my least favorite, but most sensible. Faced with the option of wrestling with our kind, tender friends at TSA, lugging the 2-item limit of bags, fighting the inevitable flight delays, and being subjected to the vagaries of a multiple leg flight itinerary, we (my wife and I) rented a car and made the drive.
REALITY CHECK – There is a calming, relaxing beauty to the journey. Once you get past the armpit of American known as Columbus, Ohio (I am, after all, a Wolverine), the topography changes from "flat as a map on your lap" to rolling hills, brilliant colors, and a continual amazement that there were engineers smart enough to figure out how to dig roads into such rocky, hilly terrain.
The comfortable drive stood in stark contrast to my preconceived reservations and instead made for a stress-free journey that blows away the MMA experience into which air travel has devolved.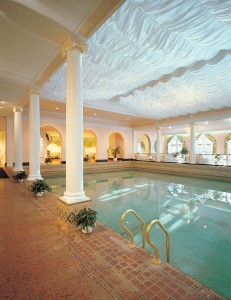 FIRST IMPRESSIONS – Being a veteran golf traveler, I had done my homework on The Greenbrier. I knew it hosted a Golf Channel Big Break as well as a PGA Tour event (sadly, inheriting the date my beloved Buick Open used to occupy before the rocket scientists in Congress decided to demonize golf and made General Motors cease sponsorship of its hometown event). I knew the interior design and feel would be very similar to Grand Hotel because they have the same designer – Carlton Varney. I even knew there was a "secret" bunker designed to protect those same Congressional geniuses from themselves…I mean, from nuclear attack.
What I didn't know was how breathtaking the resort would be. From the moment we arrived at the main entrance, every single aspect of the property was impeccably presented. The staff was welcoming to the point where I felt as if we had been guests there before. It was like being at Grand Hotel…times a factor of seven in size.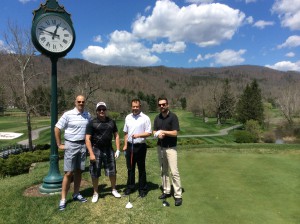 GOLF – The original purpose for this trip was to speak at a charity event for one of America's leading Rescue Missions. Knowing that I was on their schedule throughout the visit, I wasn't certain that the chance to tee it up would present itself. Thankfully, it did, and I was able to secure a tee time on The Old White TPC. Since my trip to this part of the world was primarily for a different reason, I even had the honor of coughing up the $235 greens fee. I mention that so that you'll know this review is truly from the perspective of a paying customer. A review of the pro shop security video will show a tall, bald guy wincing as his Visa card makes a rare appearance at the register.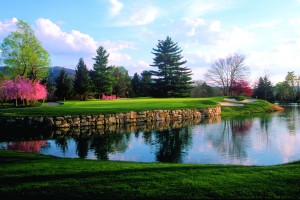 In just a few weeks, the world's best players will arrive for their Tour event, and I wanted to test my skills on the same layout. Unfortunately, I forgot to pack my skills and played like a diseased yak.
Even with my struggles making it impossible to accurately assess the course, it's clear to see how this old beauty has stood up to the passage of time, changes in course design, technology, and all the factors that for some reason have prompted golf's brains to force feed 7,200 yards into every piece of property with holes in it. The Old White needs no help. It stands the test of time with nuances brought about by Intelligent Design and intelligent design. C.B. McDonald knew what he was doing back in 1914, and thus far only Stuart Appleby has found the code to decipher it with his 59 posted back in 2010.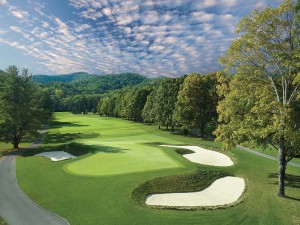 Taking into account all of the Tour venues I've played over the years, The Old White stands alone as the one I'd most like another chance to conquer. This is a course where precise iron play, experience, repetition, and a feel for the influences of surrounding factors is vital for success.
THE REST – How do I best sum up the rest of our Greenbrier experience? Stunning. Perfect. Wonderful. From the food to the room to the staff to all those little things we often love to complain about, General Manager Jeff Kmiec (see video interview) and his excellent team have done it all just right.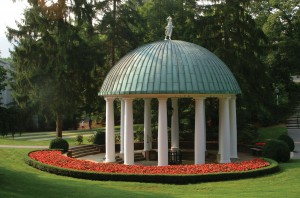 Grand Hotel will forever be my personal clubhouse leader for refinement, relaxation, and rest…but its big brother in White Sulphur Springs is a most worthy contender.
Now if we can only lure the current Congress on a bunker tour and shut the door.