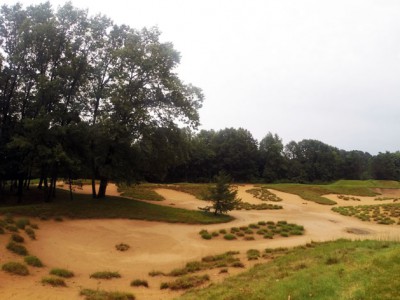 Anonymous. Remarkable. Memorable. Special.
Let's begin with those four adjectives in an effort to share with you the unique golf experience at The Dunes Club in New Buffalo, MI.
I was invited to visit this mystical destination by a member of the Michigan Golf Live (MGL) audience who has become a good friend over the last few years. Having spent several hours playing a golf together, he was well aware of my aversion to driving long distances for a level of golf that could be found most anywhere. I spend a great deal of time on the road during the production of MGL, and rarely feel enthusiastic about traveling just to tee it up.
New Buffalo is nearly four hours from my home. The trip was worth every mile. Here's why:
Anonymous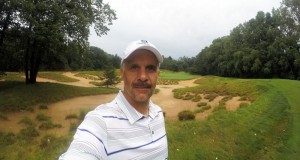 I knew The Dunes Club (TDC) was quite private. Opened in 1995, TDC was the Chicago/Michigan "Field of Dreams" for owner Mike Keiser. His primary golf property – Bandon Dunes – has reached "bucket list" status and I had no doubt TDC would be equally as impressive.
From TDS General Manager Todd Molitor, a bit of background:
The location of the course was in close proximity to where he has a second home here in New Buffalo.  The land was owned by a local bank and most of the property was being sand mined for construction on I 94.  Mr. Keiser and his young children would play cross country golf hitting at specific trees and such.  With word that the property was going to be sold for a housing development, he decided to purchase the land to prevent this.  With talking to some friends and being an avid golfer, he decided to build a golf course. He had his own design, but couldn't get it to flow for nine hole so he contacted Dick Nugent to consult on the property.  When Mr. Nugent saw the property it reminded him of Pine Valley.  So they took a trip out to New Jersey to sort of model the place after one of the best courses in America.  With not enough land to make 18 holes, the nine holes were completed in and around 1990.
As for the unmarked entrance, I believe he wanted the place to be secluded and a family golf experience, so no sign was put up other than the address nailed to a tree for emergency purposes.
What I didn't know, was how hidden, low-key, and friendly a setting I was about to enjoy.
The philosophy may not be written down, but it clearly follows the mantra, "Hey, you were lucky enough to find us, enjoy your stay."
Had I not been following my friend Brian in his vehicle, the search party might still be looking for me. The entrance to TDS has no sign. It's simply an opening in the hedges of a normal residential neighborhood. I thought Brian had made a mistake and we were turning in to a service entrance. Nope. We had arrived.
Remarkable
Over the years of my travels, I've been privileged to walk on some of golf's most hallowed grounds. From Augusta to Crystal Downs to Royal Porthcawl to Oakland Hills and several others. In each of those instances, I was somewhat prepared to be blown away. There was a rich, written history of the destination. You could look it up, learn, and prepare for the visit. This time, I was coming in cold and had no idea what to expect other than what Brian had told me in advance.

At TDC, I was expecting ostentatious, stiff, and overwhelming discomfort. Instead, I was greeted by a group of caddies helping me find a place to park, a very kind greeting in the small clubhouse, and an immediate sense of welcome that included, "if you want anything to eat or drink, just make a has mark on this clipboard. We'll settle up later."
I wondered if I had somehow walked through a neighborhood hedge and into heaven. Brian was right.
Memorable
There are nine holes at TDC. There are several teeing areas. There are no tee markers. There are no carts. You can carry or enlist the assistance of a very skilled caddy to help you around the course. It's the perfect combination of beauty and simplicity. It's all about golf.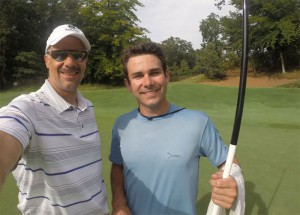 As our threesome set out to tackle TDC, I knew a couple things for sure – my recently dislocated left ring finger was going to present a problem. (This was my second round in the five weeks following the hoops-related injury.) And I knew that I would be relying heavily on the guidance provided by my caddy, Bryant.
For our first loop around TDC, we chose a set of teeing areas that would provide friendly angle and moderate length to the holes. Right from the start on #1, the draw of TDC was obvious. Each hole was stunningly framed as its own postcard. I was instantly wishing my home was closer to New Buffalo.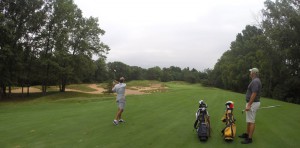 We knew the forecast was going to provide some challenging moments during the day. Conditions went from "equator" hot to cloudy and muggy as we played through the 6th hole. My score was climbing to a point where I think Bryant was ready to tender his resignation. The rust in my game was on full display, and I was losing the friendly wager I had with Brian, by roughly 2.5 million shots (give or take a couple putts).
Everything about TDC was magnificent. The greens were screaming fast and true. The course conditions were wonderful. The 100 TDC members who make the trek to New Buffalo do so for good reason. There are only about 3,000 rounds a year at this special place, and the absence of carts helps keep the course in pristine condition at all times.
When we reached the 7th hole, the clouds broke open and the deluge started. We began an "old man" walk/sprint back to the clubhouse where, for 90 minutes, we stood shoulder-to-shoulder with the other golfers seeking shelter. There may have been 30 golfers on the course, but the clubhouse truly is tiny.
Special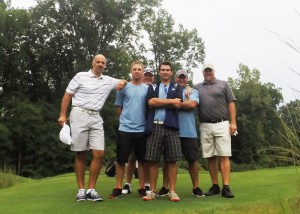 Eventually, the storm relented and we went back out to finish our "front" 9, stop for lunch, and then head out to play the "back." We chose a different set of tees and in many ways, it really did play as an entirely different course. The angle and approaches required different clubs and strategy. My game somewhat returned, helping reduce the embarrassment factor and financial impact a tad (losses were approaching double digit dollars).
In the end, I didn't want it to end. What started out as a questionable decision to spend far more time driving than playing, turned into a desire to return and play this very special place again.
If I can find it.