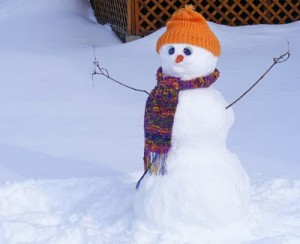 There was a time in my life when seeing the backyard buried in snow filled me with creative ideas. Cold was never a factor because snowsuits, masks, boots, gloves, and any other element-fighting apparel my mother could dig up would form a protective shield around me. I was impervious to the elements.
Safely ensconced in a myriad collection of Gortex and wool, I would head outside for hours at a time to craft elaborate snow forts, tunnels, and families.  Whether I was being assisted by my sister or tackling the job as a solo contractor, the acres and acres of frozen powder were welcome because it offered a wonderland of fun.
Those days are long gone. I now detest snow and cold. I am a golfer. Aside from the momentary reminder of God's wonderful, beautiful creative abilities, I have zero use for anything that slows down (shuts down!) my favorite outdoor activity.
While it's true that the "weather outside is frightful, but this fire is so delightful," I can not bring myself to continue singing in agreement that we should simply "let it snow, let it snow, let it snow." My preferred lyrical variation would be to "let them mow, let them mow, let them mow."
As the host of Michigan Golf Live Radio/TV, it should only be minimally shocking to share this reality: I live in Michigan. I love it in this state during the spring, summer, and fall.
Winter? Not in the least.
It's only mid-December. If previous years of (mythical) global warming trends are any indication, we will continue being "blessed" with frigid temps and blizzards for another 4 months.
For the diehard golfer in this region of the country, the true struggle is to fight off cabin fever. Without a concerted effort to avoid the pitfalls of being shut in, tens of thousands of us could be pictured bouncing a ball against a wall while muttering "all work and no play makes Billy a dull boy."
So, we seek golf domes in order to work on a draw that should never been so sizable that it turns 30 yards inside, core-strengthening fitness DVDs so we can add 15 yards just like the guys on Tour (who happen to be 20 years younger) , Golf Channel repeats of magical major moments, the occasional warm-weather escape to be temporarily teased by a few opportunities to tee it up, and the ultimate fear that we will lose the special "groove" we had for one glorious afternoon sometime last fall. You do remember that ONE round, right?
Welcome to the world of the snowbound golfer. Where we dream only of highlights and scenes like this…