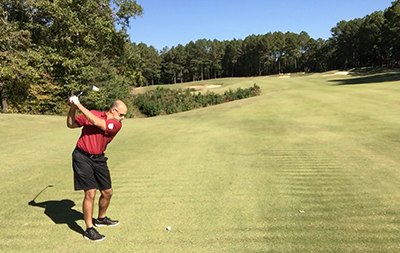 When the invitation first arrived to join an excursion to Mississippi, I thought it sounded like a novel way to wind down after a hectic summer schedule in my home state of Michigan.
After 25 straight weeks of road trips to some of our state's finest destinations, I was ready to kick back and actually enjoy playing golf without a camera crew, editing deadlines, and super tight schedules.
I did NOT expect to be blown away by the beauty of the courses, the kindness of every single person I met, and the great desire to return. That's what Mississippi did to me.
ROAD TRIP: DAY ONE
Hosted by the tireless Janet Leach from the Mississippi Development Authority, our small group of writers and broadcasters (yours truly), arrived on a gorgeous early November Sunday afternoon, piled in a cargo van, and launched our journey by heading to Dancing Rabbit Golf Club, about an hour from the Jackson Airport.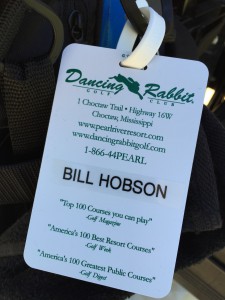 There is a rich history behind the name "Dancing Rabbit," and along with that history comes a pair of fantastic courses, designed by Tom Fazio and Jerry Pate. The Azaleas and Oaks courses were in pristine condition. Tree-lined fairways, considerable elevation variation, combined with excellent greens made the Sunday afternoon and Monday morning rounds most enjoyable.
While the golf at Dancing Rabbit was outstanding, the highlight of our first 24 hours was the opening night dinner at Pearl River Resort Casino's featured restaurant – Phillip M's.
You will never have a better, more memorable seafood chowder than the vat of goodness that served as my appetizer. The rest of the meal was perfect, and rounded out a long day of travel in a perfect way.
Making it even better was the classy background soundtrack provided by Frank Sinatra and his big band era cohorts. Well done, Phillip M's!
Check out this video recap of our time at Dancing Rabbit
ROAD TRIP: DAY TWO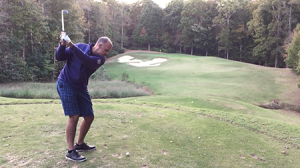 Monday began with a round on the Dancing Rabbit Golf Club Oaks course (loved it!) and a quick turnaround drive into Jackson, MS. Our vanload of grizzled old travel veterans even got to stop at McDonald's for lunch. It felt like an old school field trip, minus the permission slip from mom.
Our post-golf schedule had us on a path to visit Lucky Town Brewery. An enterprising group of engineers decided that their day jobs weren't quite enough, so they launched a brewery that has caught on quite nicely in the area. Not being a drinker, most of the things that most excited them did nothing for me…but their enthusiasm and sincerity were both on full display as they saw their "baby" growing up and becoming well-received.
From the brewery, Janet shepherded our band of ruffians to one of the hottest new restaurants in the area – Saltines. It's not often that I'm included in anything resembling "hipster" activities, so the visit to this great restaurant was made even more fun when a few yards from our table a concert broke out, featuring Keb Mo – one of the nation's hottest blues musicians.
To round out a long Monday, we headed from Saltines to Hal and Mal's Underground for blues night. Now THIS is what I picture when someone mentions a blues club. Dark. Gritty. Real. It was a showcase night and every couple of songs a new artist would take to the tiny stage. The atmosphere was off the charts as legit blues musicians did their thing.
This video won't fully do justice to our Monday evening adventures, but it's a taste of something I hope you'll experience on a trip to M'sip.
ROAD TRIP: DAY THREE
The alarms were set for an early wake up as we headed out on Tuesday morning. Janet was once again (and always) behind the wheel as we made a 90-minute drive to McComb, MS to tee it up at a state park. Our destination was Quail Hollow Golf Course, designed by Michigan's own Arthur Hills.
My play on the front nine resembled that of a diseased yak, as fatigue started to catch up with me. Still, Quail Hollow quickly became my favorite Hills design on the planet. It's simply spectacular! Not only does it boast tremendous beauty, but the fees are ridiculously low at just $40 w/ cart.
Enjoy this video overview of Quail Hollow
Thankfully, I closed out my round in a solid, confidence-building way (a couple of birdies and a backside 38 helped), because the remainder of our trip was serious stuff.
We quickly departed the beautiful park in which Quail Hollow is situated and sat back as Janet "Andretti" Leach guided us the 90 minutes back to the hotel. We would have 20 minutes to clean up and depart yet again. This time, our destination was the Country Club of Jackson (CCJ), site of the PGA Tour Sanderson Farms Championship.
We each had a spot in the Pro-Am Wednesday morning, and it was time to "pick our pro" at the Draw Party.
This was the tournament hosting debut of CCJ, and also the debut of the new tournament director. Without digging too deeply into the muck, I'll simply provide this assessment of the logistical flow of the pairings party: it can only get better.
None of the technical and organizational nightmare put the slightest damper on our fun, however. My team was able to select Jonathon Huh as our pro. The 25-year old was Rookie of the Year in 2012, and we were excited to tee it up with a rising star.
ROAD TRIP: PRO AM
Before our 7:46 tee time, our group needed to find caddies. As we headed to the registration tent at CCJ, there was a pool of humanity lingering nearby. Turns out, these were the caddies for those who didn't make other arrangements.
One of my partners, the Sinatra-loving Dan Shepherd, quickly paired up with a sharply dressed young man who was skipping a day of classes at Ole Miss for the fun of lugging a bag around 18 holes. My other partner, Stan Awtrey from Atlanta, wasn't quite as fortunate. He "hired" a young kid who may have been stepping onto a golf property for the first time ever. The young man was very polite as he delivered numerous moments of humor by carrying Stan's bag by the handle only (as if it were a suitcase), and completely disappearing anytime we walked near a concession area.
As my partners headed to the range, I was approached by a man in his upper 50's, with a voice deeper than Barry White ever dreamed of. He asked if I needed a caddy and I was glad to accept. His name was (still is) Anse. Not Lance. Just Anse. He's a member of CCJ and a local attorney who just settled a big case, thus freeing up his day. Instead of being in a courtroom, Anse's pride in his club being host to the PGA Tour prodded him to come out and look for a bag. He was a HUGE asset throughout what turned out to be the second best round of my life.
We started on the Par 3 10th hole at CCJ, and I hit my tee shot to 3 feet for birdie. On the Par 5 11th, I tapped in from 2 feet for another birdie. This was getting interesting. Remarkably, I didn't keep up the "birdie per hole" pace, but still played my best round in years.
Our Pro, John Huh, was very nice throughout the day. He and his caddy were personable, even when Huh didn't play his best. At one point, I hit a clunker of a layup with my 5-iron on a VERY birdie-able Par 5. I was irritated at the shot and told Huh that if I made that same mistake again, he needed to club me over the head.
Well, because I'm a golfer, I made that same mistake again and was shocked to turn around and see Huh coming at me with an actual baseball bat swing aid he kept in his bag! We had a good laugh and took the picture you see here.
When we putted out on the 9th hole (a poor bogey by this author), Huh was kind enough to chat with me a couple minutes for my radio program. You can hear that conversation here.
Team Huh finished well out of the running for the fancy hardware, but we had a great time on an excellent classic course.
And then, as if we hadn't been spoiled enough by Janet and her team, they arranged for us to have a private short game clinic hosted by three Tour players – Johnson Wagner, Ken Duke, and Kyle Stanley. For 30 minutes, these guys broke us up into pods of 3 (there's that pod concept again, Mr Watson!) and gave us tips and lessons. It was a rare treat, and quite likely responsible for all three players missing the cut in the actual event.
ROAD TRIP: WRAP UP
Four straight days of golf, dining, riding, rinse, repeat – and every single moment of it was fantastic. If you have never added Mississippi to your golf getaway calendar, it's high time you do. Why?
The courses are wonderful
The costs are more than reasonable
The food is amazing
The people are welcoming, never rude
The pace of play is rapid because the huge crowds are in Florida and Myrtle
The music is authentic and gritty
Ever since returning to the Michigan tundra, I have been raving about Miss Sippy. Please go, friends. You may not have Janet as your guide, but you will love every minute of the journey.