With a snow-covered yard, frigid temps, and my Wolverines relegated to a bowl game sponsored by a mediocre food chain that believes the best way to compensate for horrendous food is not to improve the food, but to charge more for it and add some more televisions to the room – there are a few moments remaining in 2013 to contemplate the coming days and lay a framework for what will take place on the fairways and greens my formerly metal-spiked shoes will trod.
(Please allow a brief recovery period after that opening sentence/paragraph. It was written without a cart and was straight uphill.)
As we dive into 2014, here are the 14 Resolutions affixed with a virtual magnet to my virtual refrigerator:
1) Bump it up 5% – For reasons I may never understand about the "scamdicap" system, the experts tell me we only play to our Index 25% of the time. I want to destroy that metric by playing to my 5.4 at least 30% of the time. Of course, achieving this goal will only result in the Index being lowered. That's the deep dark secret the USGA covers up more carefully than the Benghazi debacle. Your Index NEVER EVER gets to go up.

2) More Match Play – It's by far the most enjoyable format in all of golf, but I only play it once a year (during an official USGA/GAM event). Whether in an actual tourney or with a 4-some, we would all be better served to try it, like it, and save time doing it.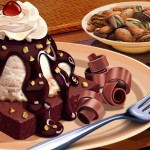 3) Dessert Embargo – Houston, we have a problem. Everywhere we go with MGL Radio and TV, our very kind hosts insist on sharing the latest, greatest kitchen creations from the Chef. They always feature locally grown product, infused into this pastry or that pie, topped with whatever the local cardiologist recommends as a means by which to add on to his vacation home.  It may take all winter to work up the strength, but at some point – likely only once – I will utter the words "no thank you." Maybe.

4) Start Stronger – In the never-ending effort to shave 3 strokes off every round, it would be helpful to stop getting off to the usual "+3 after 3" start. From there, I focus, grind, and usually get things in order. Time to get the mind locked onto the task at hand when the task begins.

5) Soak It In – When we hit the road to shoot an MGL-TV program, time is crucial. We try to take full advantage of the sunshine and conditions to produce the most attractive programs possible. That pace has taken hold in my "off camera" life to the point where it's nearly impossible to slow down and truly enjoy the beauty of these special places we play. There's no sense in being so impatient that I miss the stunning surroundings.

6) Expand the Group – I have my golf buddies and so do you. We know each other inside and out. There is a maximum level of comfort and fun within the group. It's time to grow that group. One of the guys isn't able to make it? There are dozens more who would love to come along. Reach out. Make the phone call. Grow the game by growing the circle of friends. And when they ask "what's that handicap thing all about?" just tell em your group plays at scratch.
7) Appreciate Greatness – Our culture is geared to thrive on finding flaws. We have an unusual tendency to highlight the "yes, but" aspects of every outstanding performance. That was a great concert! Yes, but the parking deck was too crowded. That may have been the best steak I've ever had. Yes, but my salad needed more croutons. And so on. We're terrible at saying something was great. Well, I'm a fan of greatness. I enjoy great courses, unforgettable performances under pressure, cool ideas, special people, and visits to places that blow me away. So, put the "yes, but" on hold in'14. I don't want to hear it…or say it.

8) Tell The Story – Let's not leave every inspirational, touching, moving story in the hands of 30 for 30. Golf is filled with amazing people who have overcome, fought back, or reached out. Instead of a brief mention or 4-minute interview, let's share those stories so even non-golfers will hear and be touched.

9) Delete #3 – Who are we kidding?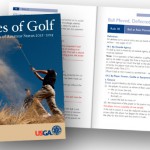 10) By the Book – Inside the MGL Mobile App (free for Apple and Android), we conduct a weekly survey. When our 3k+ app users were asked how closely they adhere to the rules of golf, the results were sadly powerful. Almost no one plays by the rules. Those of us who do, then, are penalized even further because we also report our higher scores that resulted from putting everything out, honoring boundaries, etc. We're left with 2 options: become like the rest, or stand strong. I choose to stand (and then slowly head back to the tee to hit my 3rd).

11) Produce Results – At MGL, we are privileged to partner with some of the game's top destinations and companies. As part of those partnerships, we hope to see more golfers visit, purchase those places and products. We want to produce results, not just advertise. There's a difference, and honoring that goal has helped propel MGL into our 15th season.

12) Putter Improvement – May 2014 be a year free of 3-putts? May 2014 be a year free of 3-putts! Those sentences are nearly identical, but ohhhh so different.

13) Stubborn Stupidity Stopped – By now, you would think a seasoned golfer had fully learned his limitations. A 255-yard carry over water to an island green is not a "go for it" situation. Just because you saw Dustin Johnson smash a 6-iron that same distance is not an indicator that you have any chance of getting there with a 3-wood. Time to stop being dumb. Every April, Zach Johnson gets to dress in the Champions locker room because he mastered this concept.

14) 14 GIR – As much fun as it is to scramble for par, imagine the excitement of a "boring round" where you finally hit 14 greens. That's the motto…14 for '14.
Remind me in a year and we'll review the success/failure of this list…unless I'm overcome by the #3/9 combination.
Happy New Year!