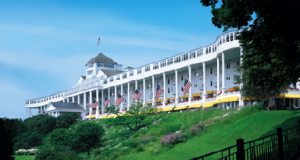 Imagine a world where the only traffic sounds are generated by the rhythmic clopping of horses.
Imagine a world where the concept of a frenetic pace is forgotten at the exact moment your family sets foot on a ferry boat.
Imagine a world where the most stressful decision of the day is whether to close out a gourmet meal with the Grand Pecan Ball or a watermelon sorbet.
That world DOES exist, and it's in northern Michigan at Grand Hotel.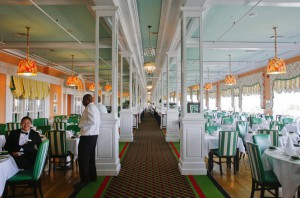 The standard thesaurus comes up a bit short in an effort to summarize the unique experience of this wonderful place. For nearly 130 years, guests have made their way to America's Summer Resort and they've collected a lifetime of memories along the way.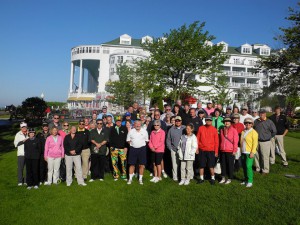 For the past several years, we have invited Michigan Golf Live viewers and listeners to join us in June and September for a gathering known as the Grand Golf Getaway. It's 3 days/2 nights of golf, friends, food, laughs, and more laughs. From our launch point in year one where we had a total of 6 rooms booked on the package (mostly consisting of family and friends), the annual excursion has exploded to a new record high of 138 guests in June of '14.
Why? Are couples yearning for a chance to spend quality time with a tall, balding TV host? Nope. They come for an experience best summarized in 3 words: Rest. Relaxation. Refinement.
No place on earth so perfectly mixes that recipe with such desirable results. From the moment of check in – where a smile is guaranteed or your stay is free – the entire Grand Hotel family serves guests with a level of excellence and attention to detail that will be the subject of your family conversations far beyond your stay. It's that good.
TEE TIME (Not to be confused with Tea Time, held in the Parlor each afternoon and accompanied by a harpist)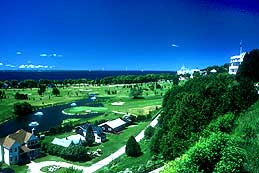 Most visitors to Mackinac Island are familiar with the location of Grand Hotel, having climbed the hill to take pictures, visit the Little Stone Church, or indulge in ice cream from Sadies. They have also seen glimpses of the Grand Nine, the opening leg of the Grand's Jewel Golf Course. This opening nine features a relatively short challenge, but it's not to be confused with being easy. The finely manicured fairways and greens disguise the reality that most every putt breaks hard towards downtown Mackinac. (The easy joke is to say everything breaks to the water.) For those struggling with control of the driver, the Grand Nine provides some comfort because big stick really isn't needed in order to score well.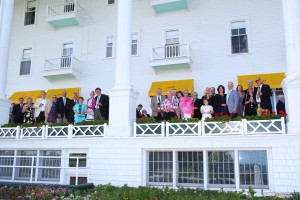 The postcard moment of this nine is the 7th tee box. A par 3 that can play as much as 245 yards, is a steep downhill tee shot to a peninsula green. The views from the tee are breathtaking, so be sure your camera is in the bag. You may also want to be sure an extra sleeve of balls is tucked in there as well. After hopefully saving a 3 on the 7th, your next stop is the 8th tee and another Grand photo opp looking back over the 7th green up to the hotel. It's a truly magnificent view that provides a vivid reminder of how special this place is.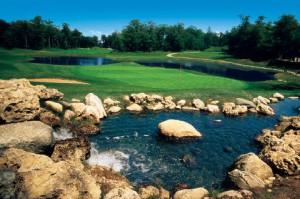 To be accurate, Grand Hotel is not a stand alone golf destination. It's a remarkable summer resort that offers golf as an excellent amenity. However, to our knowledge there is no other place on the planet that offers a 30-minute carriage ride to make the turn.
The Woods Nine is located at the "top" of Mackinac Island, near the airport. Yes, the airport. When architect Jerry Matthews put his artistic touch to the back nine, he created a challenge every bit as stout and picturesque as anything northern Michigan has to offer. The views of the Bridge, the inclusion of rock formations and streams, elevation changes – all combine to make the Woods Nine a camera-worthy challenge.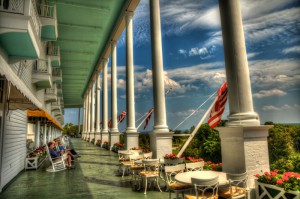 When golf is done, it's time to clean up for dinner…a stroll on the front porch…dancing in the Terrace Room. Hopefully, your schedule and budget allow for more than one night at this special place. It deserves to be savored, and you deserve the unique combination of rest, relaxation, and refinement found nowhere else.
Besides, do you really want to climb back in the car so soon?
10 "Grand Hotel insider Tips"
1) Take the Shepler Ferry to Mackinac Island
2) Be sure to stop by the concierge desk and visit with Bob Tagatz, the Robin Williams of hotel historians
3) Sadie's Ice Cream Parlor is open to the public. Become a frequent guest and get a massive sundae – but not before dinner
4) Didn't bring your clubs to the island? No worries. See Head Pro Jason Horricks in the Jewel Pro Shop and you'll be set up with a new rental set
5) It really doesn't matter which direction you choose to ride around the island. It's an oval. There's wind.
6) If your stay is for 1 night, plan on dinner in the Main Dining Room. If you have a second night, make reservations at the Jockey Club. The food is fantastic and the crowd is considerably smaller. You can also leave the jacket/tie in your room.
7) Only have time for 9 holes? Play the Woods.
8) Do not, under any circumstances, miss out on breakfast.
9) The Fitness room has a special ambiance to it. Think Rocky IV and get ready to sweat.
10) Check the Grand website for special. Yes, specials. Surprised?