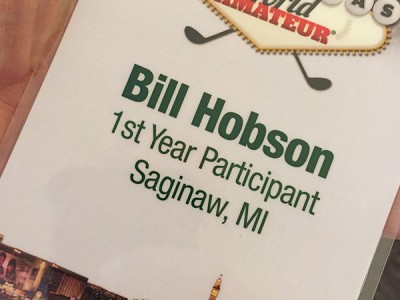 What happens when you invite a guy who doesn't gamble, drink, or stay up after midnight to visit a city built around gambling, drinking, and partying into the wee hours?
That guy has the time of his life!
The story you about to read is real.
None of the names have been changed, because the well-worn adage about "what happens in Vegas, stays in Vegas" need not be applied in an effort to protect the guilty.
It turns out, you CAN have a great time in Vegas without the need for copious amounts of black coffee to fight off a hangover, the fear that you just played one hand too many and now the kids will be adjusting to life without shoes for a few weeks, or that the editors of COPS won't do a thorough job of properly pixilating your face for their "Best of Vegas" episode.
Welcome to the Las Vegas World Amateur Golf Championship (LVWA)!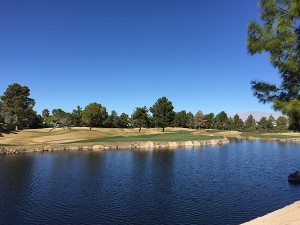 Having just completed its 4th year, the LVWA brings together players from all across the nation for an incredible time of golf, fun, and enough freedom in the schedule that you don't feel cheated out of true "Vegas" time.
My invitation came from a longtime friend – Ann Sunstrum – who spent years working on behalf of a larger, more established gathering of this sort. Now the Director of the Southern Nevada Golf Association, Ann and her team are in the building stages of the LVWA and asked if I would like to join the fun and help spread the word to golfers in the Midwest.
It took me approximately 3.2 seconds to reply with an enthusiastic "YES!" to the invitation. With the February temps in Michigan dipping down low enough that they start with a hyphen (-14), the prospect of heading out west to play golf for a few days was extremely attractive.
And then, hours before our flight out, I got blindsided with the flu and step throat. To all the other passengers on our Southwest flight, my sincere apologies for what you are likely now coping with. All of the excitement of the trip was obscured by 4-hours in the air that consisted of shivering under 3 layers of shirts and coats, fruitless attempts to sleep, and enough whining that at one point I think my wife was actually reading the instructions for the exit row door to see if she might either shove me out of it or just take a chance on a soft landing for herself.
Thankfully, the flight ended and various doctor friends both at home and in Vegas pumped me full of enough medication that the various ailments dissipated quickly.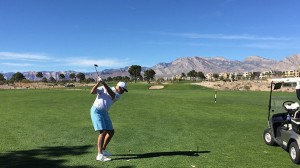 The LVWA is a wonderfully organized week, making it nearly impossible for a contestant to be distracted by details. Ann and her team do a tremendous job of not only laying out the plan, but the communication flow is very smooth.
I was competing in the 49 & Under age division. This is a Net event, so my 6 little dots were on the card and ready to come to my aid throughout the week.

Day One was held at Desert Pines Golf Club, and the setting could not have been more inviting. Flawlessly blue sky, Vegas strip visible to one side, mountains in the other direction, and a fun group to play with.
It was time for golf. Now, I just needed to locate my game.
I thought it had been packed, but when I stepped to the first tee for round one of the LVWA, I quickly discovered that weeks upon weeks of imagining a solid game did not translate accordingly.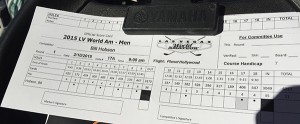 After spending my opening round struggling with every shot inside of 40 yards, I thought for sure any chance of being in contention was as far removed as the old stories of inexpensive Vegas buffets.
My scorecard was ugly, but the day had been so much fun, I was just glad to have played. The flu/strep meds were bothering me a bit, but the real issue was user error throughout the round. I knew – KNEW – I would fix all of those things over night.
Don't get me wrong – I wasn't planning to practice or seek professional input. My improvement would come solely from wishing I would improve. This must be what happens in Vegas – irrational reasoning that leads to continued failure. 
Poor play aside, I headed back to our hotel to rest briefly and then we were headed out to meet friends for dinner. This was the first time in Vegas for both my wife and I, and while we aren't exactly country bumpkins brought together by farmersonly.com, the scenes on the famous Vegas Strip were jaw-dropping. For all of its faults, this city knows how to present itself in a way I've never seen equaled.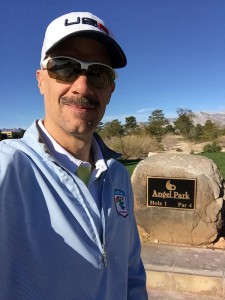 Day Two found me teeing it up at Angel Park Golf Course, yet another gorgeous layout surrounded by mountains. This chilly morning was sun-filled, and I was excited to make amends for my opening day foibles with the short game.
Instead, I compounded the problems by using my putter as effectively as a Pete Carroll Super Bowl play call on the 1 yard line. I spent the day being baffled by the severely tilted greens and the impact of the mountains surrounding us. After carding seven or eight 3-putts, I was beginning to wonder if Vegas had an insane asylum for visitors.
Then I remembered that in many ways, the entire city serves that purpose.
I had one round left to play (there was NO chance I would be qualifying for the bonus Championship round), but not until we had a fun evening taking in a show.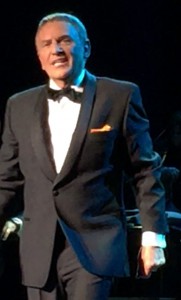 Having been a huge fan of Sinatra since my days as a young trumpet player, we decided to take in the Frank tribute show at the Palazzo. The friends we had met for dinner earlier in the week were kind enough to purchase tickets at the "locals" rate, thus making it possible for us to sit in the front row for "Frank" and the live 32-piece band.
I know this story is mostly about golf and the LVWA, but I must pause here to convey how incredible the tribute show was. We saw the real Sinatra near the end of his concert days, and I never thought I would see its equal. Well, we did. If you have ANY degree of affinity for that genre of music, make seeing this show a top priority when you come to Vegas!
In fact, I was so inspired by the performance, I gave thought to making a career change. I can almost hear the screams (of the audience wishing for rapid onset blindness).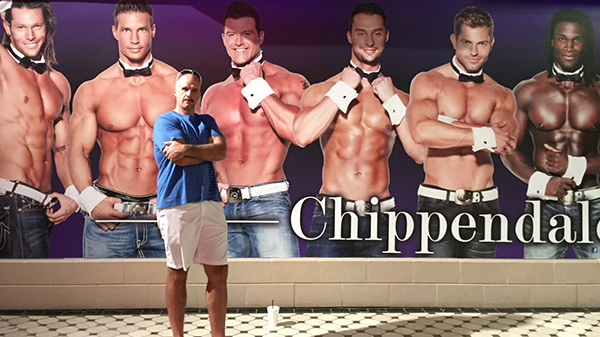 OK, one more round in the sun.
Day Three brought our division to Spanish Trail Golf Club. This semi-private club was spectacular. Legendary architect Robert Trent Jones, Sr. did a masterful job with this 27-hole layout. It was fair, challenging, and beautiful. My game was a bit better than the first two days, and I started thinking perhaps I could go somewhat low and have an outside chance of sneaking into the finals. (The top 4 players in each division would advance. I began the final round 6 shots out of 4th.)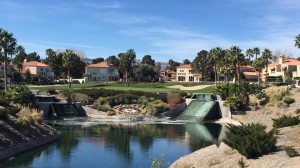 Unlike the earlier rounds, I found a bit of rhythm and was avoiding the brainless errors and putting together a decent stretch…until it came to the closing three holes.
I've been around the game a long time. I've covered multiple majors and Ryder Cups, and have seen breathtakingly good shots. On rare occasions, my clubs have produced shots that made me quite pleased.
On holes 16-18 at Spanish Trail, they did not. I choked. I went 6-over on the final three holes…and missed the championship round by one.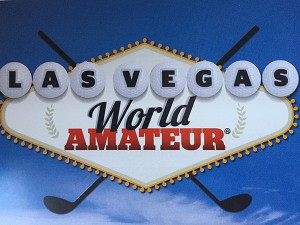 And you know what? It didn't devastate me in the least. My poor play throughout the week was but a small blip on the LVWA radar. I met and played with fun, kind, fair, honest guys all week. My wife and I enjoyed a week away from the tundra and enjoyed almost every moment of the trip (do NOT eat at the Gold Coast buffet).
In the end, the LVWA is about golf – but it's also about escape. Whether you choose to spend a sleepless week soaking in all that Vegas has to offer, or if you prefer to take in the scenery and lay by the pool, this place and this event are perfect.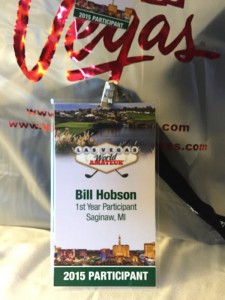 By the way, out of all the contestants in the LVWA field, the Grand Champion both this year and last came from Michigan. Apparently, not everyone forgot to pack their game for the occasion.
Congrats to Brian Mathis, 2-14 and 2015 LVWA Champion!
Next year, it could be you…come join us!