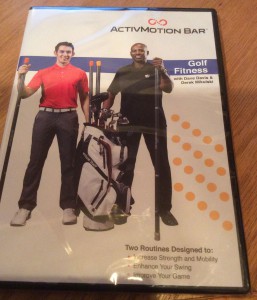 This is a follow up to an earlier review, originally posted Feb 19th, 2014.
I have to admit to being very impressed by a letter I received recently. It came from Derek Mikulski, Founder of ActivMotion Bar (pictured on the left of the DVD box).
Derek was responding to the content of the product review you'll find below. In that review, we complimented the concept of the ActivMotion Bar, but also pointed out the need for the DVD to contain more golf-specific drills and instruction.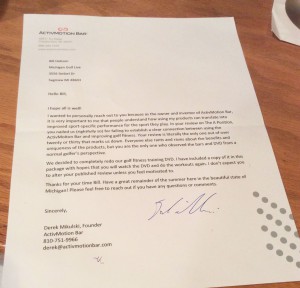 Instead of being offended and angry about the review, Derek and his company did the unexpected – they fixed the problem! This new DVD is addresses golfers in a direct way, making clear the benefits of using the ActivMotion Bar.
Well done, Derek – and thank you for a very kind letter!
——–
ORIGINAL REVIEW: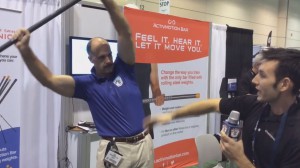 The concept of "golf fitness" is an offshoot of the Tiger Generation. Before Eldrick came along, the physiques of Stadler, Casper, Fat Jack, and their rotund contemporaries were thought to be perfectly suited for a game that was fighting for respect as an actual sport. No one dared doubt their talent and skill level, but certainly none of them had to fend off invitations from Men's Fitness to pose for a pictorial.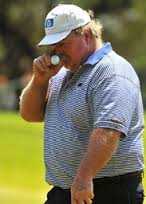 With this more recent focus on preparing one's body for the demands of the game, a wide array of equipment, gadgets, and concepts have burst onto the scene. Today, we review one of those innovations – the ActivMotion Bar.
With this being the first official MGL Product Review, please allow me a brief moment to share our approach to evaluating products.
I'm a sucker for enthusiasm and innovation. When someone pours their passion, energy, and money into a new product, I do my best to celebrate that passion with them and help spread the word about their "baby." Over the years, I've had the privilege of meeting dozens of dreamers who have converted garage and/or basement into a personal laboratory for the sole purpose of creating something they believe every golfer will want.
Most often, they are wrong – expensively, ridiculously, incredibly wrong. Tens of thousands of dollars, countless years of effort, and a crushed dream often await these risk-takers. For every home run like the Medicus and GAME Golf, there are thousands of strikeouts.
Under no circumstances will we blow smoke up your kilt. If a product is unworthy of purchase, we will clearly say so. There is no "shilling" here. However, we will be respectful of everything we test and review. There are real, actual people involved in developing these products and we always want to keep that in mind. This isn't the place where lovers of snark and insult will find the raw meat they crave.
The ActivMotion Bar was initially developed for home fitness by a young man in Michigan. Derek Mikulski fell in love with fitness at the age of 18, and has never stopped thinking of new ways to encourage others to get in shape. His credentials in fitness are well-established and this well-spoken young man certainly knows his stuff. We met at the PGA Merchandise Show in Orlando for an in-person demonstration of the ActivMotion Bar.
Click here to watch the MGL video feature of ActivMotion Bar
After meeting Derek and having some hands on time with the product at the show, I wanted to get the opinion of another fitness-minded member of the MGL team. Why not just handle the review myself? A recent knee injury hampered my full range of motion and made it impossible to fairly evaluate the claims of improved core training.
Todd Arner is part of the MGL team, a diehard golfer, very fitness-oriented, and spent the last two weeks evaluating the product.
MGL Product Review:
The Activmotion Bar bills itself as a workout that will help golfers create a powerful, stable core that will translate to greater distances along with increased accuracy and flexibility.  It features a DVD to follow along with like many other workouts, and has a special metal "bar" filled with weights that slide back and forth as you move the bar.

The first part of the workout is a 30-minute Foundation Builder workout that looks and feels like any ordinary exercises to build your core, admittedly a key to any solid golf game.  But the bar seems like little more than a prop during much of the workout and I'm not sure I heard the words golf, swing, or shank even once during the workout.
Again, a solid core workout but I was expecting it to be a bit more enticing the the golfer.
The second, 12-minute workout did feature some golf terminology and movements but left me wondering why the bar would be more beneficial than using a weighted club or some other resistance.
I was not privy to the "swingstick" that was used in addition to the Activmotion Bar but since that motion was more like golf swing, I would have found it useful.
Any type of strengthening of the core and increasing flexibility is a good thing for our golf games–I'm just not so sure that this particular method has a great advantage of other similar types of workouts out there.
CONCLUSIONS:
– ActivMotion is an innovative fitness concept that will provide variety and unique movement to your workout.
– The application for golfers has been greatly clarified by the revisions to the DVD! Those who already have a working knowledge of core fitness will enjoy using the Bar to further develop, but the average golfer can now confidently begin the type of training that will add strength, balance, and distance.
Product Quality: A
Clarity of Golf application: A-
Overall Value: A-
MGL "Buy-o-Meter" (1-10 scale answering the "should I buy this" question): 8