You try to avert your gaze, but just can't turn away. You hear the curious voice of a young child nearby, saying the very thing that was fighting to escape your mouth – "what happened to her face?"
You have entered into that most uncomfortable of situations…being in close proximity to someone carrying around the evidence of cosmetic surgery gone terribly wrong.
Perhaps the unnatural disaster being witnessed is centered around laughably inept hair plugs, lips with the size and elasticity of those balloons clowns use to sculpt zoo animals, eyebrows that are locked in a perpetual state of amazement. In other words, Nancy Pelosi.
For the next few moments, set aside your personal experiences and biases in the arena of facelifts and makeovers, because the golf world is now home to a fantastic, creative, colorful new technology called ClubCrown.

CLICK HERE TO LISTEN TO THE MGL INTERVIEW
WITH CLUBCROWN FOUNDER BRENDAN DOYLE
I first encountered ClubCrown at the 2013 PGA Merchandise Show. They were still wide-eyed and enthusiastic about breaking through in the golf market. In other words, they were exactly like every other new vendor. Just being at the Show was a thrill. And then something fun happened – people loved the concept. Orders flew in. Demand grew.
They came back to Orlando in 2014, fresh off a barrage of media attention that officially helped plant the ClubCrown flag on planet golf. It has been a whirlwind ride for the entire team as they now wrestle with meeting the demand they dreamed would overwhelm them.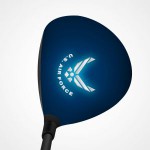 So, what is it all about? Is this golf's version of Joan Rivers?  Nope. Not even close.
"ClubCrown is a professionally installed, hi-tech 3M film that can be applied to the top of your driver, fairway metal, or hybrid," explains company Founder Brendan Doyle. "The adhesive is the same quality you see on car wraps for upscale vehicles. It looks as if it's painted on. No bubbles, no wrinkles. People truly do not understand how an adhesive can look this good."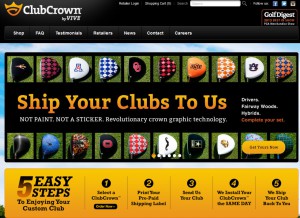 Stop the presses! A CEO making bold claims about a new product? That only happens every single day, right? So we decided to put Doyle to the test.
I grabbed a TaylorMade R11  from my son's bag, had him pick out a design (from the more than 600 options ClubCrown offers) and we shipped it to them using the pre-paid label they send to customers.
Away went the driver in a square brown truck.
Would we ever see it again?
If so, would the result live up to the claims and the hype?
How long would it take?
What if it came back with a look so unnatural that even the Kardashians were laughing?
Well, we have an answer. It looks fantastic. Better than advertised. My son chose a design bearing his school colors, and at the age of 15, it's not easy to elicit a "wow" from him…but ClubCrown managed to do it.
Kudos to Doyle and the ClubCrown team for not only developing a creative, eye-catching technology flare for golfers, but for also delivering as promised in a way that makes the game more fun.
At a retail price of under $50, with application available at many shops around the nation or by shipping your club directly to ClubCrown, the time has come to pick your colors and fly them proudly!
In fact, I'd like to reward one lucky reader of this review by giving away a ClubCrown. All you need to do is send an email to: mglive@tds.net with the Subject Line: ClubCrown Contest before April 3, 2014.
We'll draw one lucky winner to receive the ClubCrown of your choice. It's that simple!
CONCLUSIONS:
Product Quality: A+
Clarity of Golf application: A
Overall Value: A
MGL "Buy-o-Meter" (1-10 scale answering the "should I buy this" question): 9.5