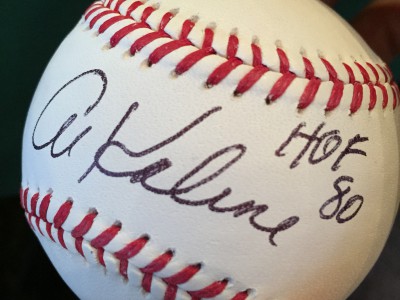 Giant foam fingers were made for the purpose of declaring one's affection for a favorite team. Across this divided nation (Wolverines vs. Buckeyes), fan allegiance runs thick and strong. Quiet arguments mushroom into brawls. Otherwise staid, sedate professionals transform into raving lunatics (see: Buckeyes, again), and blood pressure monitors spike in the waning moments of exciting games.
Baseball – the serene, pastoral, clock-free pastime – is not immune to intense fandom, and for those who love the Olde English D logo of the Detroit Tigers, there can be no better place on earth than Lakeland, Florida in February and March. For over 75 years, the "boys of summer" have come to Lakeland for spring training.
As part of that unmatched relationship between location and team, the Tigers pour a great amount of support into worthy causes in and around Polk County. One of the ways they raise funds for those causes is with an annual golf event featuring current players and Tiger legends.
This year, I was invited to play in that outing. That's where the story begins…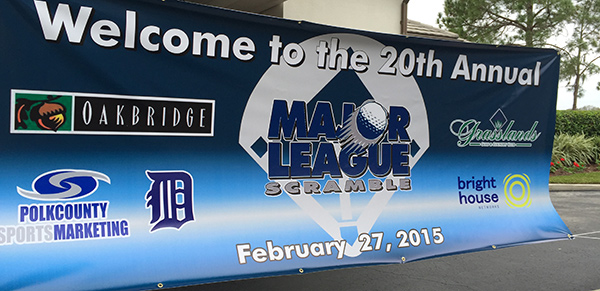 EXQUISITE TIMING
For the past decade, MGL-TV has been pleased to partner with Central Florida Sports Marketing to help spread the word about the outstanding golf and other fun to be had in Polk County. Resting along I-4 between Orlando and Tampa, this region boasts of everything from MLB baseball to the Lego Land theme park to world class fishing to a new world class resort by the name of Streamsong.
The area truly does have everything one could desire on a vacation, unless you really enjoy suffocating crowds and exorbitant pricing. Never fear – both of those items can be found just 40 minutes further along I-4.
As timing would have it, I was going to be in Lakeland on other business during the week of the Detroit Tigers 20th Annual Major League Scramble. The outstanding team at Polk County Sports Marketing graciously extended an invitation to join the fun and, rather than rush back to the sub-zero tundra in Michigan, I graciously accepted the invitation to tee it up. Magnanimous of me, don't you think?
STAR STRUCK
There are very few athletes or celebrities that matter to me. I don't rush stages, scream in excitement, or seek autographs. These are normal people who happen to spend lots of time in the public eye, but in the end they have families, get headaches, enjoy good pizza, and have the same 34 cars in the garage as you and me.
There are two exceptions for this lifetime Detroit fan: Barry Sanders and Al Kaline.
Since Barry's baseball career wasn't all that memorable, the highlight of this day was the chance to talk with Mr. Tiger, Al Kaline. I was born the year the Tigers won the 1968 World Series, so I can't claim to have enjoyed Kaline in the peak of his playing days. Doesn't matter. He's "Mr. Tiger" for me and a generation of fans who grew up after he retired. (No, he is NOT the creator of the alkaline battery, as my son thought years ago.)
These days, Al still puts on the uniform and assists at training camp. Any young outfielder worth all those nickels they pay him would be wise to sit under the counsel of Kaline and learn the fundamentals that seem to be sorely missing in today's game.
After talking with Al and breaking my autograph/selfie rule, it was on to the range to warm up. That's when a battalion of current day players arrived from practice.
Among those scurrying in late for a few emergency warmup swings were Justin Verlander, Yoenis Céspedes, and Anibel Sanchez. It didn't' take long for Verlander to begin dishing out advice to his mates…and it didn't take long for them to adopt the instruction. If I didn't know better, I'd say they were professional athletes.
Take a look at the action of this Cy Young/MVP.
Verlander was literally hitting drives off the far end of the range. Even more impressive is that he was doing so against a stiff breeze. Little wonder that he would go on to win a long drive prize later. Thank goodness. At a mere $25 million salary, and Kate Upton on his arm,  the man needs some things to start going his way.
Tiger fans everywhere are hoping newly acquired outfielder Cespedes can do to a baseball what he does to a golf ball. If so, this would be a good year to bring a hard hat to your seats in left field at Comerica.
TEE TIME
After the show on the range wrapped up, it was time for a shotgun start with a field of 5 or 6-somes. We had young pitcher Buck Farmer on our team, and he now has a new fan. It's refreshing for this veteran sports reporter to inform you that Buck was a blast throughout the round. He gets it. As a surprise (even to him) call up by the big league team last August, Buck is just cutting his teeth in the majors but has his act together when it comes to interaction with fans. While I can't say the same for all of his teammates (who shall remain nameless), I would gladly tee it up with Buck anytime.
As a team, we decided it would be selfish to play well enough to claim accolades or prizes. Instead, we shivered and shanked our way to a position on the leaderboard known as "way, way, way down there."
THE ICING
Since vague concepts like "winning" or "contending" were not in the lexicon for our intrepid team, it was time to focus on other matters.
Knowing what a huge Tiger fan my son is, I asked a few players if they would have some fun on camera and tease him about playing golf over baseball.
Interestingly, two of the nicest responses came from pitchers who had very rough season in 2014 – Joe Nathan and Joba Chamberlain. Remember the description of "lunatic" fans that opened this essay? Joe and Joba could probably deliver a doctorate level lecture on what it's like to be on the receiving end of the ire of those crazies.
Instead of being bitter and hiding in a shell of isolation, both of them were smiling and happy to watch a couple video clips of my son pitching and then swinging a golf club, and sent along a special greeting…
For those who are frozen and needing proof that spring – contrary to reports – is indeed on the way, there can be no better recipe than a trip to spring training, combined with a chance to tee it up with the boys of summer.
Whether you are a fan of my Tigers or – heaven forbid – some other team, get out of town and go soak in the sun, the crack of the bat, and the foreign feeling of golf in the winter. You never know when the best of both worlds may collide in a glorious burst of spring.