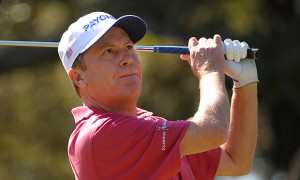 In the pantheon of One Name sports legends, "Jeff" doesn't make the cut.
Ask most fans of professional golf to name the player whose career they would most like to emulate and it will be a while before you hear the name Sluman. You'll hear plenty of Freddie, Tiger, Phil, Arnie, and Jack…but nary a "Slu."
If, however, you happen to be in favor of constantly cashing sizable checks en route to amassing over $25 million in career earnings – then the name Jeff Sluman should readily come to mind.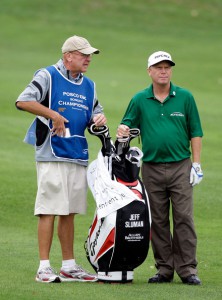 Now in his 6th year on the Champions Tour, Sluman continues to make his mark on the game and the people fortunate enough to interact with him. It hardly seems possible that his PGA Tour debut took place back in 1983, and given the miniscule margin of error in a sport where everyone else wants your spot, it's even more mind-blowing that he's still going strong in 2014.
We spoke via phone on the eve of the ACE Group Classic in Naples, and I asked Jeff to share his secrets to longevity and success. The answer was surprisingly simple, humble, and insightful. Take a few minutes to listen in:
Click here to listen to the Sluman conversation 
So what are we to make of the man who not only has worn the word "PAYCHEX" on his hat for four decades, but has also made it a habit to earn them?
See if you agree with this Sluman "Good Guy" checklist:
Relentless – you don't last on Tour all these years without being driven by a competitive streak that propels you through all the airports, pro-ams, slumps, and mental speed bumps that pop up when you least need them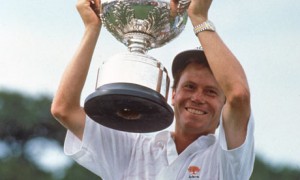 Decent – talking with Slu is not a chore; it's a pleasure. There is no pretense or pretend. In an era where handlers and PR weasels are always trying to control access and "shape the message," it's refreshing to find a good guy who is also doing well.
Driven – slightly different than relentless in that Sluman is constantly working and looking for ways to improve. He recently began working with a common friend, Dr. Lanny Johnson and has brought the new Synapse Golf Grips into his bag to great results. Why? Because he was challenged with statistical support that there was room for improvement and decided to try a proposed solution. This may sound oddly simplistic, but a complacent veteran would not have agreed to a change in grips. Lanny doesn't pay players a dime. Slu could have easily declined. But he's driven to get better, even after all these years.
Fundamentally Sound – as he mentioned in our interview, Jeff has never wrestled with the swing overhaul temptation over the years. He has kept the same teacher, same basics, and just continued to make that work for him. It may not sound like much, but this age of constant revision carries with it a lot of hot-air promises that a tweak here or there will deliver new found success. Meanwhile, Steady Slu just keeps cashing in.
With lots of golf still ahead of him, we would be wise to educate the "One Name Only" golf fan to look a bit deeper in the list. Sometimes, those "Two Name" guys can teach us quite a bit about handling the game, building a career, and remaining upright along the way.
Jeff Sluman. He's not coasting. He's thriving.