Perhaps the strongest barometer to gauge the popular placement of Chip Beck in the pantheon of golf's greats, is found in the Google search engine.
Enter "Chip Beck Buick Open," and the majority of the images and stories that appear as a result, are of Tiger Woods hoisting the trophy for that event. It's highly unlikely the search results are caused by clumsy fingers on the keyboard ("Chip" and "Tiger" are not easily confused in any fashion), so the only logical conclusion to draw is that Mr. Beck and his golf legacy are lagging to a most unfortunate degree.
And he doesn't care in the least.
How is this possible in an age where Presidents take "selfies" and an "I" has been firmly implanted in "team" everywhere we look? Rare is the successful athlete who has the temerity to chuck aside personal ego and just be real.
Chip Beck has known success on a first name basis. The 1990 Buick Open was the first time I had the pleasure of meeting him, but certainly not his lone moment in the spotlight. He represented America on 3 Ryder Cup teams, has 4 PGA Tour wins,  recorded only the second 59 in Tour history, won a Vardon Trophy, racked up more than $7 million in earnings, and was named the 2012 Champions Tour Comeback Player of the Year.
Yet somehow, in the midst of the accolades and giant novelty checks that accompany winning golf, he forgot how to golf. It all went away. Confidence vaporized. Swing a mess. Burnout kicked in at a five-alarm level. There was no instant remedy on the couch of a shrink, no entourage of coaches and trainers to tell him to transfer his change to the other pocket.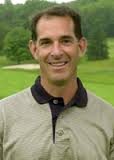 There was Chip Beck, champion golfer, with no solutions. He just wanted to go home.
It's easy to forget that for every private jet-setting stud/future legend (see Google results for "Chip Beck Buick Open"), there are hundreds of incredibly talented golfers grinding out a living in the shadows of anonymity. The only people intentionally in the galleries of these undercover professionals are relatives or former classmates. Living for the roar of the crowd is never a fulfilling vocation for the GYRHO (Golfer You Rarely Hear Of), because the roars might happen once a year at most.
Knowing those parameters, it's left to the determined golfer not only to chart a career course, but also a career purpose. He can't simply aim for endless riches and an eternal supply of blondes. One of them isn't realistic and the other just ends up in a higher tax bracket. Both eventually go away.
Chip Beck is not from the "selfie-taking" part of town. He never lived for the raucous reactions from the gallery, or the trappings of success…so when his game went away, the remaining foundation was still strong. He could always go home. He could put the clubs down, step away, and still be whole. He could invest his mind into something else and go back to golf if he chose to. There was more to life.
I enjoy successful people who aren't afraid to laugh and to make others do the same. I will never forget the 1991 Buick Open Media Day at Warwick Hills. The tradition (up until the time a certain Fijian won) each year was that the defending champion would come back the following June for Media Day and hit a shot on the 17th hole with each group of hackers that came through.
When it was time for our group to hit, the butterflies were working 3 shifts in my tummy factory. They were churning in an effort to somehow secure my Tour card through one impressive swing. After all, if I could show up the defending champion, there was no doubt a sponsor's exemption would follow. The Cinderella story was only 180 yards away from a memorable launch.
As I stepped to the tee box, Chip said, "A big boy like you probably hits it forever." I didn't look at him, but heard what sounded like a bit of mischief in the statement.
I unleashed a swing from somewhere I had never visited. Sirens screeched. Muscles exploded. Jaws clenched. The ball rocketed off the tee and came to a gentle resting place precisely 5 inches from where it started. A near whiff.
It's possible that at some point near the peak of his career, Bill Cosby generated laughter as intense as the sounds echoing around the 17th tee that day at Warwick – but I doubt it. Leading the chorus of howls was none other than the defending champion. Chip was doubled over, unable to breathe. When he finally stood up, he proclaimed "that is the worst swing I've ever seen in my life!"
Few men have experienced the top of the mountain and the depths of the valleys in golf. Chip has been in both places.
He didn't have to have fun with that day. He didn't have to handle the disappearance of his game with such grace and humility. He didn't have to establish lasting criteria and goals for his life and career.
But he did. And that's what's special about Chip Beck.
p.s. This morning, Chip and I chatted for a podcast…listen in and you'll hear a man who still has a passion for golf, but not as the definition for his life.