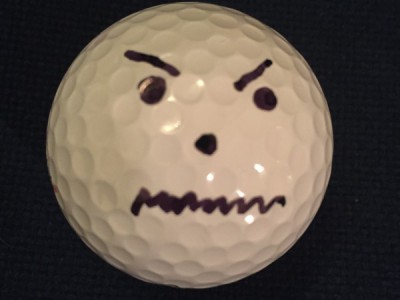 The inner workings of the mind and its partnership with the body remain an unsolvable mystery. This is especially true in golf, where nothing makes sense. Ever.
How else to explain the ridiculous errors, malfunctions, jitters, grounders, and floundering of a player deemed by the USGA to have a handicap of 6.3 but somehow manages to choke, puke, gag, and hack his way to an 85 in Stroke Play competition, missing the chance to advance to Match Play by a single shot?
Welcome to my world. Enter at your own risk.
 Setting the Stage
The event where everything – once again – came unraveled like a discount tuxedo, is the 4th GAM Net Match Play Championship. The 2015 edition of this very fun tournament was held at Forest Lake Country Club in Bloomfield Hills, MI.
The course is not long, but the greens are roughly the size of a nickel and slightly faster than a Vegas losing streak.
The tournament format has all players heading out for an opening round of Stroke Play with the top 32 advancing to the Match Play brackets. That's where my journey ended. That's where my internal combustion reached its zenith.
 The Battle For Calm
In the past few weeks on Michigan Golf Live Radio, we've had both Dr. Bob Rotella and Butch Harmon join us as guests. Both men spoke of coaching the world's top players through both the physical and mental turmoil that can often afflict great golfers.
To me, it makes perfect sense. The men and women who play the game for a living carry a special level of anxiety and pressure far removed from anything an amateur will ever experience. Giant novelty checks, endorsement deals, a place in history – all those things are part of the professional equation. The ability to block out the external factors and focus solely on the shot at hand is vital to the professionals. Doing otherwise would turn them into, well, me.
So then, why do I apparently not possess the mental faculties to carry over the stress-free game that I enjoy with my friends into a competitive environment that carries with it none of those life-changing levels of importance?
Pressure from a gallery? No. On a planet populated by billions of people, there are no more than 150 humans who even knew about this tournament and none of them came out to watch.
Anxiety from media coverage? No. Other than an online leaderboard, there was zero media attention for the tournament. Even so, I host a television program about golf! I hit shots on camera week after week, year after year. (One notable difference is that on my show, editing is allowed. For some reason that concept is frowned upon in official events. Go figure.)
Thoughts of prestige and legacy? Laughable. Go ahead, name me the champion of the 2014 GAM Net Match Play Championship. Exactly.
There is NO legitimate reason for nerves. There is NO legitimate reason for missing 5 birdie putts inside 10 feet. There is NO legitimate reason for playing as if I had just taken up the game.
 The Aftermath
After turning in a scorecard bearing a hideous 85 (net 79), I waited patiently to see how far outside the top 32 I would fall. I was expecting to be at least 3 shots away from advancing. When it turned out to be a single shot, I knew it was going to be a long drive home and a short night of sleep.
The anger began to boil before I reached my car. I don't curse or throw things when angry. I just get very quiet and conduct some rather intense "team meetings" inside my head. This particular post-round meeting was similar to the "teamwork" motivational chat Al Capone (DeNiro) had with his team in The Untouchables.
One single shot. Without hesitation I quickly identified 7 shots that haven't given me trouble in over a year. Coincidentally, that one year window dates back to last year's tournament where I did the same exact (expletive deleted) thing.
In no particular order, this year's menu of malfunction included: leaving a shot in a bunker I never should have been in, hitting a grounder with my otherwise reliable driver, smother-hooking a 6-iron to an impossible spot on a Par 5, missing a pair of birdie putts inside 4 feet. I could go on, but you have likely grasped the idea by now.
Shared Misery
This inexplicable struggle to perform properly in a competitive setting is not exclusive to tall bald guys. Some members of this fraternity happen to have hair. Take, for instance, fellow competitor and friend Brian K.
Here's his recap of the Match Play tournament:
I struggled like a 30 handicapper during Stroke Play, shanking 2 shots in a row, slicing drives 2 fairways over, missing short putts and chunking wedges to the tune of a 43 on the front on qualification (Stroke Play) day.
I seriously thought about quitting (though I never would) but trudged on. I did what any great mentalist in this game would do.
Did I sit down and seriously reflect on my swing? Did I tell myself to relax and calm down? Did I ask my playing partners for some sort of encouragement? Heck no! My remedy was much more logical.
I changed golf balls and put on a new glove! For some reason, it helped! That, along with reaching a breaking point of bad golf and finally calming down because it couldn't get worse. I shot a 2 over 38 on the back and I somehow qualified by a shot.
The troubles during my opening Round of 32 Match were the "between the ears" variety. My putter thought it would be fun to take the morning off as I carded a handful of 3 and 4-putts. In fact, it was a pair of 4-putts. The last one took place right as I was in a great position to go 3 up with 3 to play. Instead, I lose that hole, the next, and the last to force a playoff. On my 19th hole of the match, a timely and final 3-putt sealed my loss.
All that can be said is to learn from this. The more I can get into these situations, the more they become normal and the stupid errors diminish. I hope.
This is a hard game we play and it's made even harder when the lights of competition come on for real. It really doesn't matter whether a worldwide audience is watching you, or just Linda, the GAM Match referee.
Brian K
Lessons Learned
Golf would be much easier if there was someone else to blame for failure. There isn't. I didn't get robbed by the refs or victimized by the poor performance of a teammate. This is all on me and my inability to relax and block out the noise.
There is no way to separate the body from the mind in this game. They feed each other, with the mind certainly being the boss.
I know this is not a solo struggle, as evidenced by the fact that my score somehow still had a small chance of being good enough. It shouldn't have been anywhere close.
Every shot does count, but every shot is made harder when constantly reminding yourself that every shot counts. There is a freedom to letting go of the meaning and just swinging the club.
It's fun to play with friends and bring home some minor winnings from skins every once in a while, but until I can tackle this multi-tentacled monster that is competitive golf, I will always feel like a complete hack regardless of what the USGA Index dictates.
Have you ever struggled in competition? We would all benefit from hearing your struggles and solutions, so please share your experiences in the comment section…