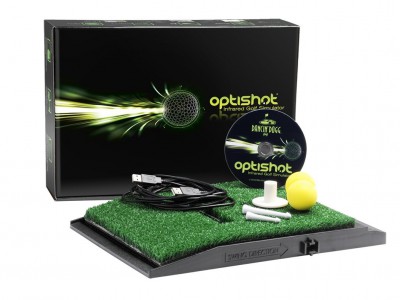 In our part of the world, the frozen, snowbound golfer runs the very serious risk of transforming into a version of Jack Nicholson's madman from The Shining.
Come mid-January, we're bouncing a golf ball against the wall while frightening any small child unfortunate enough to walk nearby.
Why?
We want to golf!
We want to wear shorts and feel the tips of our fingers when outside for more than 90 seconds!
We want to replace phrases like "polar vortex" with "sand save!"
So, just in time for Christmas, along comes a fantastic concept – an indoor swing simulator that actually works. Better yet, it's affordable and wonderfully simply to set up. In other words – YES! – you can do this.
Take a look at our video review of the gift that should be under the tree of every frozen golfer this Christmas. Before you click on the video, please know that we're well aware the lighting in the golf dome is low, the host is dressed like it's winter, and he didn't even shave (gasp!).
Here's our take on the OptiShot:
CONCLUSIONS: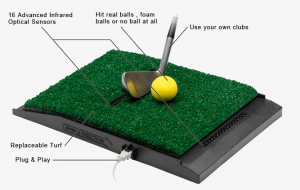 Product Quality: A-
Clarity of Golf application: A+
Overall Value: A
Improvements Needed: Software stability, sensor recognition of fairway metals
MGL "Buy-o-Meter" (1-10 scale answering the "should I buy this" question): 8