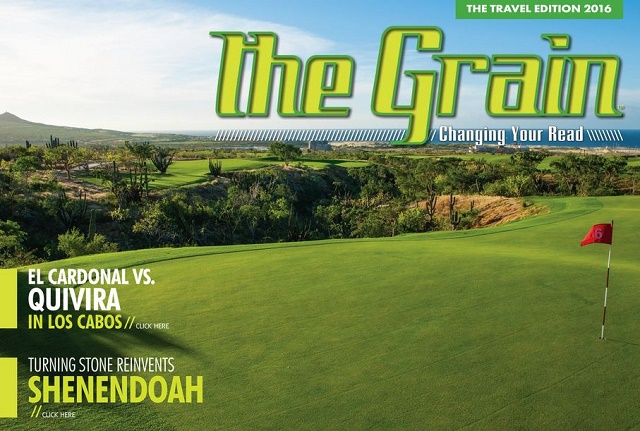 Our 2016 Travel Edition of The Grain is now available, packed with suggestions of where to tote your clubs. Down Mexico way is a good start, as Anita Draycott takes a look at the Los Cabos tracks by Tiger and Jack, El Cardonal and Quivira, respectively.
Jack Wallach roams further afield, to Turkey, no Thanksgiving connection intended. Back in the U.S.A., John Torsiello heads south to Charleston, South Carolina for golf and ample tourist activities, while David Gould heads north to upstate New York to report on the updates at the sprawling and golf rich Turning Stone Resort and Casino.
In our video instruction segment, John Stahlschmidt, Senior Head Instructor at the TPC Scottsdale outpost of Tour Academies, shows you how to hit out of those pesky divot lies.
But we couldn't put out our final issue of the year with saying farewell to Arnold Palmer. So Tom Bedell dusted off his memories of traveling down to Arnie's Bay Hill Resort in Orlando, Florida to interview the golfing great. In "At Play in the Fields of the King," Tom relates how he came away with far more than he had bargained for, when he wound up teeing it up for 18 holes with the man himself.
Safe travels with the 2016 Travel Edition!