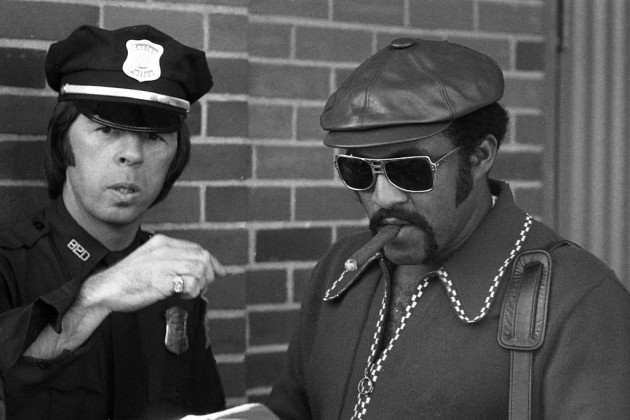 Nothing sums up the prevailing zeitgeist better than the online recap, whereby otherwise respectable writers, toiling for otherwise respectable media outlets, review individual episodes from the various series comprising our so-called Golden Age of Premium Television. It's not that acolytes of Game of Thrones, The Good Wife, Homeland, Better Call Saul or House of Cards ever "miss" an episode. On-demand viewing makes that well nigh impossible. No, these morning-after recaps treat TV shows more like marquee sporting events; they exist so that we might wallow again in their drama, better drink in their plot twists, indulge anew in idle plot speculation, and ultimately rehash it all with likeminded folks in the comments section.
Quite by accident and irrespective of the retrospective TV trend, it occurred to me last week that YouTube might well harbor clips, if not entire game films, of the 1975 World Series — contested 40 years ago next month. As the 2015 Red Sox have descended into chaos-tinged irrelevance, a gaping hole has marred the dying days of my summer here in Maine. My friend Ben has tried to get me behind the Cubs, presumably playoff bound and a worthy substitute, I suppose. But it's no use; the void remains. To fill it, my mind drifted back to Luis Tiant and the magnificent Game 4 he pitched in Cincinnati to level this epic Series.
The 21st century is a remarkable thing: Game 4 was indeed there on YouTube, in its entirety (commercials completely excised). I watched it on my iPhone and, over the course of three days, allowed a veritable cloudburst of memories to wash over me like a warm, amniotic shower. This led to YouTube-aided consumption of Games 2 and 3, in that order, as these, I reasoned, were the chapters in this remarkable 7-game saga that I remembered least of all.
What follows is my recap of this 3-game series within a World Series, one of the greats, which I first watched 40 years ago as an 11-year-old, staying up later than I ever had before, in a suburban living room some 13 miles southwest of Fenway Park.
Game 4, Riverfront Stadium, Oct. 15, 1975: Red Sox 5, Reds 4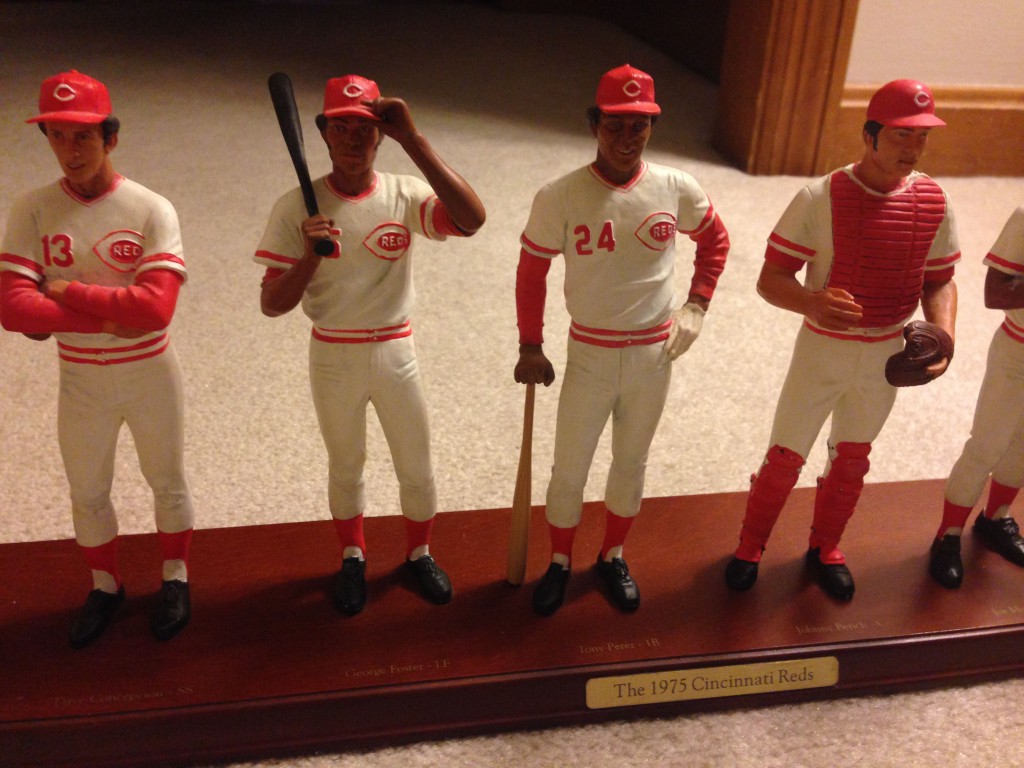 El Tiante was already a Boston legend before he took the mound in Game 4. After doing his best to thwart Sox hopes in 1967, for Cleveland (one of four teams with legitimate pennant hopes that final weekend of the season), he had come over in 1971 and immediately won our hearts. No one knew how old this amiable Cuban really was; I suppose we still don't know. He was a bit dumpy and could be clownish, though a lot of that was surely ESL-based. But he won and he did it with singular style — 18 games in 1975, despite some back issues. He shut the Reds out in Game 1 and, after this virtuoso performance at Riverfront, his place in the Boston Sports Pantheon was utterly secure.
The Reds jumped out to a 2-0 lead in the 1st but starter Fred Norman surrendered 5 runs in the 4th and that's all Tiant would need, throwing ONE HUNDRED AND SEVENTY-THREE pitches and hanging on to win, 5-4. But that's mere box-score fodder. Tiant at his best must be observed and he proved even more immense 40 years on, bullying and confounding the Reds by turn — nearly picking the imperious Joe Morgan off first in the 7th, twice running the bases in his little blue jacket, scoring a run, and looking utterly gnomish the entire time. In the 8th, with nobody on and 150 pitches into the biggest game of his long career, he shifted his wind-up into full-on baroque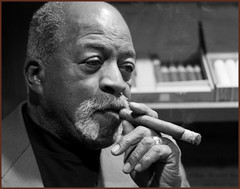 mode. This was something Tiant did when the moment required — fully turning his back to the plate and bobbing his head before wheeling toward the batter and delivering from one of 4 different arm positions.
This was the pitching motion every Bostonian boy mimicked during the summer of 1975. I still have it down, every last detail. When the Red Sox finally come calling, looking for some schmuck to throw out that ceremonial first pitch prior to some meaningless June game vs. the Twins, I'll be ready.
Other observations:
NBC aired the '75 series and Game 4 featured the familiar broadcast team of Joe Garagiola and Tony Kubek — joined in the booth by legendary Reds announcer Marty Brennaman, who was consulted on various Cincinnati-centric matters over the first 4 innings before taking over the play-by-play. At one point, the trio noticed that below the 330-foot marker, on the left field wall, it also read 100.58 — as in meters. In explaining that it had been there since Riverfront opened in 1970, Brennaman went on to casually mock the metric system before making some remark about the seating habits of Alex Grammas, Sparky Anderson's bench coach. Folks of my vintage will recall concerted, school-led efforts to teach us the metric system during the mid-1970s. Its adoption was inevitable, we were told.
The not-so-immortal Juan Beniquez led this game off and played leftfield for Boston, moving Carl Yastrzemski to first. By 1975, I was 3 years into serious baseball-card collection and the Sox had been gathering superb young talent all the while. Back then I knew everyone in the league, let alone this Sox roster, but I had frankly forgotten that Beniquez played any role in this series. Juan Beniquez! The names, faces and exploits of the 1975 Red Sox are permanently etched into my subconscious, and my first glimpse of Juan — his Latin afro bulging out from under his batting helmet — warmed the cockles of my heart all over again. He went 1-4 in Game 4.
Yaz played first and was his usual self: on base 3 times with an RBI. Such a tragic figure (a topic I've touched on before)… He only played in post-season three times over 23 years but was magnificent each time — only to make the last out each time. His signature batting stance was the one all my friends and I mimicked (I can still do that one, too). It always looked to me like he was swinging too big a bat, especially late in his career, out of sheer stubbornness.
After his turn of infamy in Game 3, Reds utility man Ed Armbrister came up and successfully laid down a sacrifice bunt in the 9th. I can remember thinking at the time that his reintroduction, some 24 hours after such villainy, was a horrible omen. But with Geronimo now at second base, Tiant intentionally walked Pete Rose, retired Griffey on a liner to left and popped up Joe Morgan to end it.
Riverfront was equipped with the worst sort of 70's-era AstroTurf, but it never proved an issue in this game nor any of those played in Cincinnati during the series. Indeed, Kubek relayed the fact that Sparky Anderson had been mighty impressed with the ground covered by Sox outfielders over the first three games: Dwight Evans in right, rookie Fred Lynn in center, and Beniquez in left (Yaz played there, too, in Games 1, 2 and 3, replacing injured rookie sensation, Jim Rice). I'd never thought of Boston's outfield as having great range, certainly not in comparison to the Reds outfield: Geronimo in center, Griffey in right and the relatively plodding George Foster in left. But who am I to argue with Sparky?
When Rico Petrocelli first came to bat, in the 2nd inning, NBC primitively superimposed his stats on the screen: He was already 7 for 12! Rico and Yaz were the only two holdovers from the '67 Impossible Dream team; I had forgotten what a great series Rico played eight years later. That may have been when I resolved to watch Game 2 via YouTube, as well. The series opener was a walkover; Game 3 featured the infamous Armbrister Incident, recounted still today, ad nauseum. By contrast, Game 2 was a cypher these 40 years on; I didn't even remember who pitched for the Sox … though I assumed it had been the one, the only Bill Lee.
Game 2, Fenway Park, Oct. 12, 1975: Reds 3, Red Sox 2
Why does one suppress a memory? To avoid the pain.
Apart from who won, I remembered almost nothing of this game. Watching it again, I was reminded of just how tantalizingly close the Sox came to taking total command of this series — and why I had buried that disappointment so deep in my subconscious.
Bill Lee was indeed the star of Game 2 and the reason Boston should, by all rites, have won it and taken a 2-0 lead to Cincinnati. A 17-game winner in 1975 (and '74, and '73), Lee was mesmerizing against the Reds, brazenly serving up an astonishing assortment of junk (looping eephus curves, standard curves, screwballs, change-ups), accented to great effect by three varieties of fastball. It wasn't just the "stuff" he had ("He's throwing everything up there but he rosin bag!" Garagiola mused in the 6th), but his speed and efficiency. Lee worked fast (even by 1975 standards) and didn't nibble — he threw all that junk over the plate and basically dared the Reds to hit it. By and large, they could not. I've searched high and low for Lee's Game 2 pitch count — the exact number of deliveries he used to hold Cincinnati to 1 run and 5 hits over 8-plus innings. But they didn't talk about, nor apparently record such things back in 1975.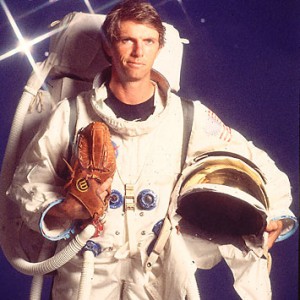 There was a rain delay after 8 innings of Game 2, though this piece of tape was removed from the YouTube recording; the announcers mention the delay as Lee bounds out of the dugout to pitch the 9th, a mass of sand/kitty litter mixture spread about the mound and plate areas. (Another online search — to determine delay duration — came up empty.) Leading 2-1, Lee got ahead of Johnny Bench but Fisk's all-world doppelganger doubled to right and the Spaceman was lifted. Dick Drago came on and pitched well, inducing a weakly hit ground-out (Bench to third) and popping up George Foster. But Dave Concepcion beat out an infield hit to tie the game, stole second (a very close play), and scored the winning run on a double to the Monster by Griffey.
Just like that, the game was lost and the series tied.
Other observations:
Cecil Cooper made the final out in a quiet Sox 9th. He started the game, played first and led off, as he had in Game 1 (or so I was reminded by Ned Martin, who sat in with the NBC broadcast team, as Brennaman had — or would — in Game 4). Cooper hit .311 in 1975 (in a limited role; no room with Yaz at first and Rice in left) and would go on to be a great hitter with the Milwaukee Brewers, after Boston traded him to get George Scott back. Coop swung at absolutely everything in this series; but then, most everyone did. It was striking to see so few pitches taken, so little "working the count", as batters do so assiduously today. Lee accentuated the trend, but pitchers back then worked faster and more often threw the ball over the plate. Of all seven games played in this series, none but the extra-inning 3rd and 6th extended beyond the 3-hour mark.
Was reminded by NBC's archaic graphics that Sox manager Darrell Johnson had played for the 1961 Reds, who were summarily crushed by the Yankees in the World Series.
Dwight Evans didn't do much in this game but I was struck by how plain and conventional his batting stance was back in 1975, just his third full season in the majors. Dewey would go on to have a long career marked by the deployment of some truly bizarre plate mannerisms — many of them concocted during his tutelage under Sox batting coach/guru Walt Hriniak. Some believe Evans should be in the Hall of Fame (none other than Bill James makes that argument). Having watched his entire 21-year run, and seen him suffer through some truly agonizing slumps, that seems to me a stretch. He was clearly one of the finest right-fielders of his era but that particular cohort (Dave Winfield, Dave Parker, Cesar Cedeno) wasn't so hot.
I watched this game on my phone, over the course of 2-3 days, and despite the cruel ending I knew was coming, I did luxuriate in the dulcet tones of Ned Martin, who taught me more about baseball than anyone else during the 1970s. It's all a bit fuzzy now, in retrospect, because Ned would ultimately move to television (Channel 38 out of Boston), a transition he may well have made by 1975. But I remember him equally well for his sterling radio work with partner Jim Woods. I had a clock radio in my room growing up with a radial dial — it featured a scratch mark to indicate exactly where I could find Sox games on WHDH 850. Hearing Ned call this game was a transcendent experience that honestly choked me up a couple times. At one stage, I lay down on my bed and set the phone flat on my chest. The pictures rendered secondary, I drifted off to sleep — as I'd done so many times when my Red Sox of the 1970s were playing on the West Coast.
Game 3, Riverfront Stadium, Oct. 14, 1975: Reds 6, Red Sox 5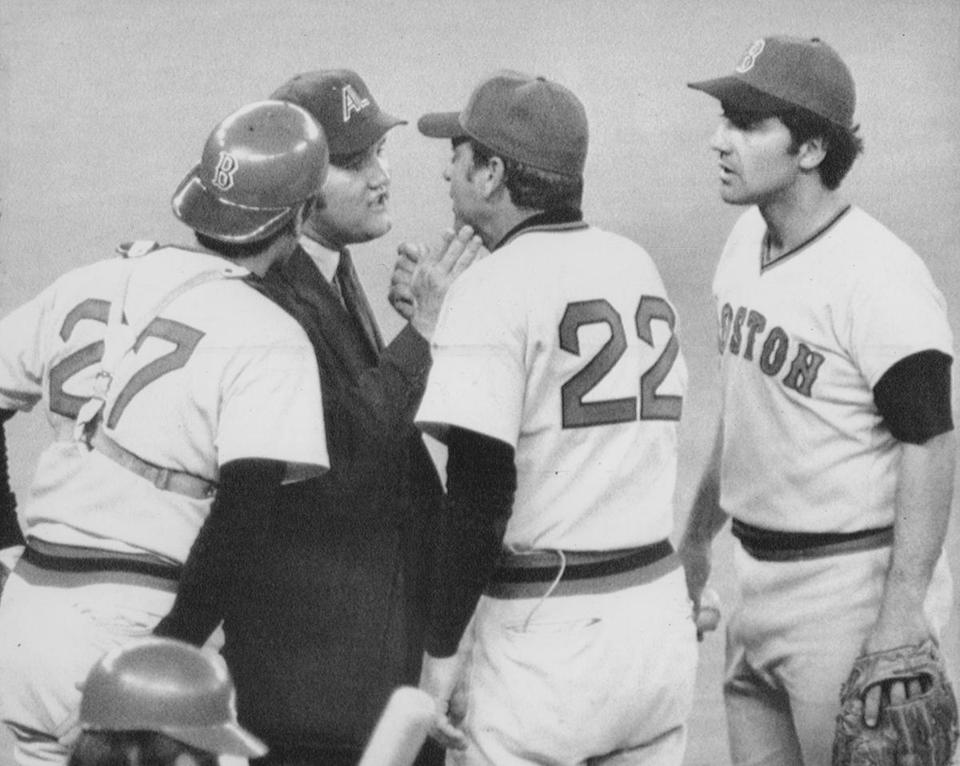 In my vain attempt to determine how many pitches Bill Lee actually threw in Game 2, I naturally ran across Lee's recollections of that game and the series. One thing Lee says emphatically: "We were a better team than the Reds, we outscored them [30-29], and we outplayed them. In fact, we should have won that Series in six games."
Lee was a renegade figure who advocated sprinkling the chronic on one's flapjacks, but the man has a a point. Yes, these Reds are commonly held as one of the best teams of all-time; they won 108 games in 1975, swept the Yankees in 1976, lost two more World Series during this era (1970, 1972), and contended for the NL pennant every year. They showed superb resilience in '75, coming from behind to win Games 2 and 7 — in the 9th. But Boston was better. Any review of Game 3 on YouTube makes this much clear: The Sox could easily have won the first three games of this series. That they instead trailed 2-1 is something of travesty.
Game 3 is overshadowed by the Armbrister Affair but this tilt had everything: A World Series-record six home runs, another 9th inning comeback (this one by the Sox), a desperate emptying of both bullpens, and one of the most controversial umpiring decisions in MLB history.
I'll say this about home-plate umpire Larry Barnett's decision not to call interference on Armbrister, whose sacrifice bunt in the 10th turned this remarkable contest on its head: First, I had forgotten this notorious non-call took place in extra innings — it really did decide the game; second, NBC's broadcasting trio (including Reds employee Brennaman) abandoned all objectivity in the ensuing chaos. All three thought it was clearly interference and said so. Here's the play. Judge it for yourself.
Other observations:
Gary Nolan and Rick Wise started Game 3. Watching the tape four decades later, I vividly recalled and relived my 11-year-old anxiety re. Darrell Johnson's decision to start the bespectacled Wise, a steady, inning-eating veteran for whom Boston had traded Reggie Smith (and received Bernie Carbo) in 1973. Wise was capable (he won 19 games in '75) but he was curiously owlish and a fly-ball pitcher who seemed to benefit unduly from Boston's hyper-productive line-up that summer. He won a lot of 8-6 decisions. He also lost 12 times. Against the Reds, he gave up three hits through four-plus innings — all of them home runs — and by the time DJ lifted him, with nobody out in the 5th, Boston trailed 5-1.
This was a game of dingers and Fisk opened the scoring with a truly titanic blast to left. Amazing to watch both Fisk and Bench during this series — arguably the two best catchers in baseball history, in their absolute primes. Bench answered with one of his own in the 4th.
Carbo, who came up with the Reds, closed the gap to 5-3 with a pinch-hit homer in the 7th. It was later revealed that Carbo was high as a kite when he cranked this and his more famous, Game 6 home run. Dewey tied the game with a two-run shot in the 9th. The immortal, somewhat doughy Reggie Cleveland had pitched in superb relief of Wise until Carbo pinch-hit for him, to such great effect. Thereafter, Jim Willoughby held the Reds in complete check (he'd finish the series with an ERA of 0.00 over 6-plus innings). Cleveland would start Game 5, perhaps on the strength of this great relief outing, and get shelled.
In the 9th, after Evans had leveled things, the Rooster (Sox shortstop Rick Burleson) singled and the Reds were in disarray. Sparky changed pitchers, again, and Johnson, with 1 out, chose to let Willoughby bunt — instead of leaving advancement of the potential winning run to a seasoned pinch hitter. Well, the obscure American League pitcher (who hadn't batted all season) laid down a perfect bunt. DJ had to be thinking that he was pushing ALL the right buttons… But Cooper popped up the first pitch and the inning was over.
Still, the Sox had all the momentum headed into extra innings. Having watched the entire arc of these 9 innings, Game 3 had that unmistakable feel of something Cincinnati had squandered. In the bottom half of the 9th, Willoughby retired the Reds in order and second baseman Denny Doyle singled to lead-off the 10th. By this time, the Sox had outhit Cincinnati 10-5, erased a 5-1 deficit and gutted the Reds bullpen. Yaz hit the next pitch to the wall, where Geronimo made a fine catch. Fisk walked to the plate and again DJ did exactly the right thing — sending Doyle to stay out of the double play. But Fisk scorched one to Morgan, at second, who turned a perfect tag-and-throw, inning-ending double play.
Had a good chuckle between innings as Fisk, who made the last out of the 10th, was still in the dugout donning his gear; someone without gear was warming up Willoughby. It was only 2-3 seconds of interstitial airtime, but I realized it was longtime back-up catcher and future Sox announcer Bob Montgomery! Monty had a lone, fruitless at-bat in this series, so these warm-up tosses were arguably his most high-profile contribution.
Here's what went down in the fateful 10th: Geronimo led off with a single. Enter Armbrister, whose poor bunt and halting procession to first resulted in Fisk, a Hall of Fame catcher, throwing the ball into center field; Geronimo to third, Armbrister on first, nobody out. Johnson naturally argued this call long and hard, even demanding that Barnett consult the second-base umpire. When DJ finally departed, the sheer injustice of his team's predicament sunk in with Fisk, who ripped Barnett a new one anew. I mean, he was in the umpire's face for another 45 seconds — he would surely have been thrown out of any other game.
Once again, despite the dire situation, Johnson pushed all the right buttons. Willoughby exited, making way for Rogelio "Roger" Moret, one of my favorite Sox of the early '70s and just the strikeout pitcher required in this situation. Pete Rose was intentionally walked, setting up the lefty Moret against the lefty Griffey. But no! Sparky countered with right-handed Merv Rettenmund, whom Moret promptly retired on strikes. The Puerto Rican went a remarkable 15-2 out of the bullpen in 1975, despite being the tallest, thinnest Red Sox ever. Kurt Gowdy, in the booth this night (in place of Garagiola), informed viewers that Moret was 6'4", 175 pounds — then later described him as "willowy".
Joe Morgan, the finest second baseman of all time, forged that reputation in this World Series and cemented it a year later. In Boston, \he will always be the man whose dying-quail to center drove home the winning run in the 9th inning of Game 7. Fewer New Englanders remember that it was he who won this game, too — first with his superb, unassisted DP in the top of the 10th, and then with the game-winning RBI. With the bases juiced and just 1 out, the infield was back and the outfield in (to perhaps haul in a dying quail and cut down a tagging runner at home). Morgan mooted both scenarios with a long drive that Fred Lynn tracked for only a few steps before turning away, slumping his shoulders and jogging head-down through a mass of jubilant Reds to the Red Sox dugout. Lynn was the apple of my eye in 1975. Watching these games after 40 years, countless memories of him, his team and this series were dislodged by the magic of YouTube. But not this one. I remember watching that ball bounce to the wall that long-ago October night like it was yesterday. It has never left me.