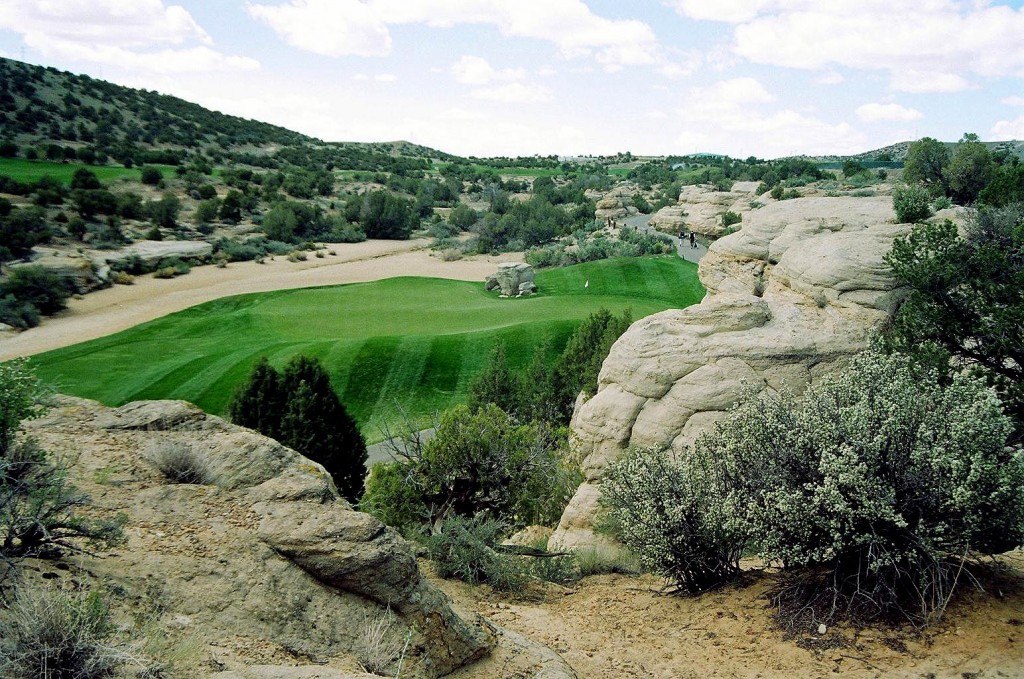 See here the conclusion of a travel log featuring golf on the Colorado Plateau. For the first installment, click here; for the second, here.

Heading south from Mesa Verde on Route 666 (!), one happens upon the region's eponymous "attraction", the Four Corners National Monument, which is little more than a concrete slab suitable for spread-eagling, i.e., placing one limb in all four states at once but little else. Unique? Well yeah, but a tad uninspiring to be honest. So bring a camera (and perhaps a game of Twister, as a prop); otherwise the 90 minutes you spent getting there will have been utterly wasted.
The same cannot be said of Farmington, N.M., a remote berg to be sure but home to one of America's finest public golf courses. Pinon Hills gets a lot of attention for being A) cheap; B) remote; and C) great fun. All these platitudes do in fact apply. It's a fabulous layout, equal parts style and substance. Ken Dye designed it with great flair, through sunken canyons and across dry creek beds. If there's a better golf course out there for $50, bring it on.
If you picture a cinderblock municipal park and rec building, anywhere in America, then add a vaguely adobe sensibility, you've fairly well pegged the modest clubhouse at Pinon Hills. Yet the day I was there, my playing partners had all driven at least an hour to play the course. They hailed from Utah, Colorado and New Mexico — Farmington lies in the Four Corners region, but still. We changed our shoes in the parking lot, and we met again offsite for some killer Southwestern cuisine recommended by one guy, the Coloradoan, who had visiting Pinon Hills enough times to know.
Is there something else you require from a public golf experience?
Two hours north of Farmington is Durango, a name which evokes all manner of mythic western/frontier images. The stylish Strater Hotel, built in 1893, fits the historic bill perfectly. Today, however, this is a kickin' college town, full to bursting with interesting restaurants and clubs, scads of lodging options, and two first-rate golf courses. If Pinon Hills piqued your interest in golf's "other" Dye, play the semi-private Dalton Ranch & GC, another K. Dye track nestled in the San Juan foothills above Durango on some spectacular property cut by Animas River.
Even higher in the surrounding mountains (1,300 feet above the town, to be exact) one finds The Cliffs at Tamarron, a Hills & Forrest design that many consider the best 18 in southwestern Colorado. You can't hit driver more than five or six times at Tamarron but the dazzling routing here bounds over rocky precipices and through mountain meadows while never leaving the shadow of the surrounding Hermosa Cliffs.
Like much of the Four Corners region, Tamarron is well off the beaten path — but eminently worth the trip.