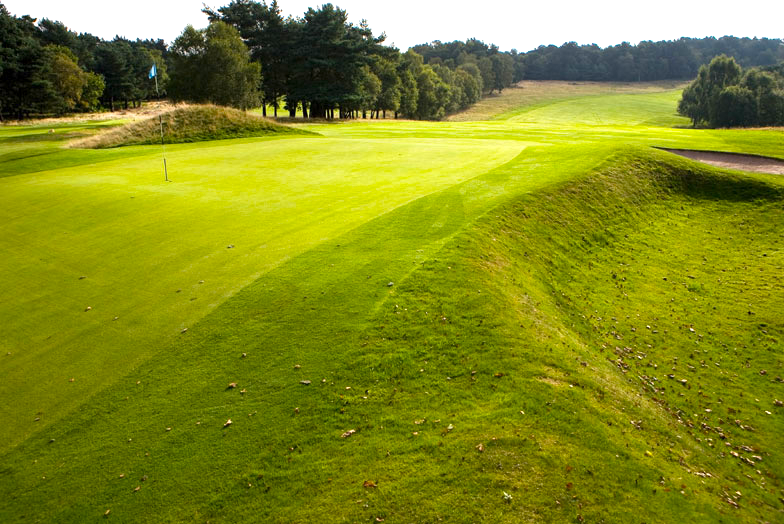 Herbert Fowler is one of those architects whose name, curiously, isn't readily attached to the many great golf courses he laid out and/or substantially retooled. Cruden Bay? That's a Fowler. Royal North Devon? Fowler's fingerprints can be found all over this west country masterpiece. Indeed, his renovation of the Old Tom Morris original (a.k.a. Westward Ho!) fairly well accounts for the superb course we know today.
This lack of name recognition begins to explain why a venue like Beau Desert Golf Club, which Fowler designed nearly 100 years ago in the Staffordshire hamlet of Hazel Slade for the Sixth Marquess of Anglesey, rings few bells. Yet a better heathland course golfers are unlikely to come across, as indeed many have not.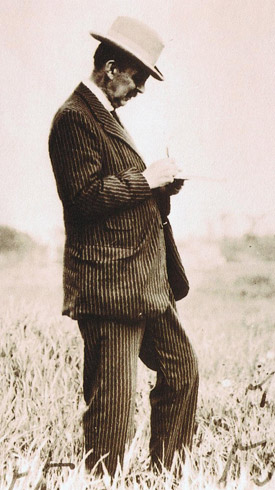 For his own part, The Marquess (nee Charles Henry Alexander Paget) recognized immediately that Fowler had created something extraordinary on his Beaudesert estate. When the course was completed, in 1913, Paget whisked Fowler off to the family's "other" ancestral estate at Plas Newydd on the Welsh island of Anglesey. There the architect laid out a second course for the Marquess, Bull Bay Golf Club, another obscure Fowler product you've probably never heard of.
The majority of Fowler's brilliant work was done in his native England, but he did get around. Fowler was the man who transformed a ho-hum par-4 at Pebble Beach into one of golf's most heroic, par-5 finishing holes. His Cape Cod design at Eastward Ho! (whose peculiar moniker now makes perfect, book-ending sense) is an old-world delight. Fowler also refurbished the ancient Welsh links at Aberdovey where venerated golf writer Bernard Darwin learned the game and played all his life.
Darwin would complete the Fowler circle by eventually visiting Beau Desert's 160 acres of elevated, exposed ground some 25 miles north of Birmingham. Afterward he asserted that, "Here might be one of the very best of courses, for the turf is excellent and there is a flavour of Gleneagles about it. It stands high and is pleasanter in hot weather than cold, for the wind can blow there with penetrating shrewdness."
The Ryder Cup may have played nearby at The Belfry; Little Aston may be the region's most fashionable golfing address. But the finest course in this part of England is Beau Desert. And yes, Herbert Fowler designed it.
•••
If you believe the term "links" is too often misapplied (and it is), then perhaps "heathland" is the source of even greater misunderstanding. To grasp the qualities of heathland golf, think links. The soil is similarly sandy, only inland, upland and very much bared to the elements. Walton Heath is a celebrated prototype (Fowler did that one, too) and Beau Desert (www.bdgc.co.uk) is a worthy sister, laid out on the treeless heath that was Cannock Chase.
It's not treeless any longer, of course. Many heathland tracks, even the very best ones, haven't survived to the current day unchanged. Not by a long shot. After decades of tree growth, most heathland designs don't look anything like they did immediately post construction. What's more, many tree-infested heathland courses not only look but play very differently, as they've become veritable parkland hybrids.
But some still play as a heathland course should and Beau Desert is one of these. Its trees are numerous but, in the main, they merely frame the enormously broad, menacing rough areas, which in turn frame generous fairways. Indeed, if one could reach them, the trees that loosely border the magnificently blind, Himalayan 15th would be preferable to the rough. This mindset, this value system (whereby a lie amongst the trees will likely be better than one you'll encounter in the rough) is a sure sign you're playing a heathland layout.
The Old Course at Walton Heath was Fowler's very first design job, and one he secured only because his brother-in-law was an investor. But Fowler proved a quick study. A world-class cricketer, he was 35, for example, when he first took up the game of golf; within two years he played off scratch. Walton Heath was his first foray into golf course architecture and he nevertheless produced one of the world's great layouts (the New Course, also Fowler's work, is no slouch either).
Why Fowler's name doesn't roll off the tongue alongside that of Morris, Mackenzie or even Colt is a mystery. He was certainly in their class. After all, this was the man who would go on to design Saunton and a pair of superb 18s at The Berkshire. This was the fellow entrusted with the sweeping and well regarded redesigns of Royal Lytham and Ganton, homes to Open Championships and Walker Cups by turn.
Beau Desert may not ring many bells but it, too, belongs in this rank. It's perhaps best heathland course you've never heard of, much less not played.
This is the first in a two-part feature on Beau Desert GC. Check back at theaposition.com/halphillips in the coming days for Part II.