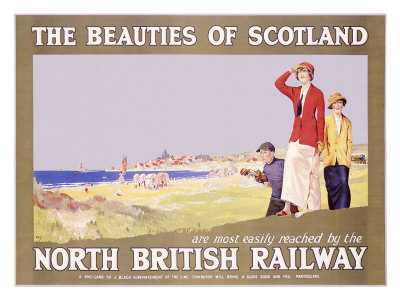 [See here the first in a six-part travel log. Each installment is bite-sized, befitting online reading habits. Be sure to check back in a couple days for a new posted installment, along with other new content.]
WHEN GOLF was first conceived, participants arrived at the course on foot or horseback, or, if the company was honourable enough, by carriage. For this reason, it remained for centuries a parochial, largely Scottish pursuit. In the 18th and 19th centuries, however, all of British culture was transformed by an industrial capacity that, among other things, launched a transportation revolution.
Trains would change golf forever.
In particular, completion of the Forth Rail Bridge, in 1890, widely exposed the bounty of Scottish links courses for the first time — to the rest of Britain and ultimately the world, which still marvels.
The advent of train travel did something else: It spurred the development of "new" Scottish links built specifically to accommodate the rail-enabled.
Golf may not have been formulated with trains in mind, but the idea and practice of "golf by rail" shaped and grew the game during the late 19th century, its first true boom period, an age we now drape with garlands like "ancient", "timeless" and "classic". The railway made the game what it was, what it remains in the minds of many. Without this transformation, the romantic golfing vintage we so idealize (the one we still travel to Scotland to find) might never have materialized.
Indeed, the very idea of golf travel was born in this time. By 1890, the railways had cozied up to several superb links in the Scottish lowlands. It only made sense: Rail connected population centers, which lay mainly along the coast, close to sea level where terrain was flattest and bed construction easiest. Just a short walk from these new "centre city" train stations lay the common lands, the links, where, for example, in East Lothian, clubs like North Berwick, Muirfield and Gullane already resided. Today they remain as practical to play by train as they did in the 19th century — which is to say, perfectly practical for golfers with a sense of history and adventure.
The Forth Rail Bridge, the world's first steel span, made this travel scenario a practical reality in Fife, revealing the birthplace of golf to the game's myriad new zealots.
"As the train neared St. Andrews and I noted the gradually increasing numbers of the faithful," wrote A.W. Tillinghast on his first trip to "that Mecca for golfers", in 1895, "I marveled that the popularity of the ancient game had continued, unabated throughout the centuries."
This new line Tillinghast took north out of Edinburgh served those faithful, and never more ably than along Fife's coastal route which connected the links of Leven, Lundin, Elie, Crail and St. Andrews like pearls along a double-railed chain, to borrow and adapt a phrase. This development may appear divinely inspired, but it was merely a logical-but-happy byproduct of the new transportation phenomenon (a phenomenon that, in Fife, proved all too fleeting). Soon thereafter the Firth of Tay separating St. Andrews from the Tayside and Grampian regions had its own rail bridge and the trains sped north — past Scotscraig, Monifieth and Montrose to the superb links at Royal Aberdeen and neighboring Murcar.
Again, rail travel didn't merely expose great courses to the wider world; it played a role in creating them. The opening of a coastal railway from Dundee to Arbroath, in 1838, led to a complete restructuring and formalization of Carnoustie, in 1867, by Old Tom Morris. Cruden Bay was commissioned outright by The Great North of Scotland Railway Company and opened pretty much coincidentally with the branch line from Ellon to Boddam, in 1897. In other words, Cruden Bay was developed specifically — as were the courses (and hotels) at Turnberry, Gleneagles and St. Andrews (the New Course opened in 1896) — to attract this growing number of rail-riding golfers on holiday.
Recreating such a trip, connecting these dots by rail in the 21st century, isn't just feasible; it's a beguiling window on the Victorian world that spawned and fostered the game we Americans travel abroad to seek. We make these pilgrimages to Scotland, after all, not to play the game as it is today, but to step back in time.
Not too long ago, one 21st century type resolved to experience links golf as it was, as it was intended, as Old Tom Morris and Mungo Park might have done it.
On a train.