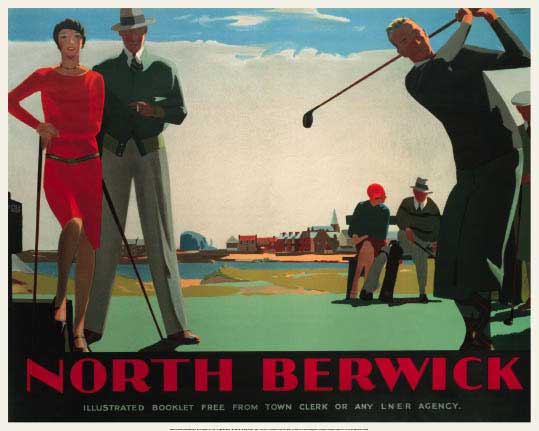 [See here the second in a six-part travel log. Be sure to check back in a couple days for a new posted installment, along with other new content.]
THE TRAIN COMPONENT, I must admit, had been Trevor's idea. He and I went to college together, in London, and he's the one who suggested departing out of Leuchars — the station serving St. Andrews — with nothing but our clubs and heading north for "a wee gowfing holiday" at Carnoustie, "bonnie Aberdeen", Murcar, and maybe Cruden Bay. Trev's originally from Sussex but since moving several years ago to Anstruther, just south of St. Andrews, he's taken to peppering his normally pommy diction with hints of his new local dialect. It's frankly a bit precious.
However, when the source of that dialect — and the point of departure for said wee gowfing holiday — is the East Coast of Scotland, I can forgive the contrivance.
"I'm in, ye daft Sassenach," I confirmed over the phone. "But let's take a full week, start in East Lothian and play our way north."
"On the train!"
"Aye."
Golf by train — I can see your eyebrows arching with skepticism, for we Americans have a difficult time imagining the golfing exercise without our beloved automobiles. Of course, we cherish our lush, emerald-green fairways, too, and our golf carts, beer girls and mulligans. We love our moderate winds and intelligible accents, our yardage markers, preferred lies and the reasonable prospect of procuring a decent salad in the clubhouse. Yet we give up all these things, willingly, when we play golf in Scotland. Why not the rental car?
I flew into Manchester and quickly connected to Edinburgh, accentuating each flight with a bacon sandwich, thereby meeting by 10 a.m. the U.K.'s strict daily -minimum requirement for animal fat and brown sauce. So fortified, I cabbed it to the train station, booked my passage east and left the driving to someone else.
There are few sensations quite like sitting on a British train with one's golf clubs in tow. Their metallic rattle, their unmistakable appearance lay one's intentions utterly bare to co-passengers and rail employees alike who, in Scotland especially, tend to acknowledge these intentions with approving nods. The rattle and roll of a moving train is a potent sleep aid. I begin to nod off, but a golf course appears outside my window — green against a gray sky, flags at full attention — and I'm awake again.
"Mind the wind," warns the uniformed ticket-puncher, cracking a wry smile as we creep our way through the Edinburgh suburbs. My fellow travelers could tell I had a game somewhere; only he knows my destination is North Berwick.
The prelude to golf-by-rail immersion isn't so important. One could go whole hog by flying into London, catching a sleeper from King's Cross and waking, in the words of inveterate golf-by-rail enthusiast Henry Longhurst, "in a new world of hillsides, burns, a dashing river and air like champagne." Or one could simply book a connecting flight to Edinburgh, as I did. It really doesn't matter.
What's vital is that one inaugurates a golf-by-rail journey with the esteemed links of East Lothian, which were built to be and remain some of the finest, most train-accessible courses in the world.