While the 2005 Senior British Open first exposed to a large television audience the brilliant Balgownie Course at Royal Aberdeen, broadcast coverage of the event featured only the inward nine. Television often features only the final nine holes of competition on Saturday and Sunday. But here's the thing: The outward nine at Aberdeen plays amid towering dunes that could only be termed "Ballybunionesque". It is stunning, fabulous, magnificent… Choose your preferred term of exaltation; none would overstate the case. So, if your only exposure to Aberdeen was the aforementioned 2005 telecast, you honestly don't know the half of it. See the place for yourself.
The actual turn here, that moment of transition from outward to inward nine, is among the most sublime in all of golf. Of course, one is as far from the clubhouse as one can be; this is a proper out-and-back links. Yet as one stands on the Balgownie's 10th tee, off to the right one spies a dune-flanked putting surface connected to an equally spectacular linksland fairway that screws away into the distance, spilling fairway over massive humps and hummocks like water down a mountain stream.
That would be Murcar, the Balgownie's estimable neighbor. It's a moment that crystallizes for a visitor the extent of Scotland's links bounty. There are great golf experiences literally everywhere one turns. Only nine more holes at Royal Aberdeen remain, but an afternoon tee time at Murcar softens the blow.
Both Murcar and Royal Aberdeen are 10 minutes by cab from the centre city train station. At one time they had served as two more rail-accessible links in chain. Yet because the purpose-built spur to Cruden Bay is no longer in use, they are, for our intents and purposes, the end of the line.
It had been a wonderful trip, golfing Scotland by rail. But the exercise does leave one a bit misty eyed, for gone are the days when one could start in North Berwick and golf the entire East Coast of Scotland by train — a litany of links that surely comprised the Greatest Golf-by-Rail Itinerary on Earth. Today, with coastal Fife, St. Andrews, Cruden Bay and others detached from the practical mix, that's no longer possible in the strictest sense.
All that remains?
Still the Greatest Golf-by-Rail Itinerary on Earth, for those with the steel and invention to attempt it.
Yet one suspects that, if we had taken the roadway to Cruden Bay, we would have encountered scenes similar to those we found on the coastal road south of St. Andrews: vestiges of a bygone Age of Rail, only 35 years gone in some places but already overgrown or coldly reclaimed for alternate, modern use.
What to make of the abandoned railway bridge just beyond the entrance to Kingsbarns, which now sits idle, somewhat decrepit, overgrown and out of place in a farmer's field? It's a bit heartbreaking, in a civic sense, as is the old train station at Crail, once a dignified civic institution that has been converted to a garden center.
The railway used to split the neighboring links at Lundin and Leven right down the middle, but no more. Today on the 12th at Leven (a par-5 still called "Railway"), a line of gorse protects one side of the fairway, bending gently to the right and following the former railway bed with man-made precision.
It's sad and bit eerie to take in these relics of the not-so-distant past, perhaps less so for Americans who so worship the automobile (and largely decry the federal subsidy of Amtrak). For the British, however, these reminders must surely be a gut punch. Human beings never lose their fascination with those things they invent, and so Our Cousins remain utterly captivated by trains and golf, two innovations that came of age at the same time and whose fortunes, even when they've diverged, remain forever intertwined.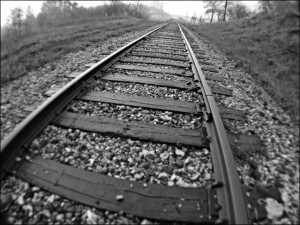 [This is the last installment in a six-part travel log. Be sure to check www.theaposition.com/halphillips for previous installments and other new content.]