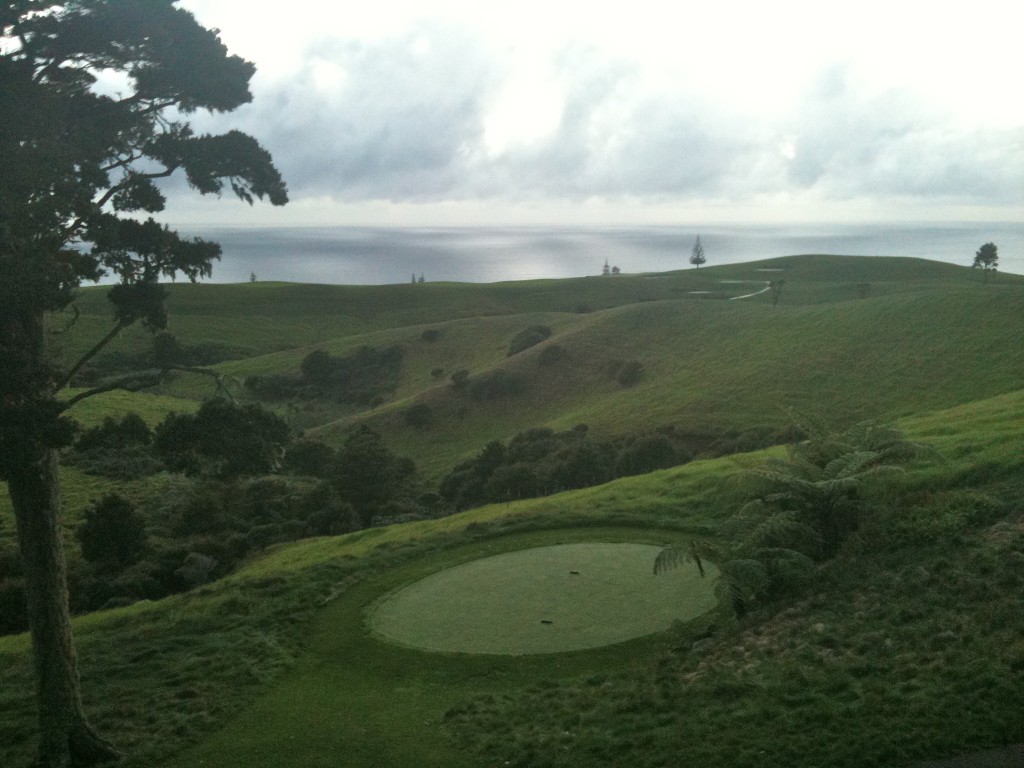 I'm up early. The sun doesn't rise here in the Northland of New Zealand's North Island until around 7 a.m. local time. As I stand on the porch of my guest cabin at Kauri Cliffs Golf Club, staring a bit bleary-eyed into the northern sky, I see one of the stars flash and move. What could it be? It's the Air New Zealand flight from Los Angeles making its descent into Auckland, the same route that delivered me here the morning before. It passes nearly over my head and, as it does, my eyes have adjusted to the point where I can make out the dimly lit expanse of golf course before me, including the vast Pacific and Cavalli Islands beyond.
Just another morning at Kauri Cliffs, where wonders don't so much cease as become commonplace.
I can't think of another Top 100 golf course that actually struggles to compete with the myriad amenities and activities that comprise the associated resort experience. Kauri Cliffs GC, a David Harman design opened in 2000, is ranked among the world's Top 100 courses by both Golf Digest and GOLF Magazine, and it may be the most picturesque golf course on Earth, with its half a dozen cliffside holes (each offering soaring views of the Bay of Islands) and the gargantuan sweep of its inland holes, which recall Princeville on the Hawaiian Island of Kauai.
But this is a resort that boasts 5-star accommodations (The Lodge at Kauri Cliffs, a sort of Southern-style, veranda-wrapped plantation house, was named 3rd Best Hotel in the world by readers Condé Nast Traveler as part of the magazine's 2010 Readers' Choice Awards), gourmet cuisine (it seems guests celebrity chefs are here every other month, serving lamb and beef raised on and harvested from the 6500-acre property), three ridiculously beautiful, secluded beaches (ever surf-casted for snapper?), 22 miles of nature walks, sailing, helicopter rides, and the luxury of knowing that, at any one time, there might be fewer than half a dozen other guests on the property.
Yes, it's remote. This is not merely the famously antipodean New Zealand. It's the Northland of New Zealand, a 3.5-hour drive from Auckland. But my flight from L.A. was 10.5 hours. I left on a Monday night, essentially sacrificed my Tuesday and arrived Wednesday morning feeling pretty darned good — good enough to work out and sneak in 9 holes before tucking into a 6-course meal. More on that in posts to come.
We finished the final four holes in what, here in the Southern Hemisphere, might be described as a light, warm autumn rain after having played through two periods of brilliant sunshine. The summers here, November to March, are said to be glorious from a weather perspective, but something about the quick changes from sun to clouds to rain and back again, complete with rainbows, I found sort of irresistible.
[See here a slideshow of images from the Kauri Cliffs portion of the trip: 2011.05]