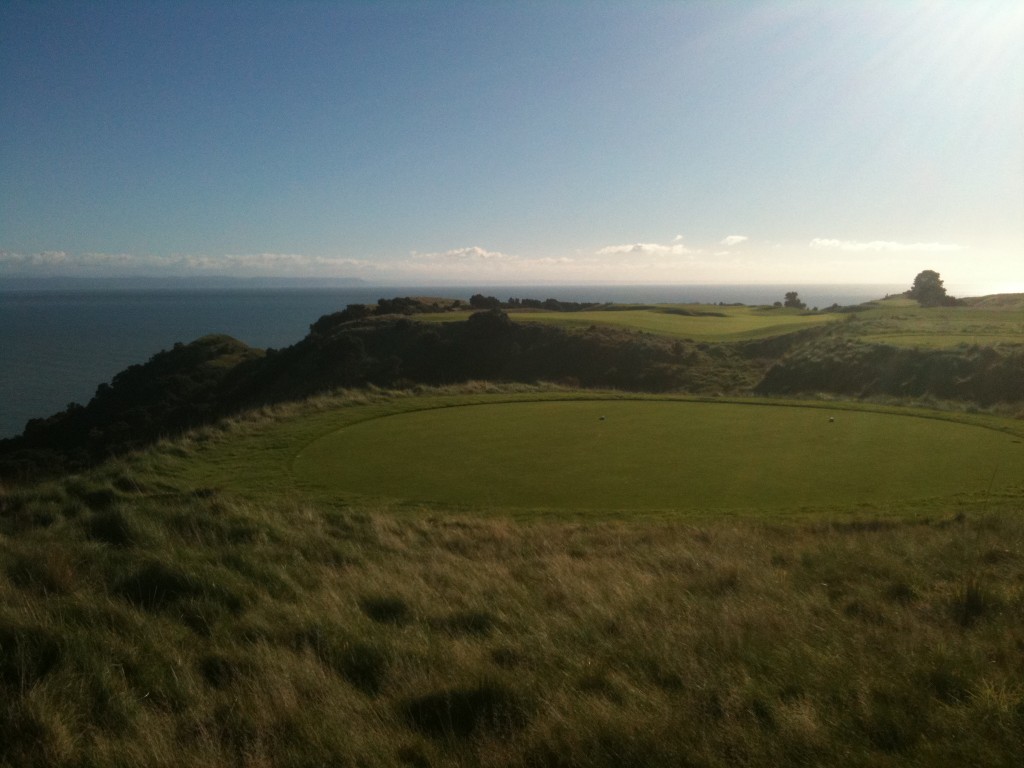 What little game I possess left me at Cape Kidnappers Golf Course. The round at Kauri Cliffs two days prior, here on New Zealand's North Island, had been my first in five months, and what for me was a strong should naturally have stood me in good stead for Round II, right? Well, no. I played, as my dad would say, like a fink. Had I been playing a lesser course, I might have written the day off as a total loss. But Kidnappers is ranked even higher (#36 on GOLF's World Top 100) than Kauri Cliffs and I'm not about to argue with its place in the pantheon.
Cape Kidnappers is an actual landform unto itself, a triangular headland whose white cliffs jut 8 kilometers out into the Pacific from the North Island's eastern coast. (It was named after an attempt by local Maori to abduct the servant of a member of Captain Cook's crew aboard HMS Endeavour, during a landfall at the Cape on 15 October 1769.) The plateau where the golf course and adjoining lodge reside sits some 1000 feet above the crashing surf, and rushing water from the peaks that form its spine has carved deep fjord-like chasms in the property and cliff face. Tom Doak's 2004 course design plays along the high ground, between the fjords, making it another of the most stunning physical golf environments in the world.
We played Kidnappers on a picture-perfect day. It's autumn here but we went 'round in shirtsleeves, in what passes for mild wind. You've probably seen pictures of this place. Aerial shots of the fjord-dodging holes have graced the covers of countless magazines and coffee-table books, but the inland holes are the equal of the best heathland holes you'll find anywhere. I think that's part of its appeal: The course plays hard and fast but it's not a links; it is, in fact, a cliff-side heathland design where the bunkering — bold, deep and scruffily edged — frames big, inventive greens and forms pivot points around which generous fairways tack back and forth.
This wonky course design jargon gets tends to fall away when you're standing on the 13th tee, gazing slackjawed at the 1,000-foot drop just to your left (instead of the tricky green just 130 yards away), or the 15th green, aptly named Pirate's Plank, which Doak fashioned as a sort of ramp cum peninsula surrounded on three sides by oblivion. The finer touches are frankly more comprehensible when you play the inland par-4 7th, for example, driving to its plateau fairway (semi-blind from the tee), then approaching over a gully to a plateau green flanked by a trio of killer, steep-faced bunkers.