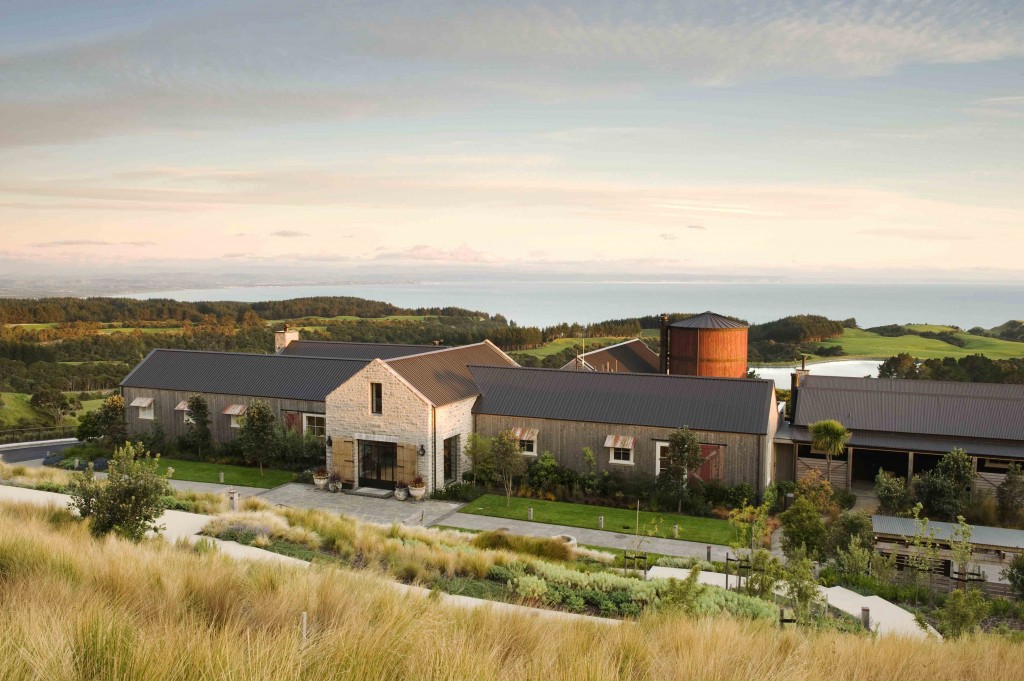 For a good long while, the finest golf-specific accommodation I had ever experienced was the Lodge at Doonbeg, a spot-on reproduction of an 18th century Irish manor house where they burn peat to complete effect. Note the tense. The respective lodges at Kauri Cliffs and Cape Kidnappers meet or exceed that standard, and somehow they manage to do so without being overly grandiose.
The Farm at Cape Kidnappers (named to Travel+Leisure's "World's Top 50 Hotels" in 2010) is centered on a sort of post-modern Irish manor house, at once elegant and austere but never pretentious, with a massive bank of ceiling-to-floor windows affording long views over the course, Hawkes Bay and, at during the dinner hour, the bright lights of Napier beyond.
Yes, men are required to wear jackets at dinner but it seems a small price to pay for victuals this inventive. I have since raved about the food to family, friends and business associates, eliciting perfectly reasonable responses, such as, "What exactly did you eat?" Well, it's frankly hard to remember exactly when the menu reads like this night after night:
Salad of Lentils and Green Beans
Avocado, Pecan Nuts and Pumpkin Seeds
Pomegranate Molasses Dressing
Raviolo of Scallop and Crayfish
Sautéed Savoy Cabbage
Tomato and Crayfish Bisque
East Coast Hapuka
Eggplant Purée with Garlic and Lemon
Terraza Saffron Dressing
Angus Beef Tenderloin
Truffle Mashed Potato, Spinach and Garden Carrots
Thyme Red Wine Sauce
For dessert, this night, we were obliged to choose between a plate featuring Swedish Profiteroles, Hazelnut Coffee Ice Cream and Vanilla Mousse, or a serving of Crème Brulée, Ricotta Doughnuts and Roast Strawberry Compote. Decisions, decisions (I went with the doughnuts; pictured at right is my colleague's dessert from the night before)… The owners here also maintain a winery in Napier, the heart of New Zealand's largest vineyard region. The staff pour these particular vintages and dozens more, from here (there 75 wineries in greater Napier), further afield in N.Z. and abroad.
Again, as at Kauri Cliffs, the scale of everything at Cape Kidnappers, not just the menus and wine list, is sort of mind-boggling. In addition to The Farm and Cape Kidnappers GC, ranked by Golf Digest #10 among designs outside the U.S., the 6,000 acres here comprise the largest bird sanctuary in all of New Zealand, including a mammoth Australasian Gannet colony. The course superintendent, Steve Marsden, presides over a rigorous Kiwi tracking/preservation effort (guests can participate in Kiwi walks, wherein they track these rare birds with hand-held GPS units). The Kiwi are flightless; they're endangered because its many predators were all introduced by Europeans since the settling of New Zealand in the late 18th and 19th centuries. It took the construction of a 10k entrance road to access the portion of the peninsula where the resort now takes up residence. About 3k from the lodge, you pass through a predator fence that extends 5 feet up and several feet underground. The fence encircles the entire lodge and golf course portion of the property, forming a protective barrier for the Kiwi stretching 5 kilometers in circumference.
For you metric-challenged Americans out there, let me put that in perspective: It's a frickin' long fence.