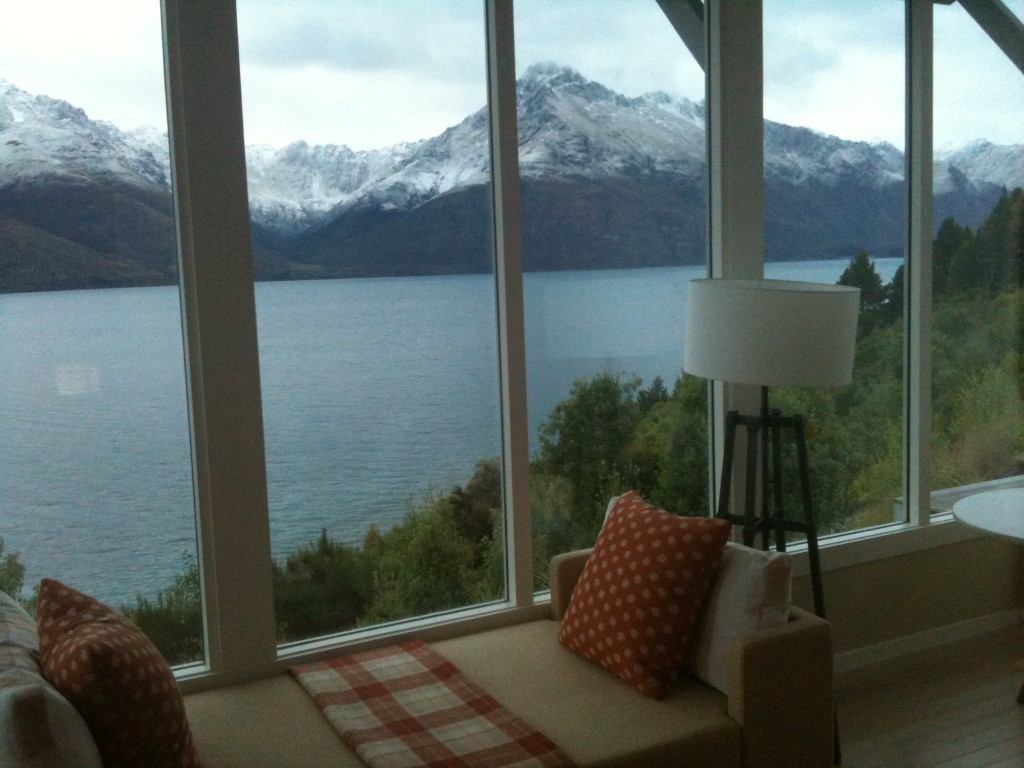 Owned and operated by American financier Julian Robertson, Kauri Cliffs and Cape Kidnappers were recently joined by a third N.Z. property, The Matakauri Lodge, in the ski and adventure sports Mecca of Queenstown. The Matakauri would subsequently make Condé Nast Traveller's "2011 Hot List", and, like its sister lodges, it's almost absurdly scenic, chic and luxurious.
Queenstown and the Matakauri are something of a departure for Robertson and his team. Spectacularly situated on Lake Wakatipu, with stunning views of the Remarkables (that's a mountain range in New Zealand's Southern Alps), Matakauri is smaller than Cape and Kauri (just 11 suites, each with a private terrace overlooking the water); it's located quite close to a proper town center; and there is no golf attached to the property.
However, there are two fine golf courses that have relationships with the lodge: The Hills Golf Club in nearby Arrowhead, and Jack's Point, just across the lake. Both are designed by Kiwi John Darby. It was frankly too nippy to play golf the two days we spent in Queenstown. It snowed in the mountains the night we flew in; the region's ski areas were scheduled to open in just three weeks time.
More than 1,200 miles separate Queenstown and Bay of Islands in the far north. Golf is played year round at Kauri Cliffs and Cape Kidnappers, but the same cannot practically be said of the Queenstown courses. Poor planning on our part.
Indeed, we nearly didn't get into what was a very foggy mountain town, on account of bad weather, but we did (thus avoiding a diversion to Invercargill, and a 3-hour bus ride through the mountains at night; check out Invercargill on a map sometime — it's WAY down there). On the flight from Christchurch, aboard an ATR (that type of prop plane where the wings attach to the top of the fuselage), I sat beside a genial Kiwi who assured us the vessel would land in Queenstown. "They put these ATRs down anywheer," he said. "You watch." Nearly on cue, the pilot said we were diverting to Invercargill, and a pall was cast over the passengers, my new friend in particular. Five minutes later, the pilot came back on and said there'd been a break in the weetha southwest of Queenstown. We were approaching from the northeast. He said they were going to give it a shot, and if we suddenly pulled out of the descent, we'd know why.
Well, what a descent. Imagine a dense bank of clouds out the left windows; to the right, brilliant sunshine. About the time this interesting dichotomy was achieved, we began a steep, downward dive, all the while turning left, essentially hugging the edge of this cloudbank the whole way down. It felt like banking through roller coaster turn — a 5-minute roller coaster turn. All of a sudden we flattened out, were over the lake (about 500 feet), between the mountains, and it was done. My seatmate could not have been more pleased.