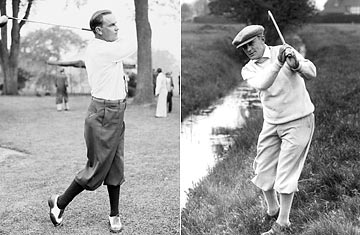 Following his 18th green heroics on Sunday, when he sunk a 12-foot birdie putt to force a playoff, George Von Elm (above right) and Billy Burke (left) rejoined their  battle royale Monday morning. For the first time during the 1931 U.S. Open Championship, after 72 holes of golf (normally enough to decide a winner), the two combatants played alongside one another, head to head, and the results were predictably dramatic.
"This playoff changed complexion at least 15 times," Rice wrote in The American Golfer, failing to note that this particular playoff would ultimately feature as many holes, 72, as your run-of-the-mill major championship. Indeed, the remarkable give and take of Monday's 36 holes left the normally verbose Keeler at something of a loss: "I saw altogether too much… to make any sensible selection of features from such a wealth of them."
Von Elm fell four strokes back at one stage, only to birdie four on the trot and reclaim a two-stroke lead. Burke was steadier, and by the time he reached the 36th tee — the 108th, all told — he held a one stroke cushion.
Then, as now, the 18th at Inverness is a short par-4 of just 330 yards. This is where Bob Tway's birdie from a greenside bunker defeated Greg Norman during the 1986 PGA Championship playoff…
This is where Von Elm's birdie at Sunday's 72nd hole forced the 1931 Open playoff…
Once again, on Monday, Von Elm needed a birdie 3 at the last to fend off defeat. And once again, he delivered — holing a 10-footer and forcing another 36 holes the following day.
Burke and Von Elm trudged on, playing the Tuesday morning 18 (temperatures were already into the high 90s by 10 a.m.), like the exhausted, punch-drunk combatants they had every right to be. Both men shot their worst rounds of the tournament, though Von Elm's 76 nevertheless afforded him a one-stroke advantage at the break.
It looked for all the world as though the 1931 Open winner would be meted out by attrition.
And yet, as Keeler noted in our first post , after lunch both players rose magnificently to the occasion. Burke went out in one-under (34), building a two-stroke advantage. Von Elm fought back and drew level with a par on 13. But Von Elm's putter deserted him on 14 and 16, where three-putt bogeys essentially doomed his chances. The man whose putter had saved him Sunday and Monday betrayed him on Tuesday afternoon; he shot 73, with 35 putts.
When Von Elm's long birdie attempt on 18 didn't find the hole, Burke had the cushion he'd long lacked. Before addressing his own 25-foot birdie attempt, Burke was regaled by a green-side photographer: "Say, Burke, how about a shot?"
With 143 holes behind him and poised to claim golf's greatest prize, the unflappable Burke obliged the press corps by producing a winning smile. "Go ahead," he said. "I've got three putts to make it."
He would use all three.
Despite this cautious lags on 18, Burke's exquisite, even-par 71 was his lowest round of the championship. "There is no need to gild a par round at this stage," the sage Keeler remarked. "It speaks for itself."
[This is the last in a multiple-post feature on the 1931 U.S. Open Championship. Visit www.theaposition.com/halphillips for previous installments.]