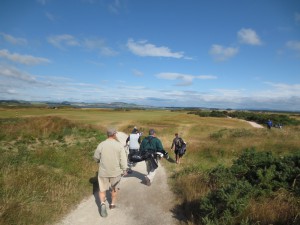 ST. ANDREWS, Scotland—Since we'd arrived at midday Friday, we had been passing by the first tee and 18th green of the Old Course, which sit so perfectly amid their surroundings. On two sides, they're framed by charming and ancient St. Andrews. On another side is the sea, which is so intertwined with links golf. Finally, the last piece in the vista is the golf course itself.
From your perch behind the 18th green and first tee, you can't see much beyond those two holes. You know it's out there—a marvel of 14 double greens laid out between fescue and gorse. You know that basically, you march out for nine holes and you stride back in for nine holes. You know that golfers have been making that same pilgrimage since the 1400s. Until you've done it, you wonder what it's like.
All I can say is, when we took our turn on a crisp, bright Monday morning, the moment was as enveloping as I had expected. The low-running links golf play. The spare scenic beauty of both the golf course and the town that frames it. The sense of history. It was a special day in many ways — because the Old Course is a combination of ingredients that add up to a magical experience.
I'd like to tell you that as we stood on the first tee, I was thinking about hitting a golf ball on hallowed ground where golf had been played for centuries. I'd like to say I was relishing the moment because the first tee at St. Andrews is a lovely gathering point for golfers watching other golfers. But all I was thinking was, ''Make contact and hit the ball down the middle. So you can enjoy the other parts of this moment.''
As we trundled off the first tee, I was alone in my thoughts. My wife Liz had gone down the right side. And my friend Ron had cranked his drive left. Because we were into a head wind, and because I don't hit the ball far or high, I chipped up to the Swilcan Burn, a wee Scottish creek that guards the green, and threw a little wedge over it, then narrowly missed the par putt and sighed. From there, I could settle down.
The golf course is what you think it is: Cactus-like gorse, wispy fescue grass and ominous deep bunkers guard bumpy hard-scrabble fairways and undulating greens that are surprisingly smooth to putt on. I wanted to absorb it into every pore. And I was pretty much able to do that. Liz and Ron had taken caddies. So had our fourth player, who was added to our threesome on the first tee. I had my bag on my back. Even this was the perfect situation.
The caddies provided guidance when needed, and simple things like, "Where is the fairway?'' are not always obvious on the Old Course. But as an old caddie, I like to read my own putts and decide how I want to play my shots—especially at St. Andrews, where you can basically use any club you want on any number of shots.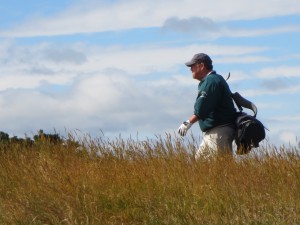 Adding to the dreamy quality of a round at the Old Course, it's starkly scenic everywhere you look—except for one thing: You often can't see where you're supposed to hit the ball. That can be a good thing, though. Because you don't see all the peril.
I'm not sure why, because I was very pumped up, but I was making good contact, by my modest standards, that day. And so, I was keeping the ball in play, which added to the experience. During the round, the bounces gave, and they took away, as you'd expect. But they gave far more than they took in my case.
Still, on the second hole, I barely found my approach, which landed well short of the green but caught a downslope and ran all the way through it. Ron's caddie had given me a good yardage to the green, which we couldn't see completely. But my low ball tends to run when the ground is firm. And it certainly was firm here.
On No. 3, a weak drive put me in my first pot bunker of the day, but I managed to hack it out sideways. On No. 5, the lone par-five on the front nine, I actually hit three solid shots, barely missing par when my ball ran through the green. On No. 7, a brutally skulled approach had so much steam it went around the immense shell green.
On No. 8, the lone par-three on the front, I skulled a 7-iron—I've been in a short-iron slump since Obama's second term began. I was embarrassed and disappointed, but the caddies nodded and said that could produce a very good result. They were right. The ball stopped three feet from the cup, netting the day's lone birdie.
Bolstered by that, and aided by a very playable stretch, I managed a par on No. 9 with a good chip and a par on No. 11 with a long putt. On the par-five 14th hole, ominously named "Long,'' that trouble set in. My tee shot landed in one of the Beardies, a group of nasty pot bunkers. My second shot landed in another of the Beardies—so named, if I recall correctly because the greenskeepers find it difficult to cut the grass around them.
Humbled by that disaster, I plodded along, trying to find a swing and some confidence, for the Old Course's famous finishing holes—the ominous Road Hole and the inviting home hole, which is officially named "Tom Morris.'' Ron, who was playing the Old Course for the second time, had told me that his previous caddie had ordered him to take his drive over the former train shed portion of the Old Course Hotel—which is the kind of story that makes me feel even better about carrying my own bag.
Liz bangs tee shot off building and back onto 18th fairway.
After watching Ron and our fourth bang their tee shots off the Old Course Hotel — good thing they use golf-ball-proof glass — I decided to take the Road Hole less traveled, around the left side of that landmark inn rather than over the corner of the hotel. Hitting the ball where I planned for once, I dropped my short fade of a drive on the left side of the fairway, and never mind that it was 200-plus yards from the green. I took the road out of the Road Hole with a low-running iron, then flipped a 40-yard pitch onto the green and watched the ball roll to within three feet of the back-left pin for an easy par putt.
Herb flails tee shot down the left side of the 18th fairway.
I then negotiated the short and picturesque 18th hole by going left of the Valley of the Sin, the bumpy stretch in front of the green, and throwing a short iron onto the green 20 feet above the hole. A couple of dozen passers-by were watching us finish up, just as we had done several times, and I dearly wanted to show them a birdie. But my bending downhill putt was too dangerous, and I was very content to lag it close for a tap-in par.
I will always cherish those pars on the last two holes of the Old Course. Final damage: A 90, including the nasty 7-X on Beardies-inflicted 14th hole. But more importantly, a lifetime of memories.