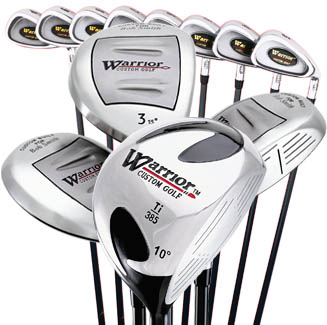 I will often travel with a set of my Warrior Golf Clubs. Why? First, most folks wouldn't think to steal them. Secondly, they're relatively inexpensive and easy to replace, and they perform adequately. Otherwise, I am quick to put their headcovers on my favorite premium clubs for the same reasons. What are you doing to draw less attention to your equipment?
Let's face it, if you've been around the game long enough, you have either had some clubs stolen or you know someone who has. I have. It's one of golf's dirty little secrets that just a few people can so negatively impact others, but sadly it does happen.
Annual golf equipment thefts have long exceeded a couple of hundred million dollars annually. While retail stores with brand new clubs are frequent targets so too are your late model clubs. Individual golfers have been easy targets as golf facilities (courses and driving ranges) tend to have wide open, common spaces with heavy traffic with security scant. And don't always assume that it's just some kids or misguided adult doing the dirty work; with demand abroad and prices high, sophisticated thieves target your new, high-end models too. Your top-selling clubs could be listed on eBay, Craigslist, or be off to Asia before your next scheduled tee time.
The best advice is to look after your clubs as you would an expensive camera or watch. Would you leave a $1,500 camera on a park bench? It then follows, why do so many leave their clubs on an unattended bag rack while they retire to get a shower, bite to eat or a drink? Better yet, their attention-getting TaylorMade Headcovers or Scotty Cameron Putter Cover is akin to yelling "Steal Me! Steal Me!"
Here are some tips you may want to follow:
1.   Cover your expensive high-tech metal woods with generic and preferably older head covers. Drape a towel over those expensive irons. Take off your bag tags that might identify you as affluent and well-traveled.
2.   Immediately after your round, count your clubs and place them into the trunk of your car. Avoid the bag rack. If you have left a club on the course, your chances of recovering it are much better the sooner you identify and report it missing.
3.   Etch your name into your iron clubheads and at least affix I.D. labels on each club shaft.
4.   Remove all signs that you are a golfer from your car. That means no vanity license plates, no hats in the rear window, and no bumper stickers.
5.   Park in a locked garage or remove your clubs from your trunk when home.
6.   When traveling, attach your name and address to both your travel cover and golf bag.
7.   Don't trust the hotel storage, bus, concierge, or golf club storage when traveling. Keep the clubs with you in your room whenever possible.
8.   Invest in a golf club security locking system. These are relatively inexpensive.
9.   Check your homeowner's insurance policy for coverage. Insurers may limit replacement values. Be sure to keep golf club receipts or purchase records to expedite not only loss or theft, but also damage.
I travel often to play golf and have had entire sets stolen and individual club destroyed. I've experience mangled hard plastic travel cases and had numerous clubs broken in canvas travel bags. This happens. As a result, I now never fly and take clubs that can't be replaced or are precious to me. I take an old set and/or a lesser known brand to play as noted in the photo above.
The whole idea is to both draw less attention to your equipment and secure it in a safe place when you aren't using it. Let the golf club thieves target someone's equipment.