When I started writing about golf in the 1980′s, I was stunned to hear the editor of Golf say that he'd never put Bobby Jones on the cover of another edition of the magazine.  He'd done it twice, and those editions lagged behind all others in popularity.
The Masters is the legacy of Bobby Jones, but we don't hear much about him these days.  The tournament he launched, and which by all accounts had in its early days a warmth and intimacy, has evolved into a major sporting event, a vast and sprawling enterprise that still, somehow, manages to retain a unique flavor and appeal.   It presents the game of golf at its best, and I continue to believe, stubbornly, that the spirit of Bobby Jones hovers over the tournament.
With every passing year, Bobby Jones recedes a bit deeper into the mists of history.  So I have put together this little scrapbook, made up of his words and the words of those who knew him, as a remembrance of a consummate sportsman and splendid human being.
Jones first came to national attention at the 1916 U. S. Amateur at Merion.   That winner of that event, Chick Evans, took special note of the young competitor:
Bobby was then 14 years old — a stocky youth whose of extraordinary strength whose shots easily went as far as those of the grown men with whom he played. . . . Not being a highly "concentrated" golfer, my gaze was wandering over the course. . . falling upon Bobby and Eben Byers, engaged in a club-throwing exhibition.   Everyone predicted failure for Bobby, although he was holding his own.  I reasoned differently . . . Here, I thought, was a golfer of tender years whose heart was really broken by a poor shot.
In his book "Down the Fairway," Jones addresses the matter of his temper and his difficulty in controlling it, admitting that he needed an occasional "spanking" from the press.   But he didn't get comfortable right away with all the public attention he received:
By this time the golf writers were paying me a good deal of attention and some of the things they wrote made me feel extremely foolish.  They wrote about my worn shoes and my dusty pants and my fresh young face and other embarrassing personal attributes.  I never had considered my shoes or pants before, so long as they held together.  Golf wasn't a dress-up game to me . . . I had never thought much of my face, for example, and it seemed sort of indelicate thus to expose it in print, not to mention my pants.
Despite his growing reputation and strong showings at many tournaments, Jones went through "seven lean years" before he finally won his first major title, the U. S. Open at Inwood.  Dead even in his playoff with Bobby Cruickshank, he pushed his drive on the finishing hole and found the ball lying on hard, clean ground.  Cruickshank had found trouble off the tee and laid up short of the water guarding the green.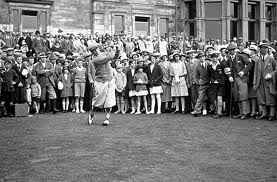 I suppose I had to decide whether to play safe or to go for it with an iron of about 200 yards.  But I don't remember it.  Stewart Maiden (his lifelong teacher) was near me.  He told me later I never played a shot more promptly or decisively.  He says I picked a No. 2 iron from the bag and banged it . . . I saw the ball on the green near the pin.  Next thing I knew somebody was propping me up by the arm.  . . I won the hole with a 4.  And the championship.   The first conscious thought I had was:  "I don't care what happens now."  I had won a championship.
After that, the other major championships, all 13 of them, came thick and fast.   Jones made it look easy.  No one ever saw a sign of strain or effort, but inwardly he felt the pressure.
I lost 18 pounds in the Oakmont championship.  This may be news to the sport writers who still fancy golf is an easy, old man's game which takes nothing out of you.  I always lose from ten to 15 pounds in a championship of three or six days' duration.  It can't be the physical strain.  I can play 36 holes of golf every day for two weeks and weigh the same at the end.  In a championship, the fire seems to be hotter.  There are two kinds of golf;  golf  — and tournament golf.  And they are not at all the same thing.
Bernard Darwin, the great English golf writer, was able to observe Jones at his peak and recorded these observations in an essay entitled "The Immortal Bobby," which begins with these words:  "I come now with faltering pen to the greatest of them all . . . "
In 1921, at the age of 19, Bobby was already a magnificent golfer, as great a hitter of the ball though not as great a player of matches or medal rounds as he ever was.   . . There could be no more fascinating player to watch not only for the free and rhythmic character of his swing but for he swifttness with which he played.  He had a brief preliminary address, but there was nothing hurried or slapdash about it and the swing itself, if not positively slow, had a certain drowsy beauty that gave the feeling of slowness . . . People liked Bobby at once, and that not only for his natural pleasantness of manner; they discerned in him a very human quality.  He was no cold machine but took his game very much to heart as did humbler people. . . Bobby did hate missing a shot.  Perhaps that is why he missed so few, for in the end that highly-strung nervous temperament became, if it had never been his master, became his servant.  He thought it an act of incredible folly if not a positive crime to make a stroke that was not exactly as it ought to be made and as he knew he could make it.  If he ever derogated from that standard he may even in his most mature days have been "mad" in the recesses of his heart, but he became outwardly a man of ice, with the very best of golfing manners.
In all his own writing, Jones's modesty comes through.  He took responsibility for missed shots and tournaments that slipped away, but not for the championships that he won.
I never learned anything for a match that I won; I got my golfing eduction from drubbings.  And very lately I have come to a sort of Presbyterian attitude toward tournament golf; I can't get away from the idea of predestination.  The professionals, you know, have a way of saying of the winner in a competition, "It was his tournament."  And step by step, hole by hole, shot by shot, you may trace it back and see that he was bound to win, after it is all over . . . Behind it all, and over it all, there is something I think nobody understands.
In 1930, Jones completed his Grand Slam — or "Impregnable Quadrilateral," as it was called, with multi-syllabic ponderousness.  Having won the U. S. Open, the British Open, and the British Amateur, the last championship, the one needed to complete his accomplishment, was the U. S. Amateur.  Here's how Grantland Rice summed up the victory: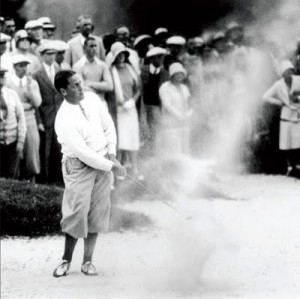 [At the U. S. Amateur] Bobby Jones walked upon the untrod ground of a game always full of uncertainties.   The point is that in the midst of all these uncertainties, Bobby Jones was never close to an uncertain turn.  He almost gave the appearance of loafing through the championship, putting pressure on himself when he had to do so. . . The answer to [how he did this] might be explained in these few words: correct fundamentals of swinging; ability to handle almost unlimited concentration; unusual strength and stamina; experience of 27 major championships.  This was the combination that turned the trick.  To this, one must add a blend of genius that is always beyond diagnosis — that has no place in any clinic.  The results were obtained with an ease and grace that were born in the system.  Of the thousands of pictures taken of Bobby Jones, no one can recall an awkward pose, an awkward swing, a sign of effort beyond control.
Jones. age 28, retired from competitive golf after the Grand Slam, and the first Masters was billed as his "comeback."  But he never played well in the tournament, having clearly lost his taste for competitive golf.  By 1948, he was no longer to play golf at all.  It was discovered that he had a rare disease of the spinal cord, but he still managed to make occasional trips.  One was to St. Andrews in 1958, where he was made an Honorary Burgess of the town in a ceremony at Younger Hall.  The place was filled to the rafters, and Herbert Warren Wind was on hand.
Jones spoke without notes that evening, and the occasion and the warmth of the audience fired him to a high pitch of eloquence.   I remember that he said of the Old Course, "The more you study it, the more you love it, and the more you love it, the more you study it," and also, "I could take out of my life everything except my experiences at St. Andrews, and I would still have a full, rich life."  At the end of his talk, he was helped down from the stage to his electric golf cart, and as he directed it down the center aisle toward the door the whole hall suddenly burst into the old Scottish song, "Will Ye No' Come Back Again?" and it came pouring out with all the wild, overwhelming emotion of a pitbroch wailed in some lonesome glen.
That passage appear in Wind's essay "Robert Tyre Jones, Jr."  The essay was written not long after Jones died on December 18, 1971, and it ends with these words:
Jones deserves incalculable credit for how he lived out his life.  Where he got the courage and energy to do all that he did there is no knowing. . . About three days before Jones's death, when he knew he was dying, he said to the members of his family, "If this is all there is to it, it sure is peaceful."  That is good to know.  We were lucky we had Jones for so long, for he had a rare gift for passing ideas and ideals on to other people.  I think he probably enriched more lives than anyone else I have known.  He enriched mine beyond measure.
Check out other stories on The Masters by TheAPosition writers.