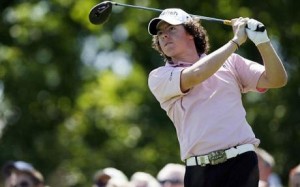 Rory McIlroy cruised around Congressional this afternoon, hitting 17 of 18 greens and posting a bogey-free, stress-free 65.  For the third time in the last four majors, he is the first round leader.   There's still a long way to go, but the young Ulsterman's brilliant round gave a clear shape to this tournament.  It's too soon to say that he's in command, but with a 3-shot lead, he has a formidable head start.
McIlroy teed off on the 10th hole at 1.35 in one of the day's glamor groups, playing with Dustin Johnson and Phil Mickelson.  In the pre-tournament speculation, Mickelson has loomed large as a sentimental favorite.   The biggest crowd of the day was massed around the 10th hole to endow him with good mojo as he began a quest for a title that has so far eluded him.  After McIlory whistled a 5-iron onto the green, Mickelson stepped up and, shockingly, dumped his ball in the water.
If anyone wanted evidence that golf is undergoing a changing of the guard, here it was, glaringly and painfully obvious.  Mickelson played from the drop area and ended up taking a double bogey 5, the beginning of a round of 74 that required every bit of his phenomenal scrambling ability.
21 players finished under par, the top of the leaderboard tilted heavily toward the young, the long, and the international.  Tied for second at 3 under are South African Charl Schwartzel and South Korean Y. E. Yang.  At 2 under, tied for fourth,are Alexandre Rocha, Scott Hend, Kyeung-tae-Kim, Sergio Garcia, Luis Oooshuizen, and Ryan Palmer — respectively, a Brazilian, an Australian, another South Korean, a Spaniard, another South African, and an American.
That's the executive summary; here's how the day unfolded for your faithful corespondent.
BEST SEAT IN THE HOUSE
To watch McIlroy and Mickelson get started, I parked myself in the grandstands across the pond from the 18th green and, just beyond, the 10th green.  The greens are so close that players have to be keep watch of what's going on on the neighboring hole; they don't want to get jolted by a huge roar in the midst of a putting stroke.  With the greens on these two pivotal holes clearly in view, this grandstand has to be the best perch on the course.  (Which leads me to ask — why has the USGA limited public seating here, restricting much of the grandstand to corporate sponsors?  I know they've paid a premium, but wouldn't it make for better theater — and more excitement — to have the place packed with fans all over the slopes, as it was in 1997?)
Anyway, while Mickelson was enduring his grisly start, three other veterans — Els, Furyk, and Davis Love — were playing the 18th.  Love was the only one who hit the green on this monster par 4 that runs 500+ yards downhill to a peninsula green.  He'd played a solid round of golf but tarnished the scorecard with a 3-putt bogey.  Furyk fared even worse, botching the hole entirely — drive in the rough, layup, wedge short of the green, weak chip, missed putt, double bogey.  Els saved par with a lovely pitch from just off the green, but the belly putter hadn't worked as well as he hoped, and his body language as he walked off the course said SUBDUED.
THE ADVENTURES OF BUBBA
With 4 birdies in a row, wearing camo pants and spurting emotion, Bubba Watson made a mid-afternoon run.  He was one of the few who reached the par 5 6th hole in two, and his birdie there took him to 3 under.   With three relatively easy holes ahead of him, Watson seemed poised to plant his flag — and then, inexplicably, bogeyed 7, 8, and 9 in succession.  Four birdies, followed by three bogeys.  You don't see that scorecard every day.
FEATURED HOLE  — NO. 6
No. 6 is a 555 yard par 5. At the 1997 Open it played as a long par 4, but Mike Davis wanted to tempt players to get home in two, not force them.  On this cool, overcast day, the temptation proved to be resistible.   From the hillside, I watched seven groups go through, and only a handful of players even attempted to go for the green.
With water guarding the right front of the green and the entire right side, the long approach is risky, to say the least.  Today, the hole was cut as far back and as far left as it could be, and most players were still laying up.  But even getting a wedge close to that pin was dangerous; several players tried to tuck it too tight, and ended up rolling off the left side or over the back of the green, leaving themselves difficult up and downs.
Just when I was starting to think that no one would get home in two, the three amigos — er, the Spanish group of Quiros, Garcia, and Jimenez — came through.  Quiros is a slugger, and he put his long approach into one of the twim oval bunkers guarding the left side of the green.  Garcia hit a fine shot to the middle of the green and had a legitimate eagle opportunity, but missed.
Still, he made his birdie and looked as though he might have a hot hand.  I decided to follow along as the Spaniards made their way through the rest of the birdie loop.
TRAVELING WITH THE SPANIARDS THROUGH BIRDIE LOOP

Congressional, like Pebble Beach, is a course where the players want to make birdies on the much easier front side, and the most vulnerable stretch of holes — the birdie loop — is the closing stretch of the front nine, holes. No. 5 thru No. 9.   Take a look at the leaders' scorecards, and you'll see that this is where most of them made their moves. 
No 7 is a par 3, 173 yards, the shortest hole on the course, probably a 9 iron for Garcia. The hole is slightly uphill and the pin was in front.  Garcia, taking a size 13 divot, made sure that his tee shot had plenty of stop on it; he left himself a 6 foot birdie putt, and after fussing around with his claw grip on his putter — the man does fuss, though less than he used to — he missed.
No. 8 is is a tight par 4, only 354 yards long, and Garcia was just short of the green in the first cut of rough. He had a great look at the hole but his pitch rolled about 12 feet past. When he missed the putt, one of his fans muttered, "He missed so bad nobody even sighed."
His playing partner Quiros hit an even longer tee shot and came with a yard of flying it onto the green, demonstrating that no matter what the USGA says, there is a reachable par 4 on this course.  Before the tournament is over, someone is going to put a ball on this green.   Quiros' tee shot hit the bank and rolled bank into a bunker, but he got up and down for his birdie.
No. 9. Both Quiros and Garcia bashed huge drives, at least 50 yards past Jimenez, and they were yakking happily as they marched down the fairway.  These first day pairing featured several national pairings — not only Spaniards but Swedes and Itlaians had their own threesomes — and it seemed to help keep the players in good spirits.  All three players laid up on this long par 5, leaving themselves a wedge shot, but only Quiros was able to convert the birdie.  He could be someone to watch on the weekend.
And so could Sergio, though his weak putt on the 9th had him muttering and fussing.   (At the exact moment that I was writing this in my spot in the Media Center, I glanced up at the big monitor to see him roll in a long bomb for a birdie at No. 11 — the golf gods giveth, sometimes).
Collectively, the Spaniards had posted 4 birdies on the loop — not great, but not bad.  And they'd shown that other birdies were there for the taking.
THE OPEN DOCTOR'S DIAGNOSIS
After watching the Spanish trio finish up on the 9th hole, I headed back toward the Media Center, crossing the mostly deserted putting green.  But there were three determined veterans out there — Els, Furyk, and Harrington — who had all frittered away shots on the green earlier in the day. Three major champs, each of them looking grim, each putting in an unorthodox(desperate?) fashion  — Els with the belly putter, Harrington with the broomstick, Harrington cross handed.
A few minutes later, I ran into Rees Jones in the Media Center and asked him why so few putts were falling, From what I had seen at No. 6 especially, the players were having a hard time reading the greens and missing batches of 6- and 8-footers.
"I think they're over-reading the breaks," Jones said.  "Most of these greens are pretty flat in the cupping areas.  And I think they're having a hard time getting the speed right.  They've been hearing all week that the greens are going to be 14.5 on the Stimpmeter, but they're not that fast, and they keep expecting them to be."
THE McILROY SHOW
I just caught the last of it.   While talking to Jones, I could see the monitor where McIlory was playing the 5th hole — soaring 3 wood, pitch right over the flagstick, center cut putt.  I darted back out to the sixth hole, where he hit the best approach shot of the day, a 3-iron that almost hit the flagstick and rolled to the back fringe.  15 feet for eagle.  He missed, but had a kick-in birdie to get to 6 under.
Following McIlroy, I took another tour around birdie loop, but he couldn't make any more headway.  He had chances on all three of the last holes but the putts didn't fall.  The longest putt he made all day, he said later in the interview room, was at the 14th, the only green he missed all day.  He holed a 15 footer to save his par.
In the presser, he began with the usual shorthand account of his birdies:
#12 — 3w, SW, 6′ putt
#17 — 3i, 8i, 10′ putt.
#18 — D, 8i, 15′ putt.
#1 — 3W, LW, 6′ putt.
# 4 — D, W, 4′ putt.
#6 — D, 3i, two putts from 15′.
Three things we can deduce from that summary:  1) McIlory is really long.  The drives on 18 and 4 had to be well over 300 yards.  2) He used several different clubs off the tee — according to plan, as well shall see.  3) All parts of his game were in superlative working order.  When he needed a long drive, he had it.  When he needed a precise wedge shot to set up a birdie, he hit it.  And he holed the putts.
It was a "simple 65," he said.  Not as good as the 63 he shot at St. Andrews, but close.  He is poised and self-possessed behind the microphone, and he gave thoughtful answers to questions about what he'd learned from his near-misses.   Funny answers, too.  What did it say about him that he was able to put St. Andrews and The Masters behind him?  "Maybe it just says that I've got a short memory," he said.
But there was a more serious answer to a similar question.  "I think these good starts are the result of my preparation," he said, and the list of clubs he'd used during the day made it clear that he had a firm plan.  He'd trusted it and stuck to it.   He knew it didn't work for him to be tentative, as he'd become at both the Open Championship and The Masters.   To play well, his game needed to be "free-flowing."
Asked about a recent exchange with Jack Nicklaus, and turned another joke — "I think I could handle him," he said, responding to the suggestion that Nicklaus had threatened to kick his tail.  Then he talked about what it meant to have Nicklaus's interest and support, and to realize that the greatest player had high expectations of him.
There was no mention of his recent trip to Haiti as an ambassador for UNICEF, but the willingness to make such a trip speaks volumes about McIlroy.  When he returned, he changed his Twitter photo to one that showed him with a smiling Haitian boy, and he told his manager, 'If you ever hear me complain about a hotel room again, do give me a clout, won't you?'  In Port-au-Prince, where the ravages of the earthquake are still evident, McIlroy found himself confronted with smiling children who seemed able to transcend their surroundings, and he hasn't stopped talking about the impression it made on him.

On the golf course and off, McIlroy is a presence.  He's young but seems fully formed; as folks used to say where I come from, "he knows who he is."   When he strides down the fairway in his loose-limbed, jangly walk, nodding as if he might be hearing a tune in his head, he looks like a young man who has a destination in mind and is eager to reach it.