Golf Talk Live – Raymond Floyd Transcript Segment 1
Originally Posted: April 23, 2001
TEASE
RAY FLOYD STARTED WINNING PGA TOUR EVENTS IN 1963 AS A 20 YEAR OLD. IN 2000 HE ADDED ANOTHER SENIOR MAJOR AT THE AGE OF 57 AND EARNED COMEBACK PLAYER OF THE YEAR HONORS. SINCE HE'S BEEN WINNING FOR ALMOST 40 YEARS, WHAT EXACTLY DID HE COME BACK FROM? MEET RAY FLOYD, NOW, ON GOLF TALK LIVE.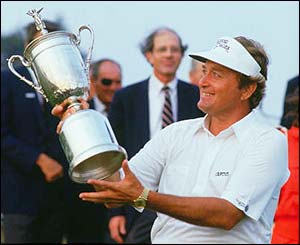 (MUSIC)
IN RAY FLOYD'S CASE, YOUTH WAS NOT WASTED ON THE YOUNG. HE IRONICALLY WON HIS FIRST MAJOR, THE PGA CHAMPIONSHIP IN 1969. THE SAME YEAR THAT WALTER HAGEN, THE ORIGINAL TOUR PARTY ANIMAL WHO WON 5 PGA CHAMPIONSHIPS IN THE ROARING 1920'S
PASSED AWAY. RAY'S UNDENIABLE PARTY SKILLS AT NIGHT AND HIS BRILLIANT GOLF BY DAY WOULD HAVE MADE WALTER PROUD, BUT RAY FLOYD KNEW THAT THE PARTY DAYS WOULD END WHEN HE WAS READY TO COMMIT HIMSELF TO ADULT HOOD, FAMILY HOOD, AND
RESPONSIBILITY. IN 1973 RAY MET MARIA AND BECAME A GROWN UP. GOLF AND LIFE WERE EASY FOR RAY AS A KID, BUT BY HIS MID 30'S, HE KNEW WHAT KIND OF WORK WAS REQUIRED TO KEEP MAKING IT LOOK EASY. BY THE TIME HE SHOT 17 UNDER TO WIN AT AUGUSTA NATIONAL, TO TIE NICKLAUS' MASTERS SCORING
RECORD IN 1976, HE WAS A CONFIRMED GROWN UP, AND OVER TIME HE HAS SHOWN US SEVERAL RAY FLOYDS.
RAY FLOYD, THE YOUNG WILD GOLF PROTÉGÉ.
RAY FLOYD, THE GROWN UP MAJOR CHAMPION.
RAY FLOYD, THE GRIZZLED VETERAN.
THE BRILLIANT FRONT RUNNER.
THE U.S. OPEN CHAMPION AT AGE 43.
RAY FLOYD THE MENTOR.
THE CAPTAIN
THE OLDEST RYDER CUP PLAYER
THE SENIOR MAJOR CHAMPION
RAY FLOYD, THE DEDICATED HUSBAND
THE PROUD SON OF HIS FATHER WHO TAUGHT HIM THE GAME.
RAY FLOYD, THE CONSUMMATE PROUD FATHER, HIMSELF.
RAY FLOYD, STILL WINNING TOURNAMENTS NEARLY 40 YEARS AFTER FIRST STEPPING INSIDE THE ROPES TO WIN HIS FIRST. HE HASN'T LOST THAT MISCHIEVOUS BOYISH OUTLOOK OR DEVILISH LOOK OF DELIGHT.
PETER KESSLER
WELCOME TO GOLF TALK LIVE. I'M PETER KESSLER. GREAT PLEASURE TO INTRODUCE YOU TO ONE OF THE GREATEST CHAMPIONS IN THE LAST 40 YEARS, RAYMOND FLOYD.
WHAT A PLEASURE TO HAVE YOU HERE, SIR.
RAYMOND FLOYD
NICE TO BE WITH YOU, PETER.
PETER KESSLER
THANK YOU VERY MUCH.
1960, ARNOLD BECAME THE KING, IT WAS THE END OF HOGAN, THE BEGINNING OF JACK, AND YOU AS A 17 YEAR OLD THAT YEAR WIN THE NATIONAL J.C.'S AND COULD PROBABLY CLEARLY FOR THE FIRST TIME, SEE YOUR FUTURE IN GOLF THAT YEAR.
RAYMOND FLOYD
WELL I DON'T KNOW THAT I COULD FORESEE THE FUTURE FROM THERE BUT I THINK WINNING THE NATIONAL JC MADE ME FEEL THAT I HAD A CAREER IN GOLF AND, AND IT REALLY IS SOMETHING THAT, IT WAS THE ONLY THING AS A YOUNGSTER THAT I EVER WANTED TO DO AS LONG AS I CAN REMEMBER. I THINK YOU HAVE WISHES TO BE THIS OR THAT BUT MY
DESIRE WAS ALWAYS TO PLAY GOLF AND I THINK WINNING THE JC GAVE ME SOME CONFIDENCE THAT MAYBE I'VE GOT A CHANCE IN THIS GAME.
PETER KESSLER
DID THE GAME EVER COME EASILY TO YOU?
RAYMOND FLOYD
I THINK THE GAME WAS FAIRLY EASY AS A YOUNGSTER BECAUSE I DIDN'T KNOW HOW DIFFICULT IT WAS. I USED TO PRACTICE AND GET IMMEDIATE RESULT. I WOULD GO AND PLAY BASEBALL OR FOOTBALL OR BASKETBALL IN, IN SEASON IN SCHOOL, OR, WHEN I WAS YOUNGER AND, AND REALLY NOT DO MUCH WITH THE GOLF CLUBS UNTIL SUMMER CAME AROUND AND THEN I'D WORK A LITTLE BIT
AND BOY I WAS BETTER THAN I WAS THE YEAR BEFORE. HONESTLY, I THINK YOUTH IS BLESSED WITH VERY LITTLE KNOWLEDGE ABOUT A LOT OF THINGS SO, NO I DIDN'T KNOW HOW REALLY DIFFICULT THE GAME WAS WHEN I WAS, WHEN I WAS A YOUNGSTER.
PETER KESSLER
PEOPLE TALK ABOUT YOUR BACHELOR HOOD DAYS IN THE 60'S AND I ALWAYS THINK, YOU KNOW, FOR A GUY IN HIS 20'S, WITHOUT RESPONSIBILITIES, BEING A CELEBRITY, THE 1960'S WAS A PRETTY
GOOD TIME TO BE IN EXACTLY THAT MODE OF HAVING FUN AND LIVE THE LIFE THAT YOU WANT TO LIVE.
RAYMOND FLOYD
WELL I WAS ALL INSPIRED BY TRAVELING AROUND THE COUNTRY AND GOING TO PLACES THAT I HAD ONLY HEARD ABOUT. YOUR LOS ANGELESES AND NEW YORK CITIES AND CHICAGOS AND GOING OUT OF THE COUNTRY EVEN. IT WAS, IT WAS A PRETTY IMPRESSIVE THING AND I ENJOYED THE LIFESTYLE.
PETER KESSLER
DO YOU FEEL LIKE YOU ALWAYS PLAYED BETTER AND DID YOUR JOB BETTER WHEN YOU HAD A PLAN AS OPPOSED TO A SEAT OF THE PANTS KIND OF A PLAN?
RAYMOND FLOYD
I, I'M CERTAIN THAT EVERYBODY THAT PLAYS WELL HAS A PLAN OR A GOAL. I DON'T KNOW HOW YOU, ONE EXPRESSES THE DIFFERENCE MAYBE ON A, ON A GAME PLAN OR A BIG PLAN. I THINK IT'S PART OF
A GOAL AND I THINK I'VE ACHIEVED MOST OF MY SUCCESSES IN YEARS WHERE, WHERE I WAS VERY DEFINITE WITH MY GOAL SETTING AND WANTED SOMETHING VERY BADLY. THAT'S WHEN I HAD MY BETTER YEARS.
(WRITTEN TEXT)
22 PGA TOUR WINS INCLUDING 4 MAJORS.
PETER KESSLER
YOU AND LEE TREVINO OF COURSE HAD THAT VERY FAMOUS THREE DAY MATCH THAT YOU BROKE EVEN ON, ULTIMATELY, AND THE WINNER EACH DAY SHOOTING A 63 AND THIS WAS AT A TIME WHEN NOBODY, INCLUDING YOU, HAD EVER HEARD OF LEE TREVINO, SO YOU'RE HAPPY
TO GO PLAY SOMEBODY YOU'D NEVER HEARD OF. DO YOU SUPPOSE EITHER OF YOU EVER PLAYED MUCH BETTER GOLF SUBSEQUENT TO THAT THEN YOU DID THOSE THREE DAYS, HEAD TO HEAD?
RAYMOND FLOYD
WELL THAT, THAT WAS A MARVELOUS STORY. OF COURSE IT'S BEEN EMBELLISHED AND TOLD SO MANY TIMES THROUGH THE YEARS BUT I WENT DOWN TO EL PASO TO PLAY LEE. HE WAS THE CLUB PRO, HE WAS THE CART ATTENDANT, HE WAS THE BAG GUY, HE WAS IT.
HE WAS, HE RAN ALL THE GOLF UH
PETER KESSLER
TOOK YOUR CLUBS OUT OF THE CAR.
RAYMOND FLOYD
OH YEAH, HE, HE POPPED RIGHT UP AND TOOK THE BAGS OUT AND I WAS ASKED WOULD I GO DOWN AND PLAY THIS GUY FROM DOWN IN TEXAS. HE WAS FROM DALLAS. I WAS LIVING THERE AT THE TIME, TO COME DOWN AND PLAY HIM.
WOULD I PLAY HIM FOR SOME MONEY AND I SAID WHAT'S HIS NAME AND THEY SAID LEE TREVINO AND I SAID YEAH I'LL PLAY SOMEBODY I NEVER HEARD OF AND THAT WAS THE START OF THE STORY AND LIKE
YOU SAY, IT TOOK THREE DAYS AND I SHOT 66 AND 65 AND LOST UH THEN I SHOT 63 AND WON AND THE END OF THAT STORY TO MAKE IT SHORT IS THAT'S THE FIRST TIME I EVER SPOKE SPANISH. I SAID ADIOS.
PETER KESSLER
(LAUGHING)
RAYMOND FLOYD
I GOT OUT OF THERE. HE COULD REALLY PLAY ON THAT LITTLE FLAT GOLF COURSE AND, AND DRIVE FAIRWAYS AND HE WAS SOMETHING TO WATCH.
PETER KESSLER
AND YOU THOUGHT ON THE VERY LAST HOLE, ON THE VERY LAST DAY DID YOU NOT, THAT THE EAGLE PUTT THAT HE HAD JUST INSIDE THE ONE THAT YOU MADE WAS IN ALL THE WAY.
RAYMOND FLOYD
THERE'S NO WAY, TO THIS DAY, IT'S VIVID IN MY MIND THAT HIS BALL WENT INTO THIS HOLE AND YOU KNEW IT HAD TO DROP AND IT JUST HUNG IN THE LIP. IT JUST STAYED THERE AND YOU KNEW ANY
SECOND IT WAS GOING TO TOPPLE, BUT IT JUST SAT THERE AND HE MISSED IT AND I MADE IT TO BEAT HIM AND I SHOT 63 TO HIS 64 AND ADIOS CAME VERY SHORTLY THERE AFTER.
PETER KESSLER
DIDN'T YOU HAVE A SENSE THOUGH THAT YOU WOULD BE SAYING HELLO TO HIM AGAIN AT SOME POINT IN THE FUTURE ON ANOTHER GOLF COURSE?
RAYMOND FLOYD
WELL, THAT'S WHEN I STOPPED ASSESSING TALENT AS WELL. A COUPLE OF THE FELLOWS THERE THAT OWN THE GOLF CLUB ASKED ME ABOUT WHAT I THOUGHT OF HIS GAME. I SAID HE'S INCREDIBLE. BOY ON A GOLF COURSE LIKE THIS
NOBODY CAN BEAT HIM, AND THEY SAID WELL WE'RE THINKING OF PUTTING, PUTTING LEE ON TOUR. WHAT DO YOU THINK OF LEE? AND I SAID WELL, YOU KNOW, WE PLAY THOSE ELEVATED GREENS WITH BIG DEEP SAND BUNKERS IN FRONT AND I DON'T THINK HE COULD HAVE HIT A WEDGE OVER THE CLUBHOUSE THERE AT THAT TIME.
PETER KESSLER
(LAUGHING)
RAYMOND FLOYD
AND, I SAID YOU KNOW, IT'S A DIFFERENT GAME OUT THERE. I'D THINK TWICE BEFORE I PUT HIM OUT THERE ON TOUR, SO THAT WAS A GREAT OUT FOR ME. EVERY TIME A, A SPORTSWRITER OR, OR
SOMEONE WOULD ASK ME ABOUT A YOUNG PLAYER COMING ALONG, WHAT DID I THINK AND I'D SAY WELL I WAS THE GUY THAT DIDN'T THINK TREVINO WOULD MAKE IT. YOU BETTER ASK SOMEBODY ELSE.
PETER KESSLER
AND I'LL BET LEE'S NEVER LET YOU FORGET THAT EITHER. WE'RE GOING TO TAKE A SHORT BREAK AND BE RIGHT BACK.
(MUSIC)
(BREAK)
Golf Talk Live – Raymond Floyd Transcript Segment 2
By GolfChannel.com Team
Posted: April 23, 2001
PETER KESSLER
SO MANY GUYS HAVE ASKED SAM SNEAD WHAT THE REAL SECRET WAS. WHAT DID HE TELL YOU?
RAYMOND FLOYD
WELL IT DIDN'T REALLY COME UP AS THE SECRET. I HAVE BEEN, I'D PLAYED TWO PRACTICE ROUNDS WITH SAM AT GREENSBOROUGH AND THAT WAS THE TOURNAMENT HE OWNED AND HE, HE WAS, SAM THEN WAS PROBABLY IN HIS MID 50'S AND HE HAD JUST THRASHED ME IN A PRACTICE ROUND AND I'D GONE OUT TO THE PRACTICE TEE AND SAM WAS OUT THERE AND I WAS REALLY STRUGGLING
AT THAT TIME. MY SWING HAD GOTTEN PRETTY SHORT AND LAID OFF AND SAM WALKED UP, AND HE JUST WATCHED ME HIT TWO OR THREE BALLS AND DIDN'T SAY A WORD AND I LOOKED BACK AND I
SAID SAM, YOU KNOW, THERE'S GOT TO BE SOMETHING. YOU GOT TO TELL ME SOMETHING YOU SEE HOW BAD I'M STRUGGLING AND OF COURSE SAM, WASN'T MUCH ON GIVING AWAY A LOT OF
INFORMATION AND HE KIND OF, HE KIND OF TURNED AROUND TO MAKE SURE NOBODY ELSE WAS LISTENING. HE DIDN'T WANT TO GIVE IT TO BUT ONE PERSON, AND HE SAID YOU GOT TO TURN, JUNIOR, YOU GOT TO TURN, AND UH THAT WAS WHAT SAM TOLD ME AND OF COURSE I'VE
HEARD THAT WHEN ANYBODY ASKS SAM ABOUT THE REAL SECRET, WHAT IS THE CRUX OF IT HE'S ALWAYS TALKED ABOUT THE TURN.
PETER KESSLER
DID IT WORK FOR YOU?
RAYMOND FLOYD
IT DID. YOU KNOW I STARTED BEING CONSCIOUS OF GETTING THE SHOULDERS BACK WHICH PULLED THE HIPS UP WITH ME A LITTLE BIT AND I DID START PLAYING A LITTLE BETTER.
PETER KESSLER
WHAT DO YOU REMEMBER ABOUT TITANIC THOMPSON?
RAYMOND FLOYD
WELL I ONLY MET HIM ON THE OCCASION WHEN I WENT DOWN TO PLAY LEE TREVINO. I, I'D NEVER HEARD OF HIM. I DIDN'T KNOW WHO HE WAS, BUT AFTER THE FACT I HEARD ALL THE STORIES AND
THE TWO DAYS THAT I SPENT WITH HIM DOWN THERE HE WAS AN INCREDIBLE PERSON. WHAT A STORY TELLER AND HE WAS A CARD SHARK AND, AND MAGICIAN WITH HIS HANDS, I MEAN HE WAS AN INCREDIBLE HUMAN BEING.
PETER KESSLER
IT'S FUNNY HOW OVER TIME THINGS DO GET DISTORTED. WHEN PEOPLE TALK ABOUT ARNOLD'S DRIVING IN THE 1960'S THERE'S THIS PERCEPTION THAT HE HIT IT IN THE TREES ALL THE TIME, WHEN MY
RECOLLECTION WAS THAT HE MIGHT HAVE BEEN THE STRAIGHTEST DRIVER UNDER PRESSURE ON THE TOUR FOR MAYBE THE WHOLE DECADE OF THE 1960'S.
RAYMOND FLOYD
I DON'T THINK THERE'S ANY QUESTION. I ALWAYS THOUGHT ARNOLD WAS THE BEST DRIVER OF THE GOLF BALL THAT I'D EVER SEEN AND HE HIT IT HARD AND HE HOOKED IT AND ON THE HARDER FAIRWAYS IN THE 60'S BEFORE PERFECT CONDITIONS AND A LOT OF IRRIGATION,
WE PLAYED THE HARDER, FIRMER FAIRWAYS AND HE CAN MAKE IT GO A LONG WAY DOWN LOW WITH THAT HOOK, BUT HE REALLY COULD DRIVE THE BALL VERY STRAIGHT.
PETER KESSLER
WHAT ABOUT THE REST OF HIS GAME IN THOSE DAYS? WHAT LET HIM DOWN? WHAT PROPPED HIM UP?
RAYMOND FLOYD
WELL HE WAS THE BEST PLAYER IN, IN THE EARLY 60'S UNTIL JACK CAME OUT AND THEY RAN HEAD TO HEAD FOR A WHILE, BUT I DON'T THINK ARNOLD IN ANY ASPECT WAS REALLY WEAK. I THINK
RELATIVELY HE WAS WEAKER OUT OF
BUNKERS. HE WASN'T SO GREAT OUT OF BUNKERS WHEN YOU PUT IT IN PERSPECTIVE OR RELATIVE TO OTHER PARTS OF HIS GAME. I THOUGHT HE WAS A FABULOUS LONG IRON PLAYER.
HE WAS AN INCREDIBLE PUTTER. HE MADE A LOT OF LONG PUTTS. I THOUGHT THAT WAS A FABULOUS ATTRIBUTE THAT HE HAD. PLAYERS JUST DIDN'T SEEM TO MAKE A LOT OF LONG PUTTS IN THOSE DAYS, BUT ARNOLD TENDED TO MAKE ONE OR TWO A ROUND FROM PRETTY, PRETTY GOOD WAYS OFF, BUT RELATIVELY
I THINK HIS BUNKER PLAY AND MAYBE SOME OF HIS WEDGE PLAY MIGHT NOT HAVE BEEN UP TO PAR WITH THE OTHER PARTS BUT HE WAS A VERY WELL ROUNDED PLAYER.
PETER KESSLER
DID YOU LEARN ANYTHING FROM PLAYING WITH HOGAN THAT YOU COULD INCORPORATE INTO YOUR OWN WAY OF GETTING YOUR BUSINESS AROUND THE GOLF COURSE?
RAYMOND FLOYD
I THINK THE ONE THING THAT I LEARNED FROM BEN WAS DEMEANOR. I LEARNED THAT IT WAS A BUSINESS AND YOU TRIED TO GO ABOUT IT THE SAME WHETHER YOU WERE SHOOTING 80 OR 60. I THINK THAT'S THE ONE THING THAT I MIGHT HAVE EXTRACULATED FROM BEN.
PETER KESSLER
WHEN YOU WON YOUR FIRST MAJOR, THE PGA IN 1969 AND HAD A 5 SHOT LEAD GOING IN THE LAST ROUND THAT YOU TRIED TO CONSERVATIVELY MANAGE, DID YOU SORT OF FIGURE OUT LATER THAT MAYBE PLAYING CONSERVATIVE WITH THE LEAD WASN'T RAY FLOYD'S BEST STYLE TO WIN GOLF CHAMPIONSHIPS?
RAYMOND FLOYD
I THINK PLAYING CONSERVATIVE WITH THE LEAD IN SOME RESPECTS MIGHT NOT BE THE WORD. I THINK PLAYING SMART. I LIKE THE WORD SMART, AND THE SMARTER I PLAYED, SOMETIMES THE BETTER I PLAYED, THE LOWER I SHOT.
I THINK MY THOUGHT PROCESS WHEN I WAS PLAYING WELL AND WINNING, THE THOUGHT PROCESS WAS SO GOOD, AND YOU BECAME SO POSITIVE WITH WHAT YOU WANTED TO DO AND YOU PLAYED AND MADE THE GAME EASY, SO YOU MIGHT GIVE YOURSELF A LITTLE LEE ON
THE FAT SIDE OF THE GREEN INSTEAD OF IF THERE'S WATER OR BUNKERS ON THE SHORT SIDE, AND I THINK AS I PLAYED SMARTER, IT WAS COMFORTABLE AND I TENDED TO HIT THE SHOTS THAT I WAS VISUALIZING OR NEEDED TO HIT MORE
OFTEN AND BY WHAT I CALL PLAYING A LITTLE BIT SMARTER WAS NOT NECESSARILY PLAYING CONSERVATIVE.
PETER KESSLER
WAS MAJOR CHAMPIONSHIP SOMETHING THAT YOU ACTIVELY THOUGHT ABOUT THEN OR WERE YOU TOO CAUGHT UP IN HAVING FUN AND THE GOLF WAS JUST PART OF THE FUN AND THAT YOU WOULD SEE WHAT HAPPENED OUT ON THE GOLF COURSE?
RAYMOND FLOYD
OH I THINK IN MY EARLY DAYS, THE COMING OUT AND WINNING VERY EARLY AND, AND BEING ROOKIE OF THE YEAR, WINNING IN MY FIRST YEAR AT AGE 20, I WAS STILL IN AWE OF THING S AND TO WIN I DON'T EVEN KNOW THAT I WAS AWARE OF, OF WHAT IT MEANT AND HOW MUCH IT MEANT AT THAT TIME.
AS I PROGRESSED DOWN AND, AND WOULD GO THROUGH PERIODS WHEN I WOULDN'T PLAY WELL, I THINK ALL OF US HAVE BEEN THROUGH THAT. YOU WONDER WHEN YOU START PLAYING BADLY WILL YOU EVER PLAY WELL AGAIN, AND, AND WHEN
YOU'RE PLAYING REALLY, REALLY WELL YOU WONDER HOW YOU, HOW YOU COULD EVER MISS A SHOT, SO I'VE CERTAINLY HAD THE UPS AND DOWNS. I KNOW, GOING BACK TO ONE OF YOUR ORIGINAL THINGS ABOUT PLANS OR, I WAS CALLING THEM GOALS, I KNOW IN 1969 IT WAS MY FIRST YEAR OF ELIGIBILITY FOR RYDER CUP.
WE USED TO HAVE TO PUT 5 YEARS IN BACK IN THOSE DAYS, YOU HAD TO BE A PGA MEMBER TO MAKE A RYDER CUP TEAM AND THAT TOOK 5 YEARS AND IN MY 5TH YEAR I WAS ELIGIBLE FOR RYDER CUP AND MY GOAL WAS TO MAKE THE RYDER CUP. I HAD NOT WON A MAJOR AND MY
GOAL WAS TO WIN A MAJOR CHAMPIONSHIP. I WON ALSO TWO OTHER EVENTS THAT YEAR PLUS THE PGA. MADE THE RYDER CUP TEAM SO I ACCOMPLISHED A LOT OF THINGS. IT WAS ALSO A GOAL OF MINE TO BREAK THE ONE HUNDRED
THOUSAND DOLLAR MARK AND ALL OF THAT HAPPENED IN 1969.
PETER KESSLER
WAS SAM SNEAD UPSET AFTER THE RYDER CUP MATCH WHEN JACK CONCEDED TONY JACKLIN'S SHORT, BUT MAYBE MISABLE PUTT WHICH ENDED UP MEANING A TIE AND HOLDING ON TO MR. RYDER'S CUP?
RAYMOND FLOYD
THERE'S BEEN SO MANY STORIES ABOUT THAT BUT I SAY THAT SAM WAS NOT UPSET ABOUT IT. I KNOW PEOPLE HAVE SAID AND PEOPLE HAVE WRITTEN THAT SAM WAS PRETTY UPSET THAT JACK GAVE HIM THAT PUTT. SAM WAS,
EXPRESSED THAT HE WOULD NOT HAVE GIVEN TONY THAT PUTT BUT I DON'T THINK HE WAS UPSET AND I THINK VERY SHORTLY THEREAFTER, EVERY PLAYER ON THAT TEAM, ALONG WITH THE CAPTAIN AND ALL, AND ALL THE SUPPORT PEOPLE
WERE, I THINK IT WAS THE RIGHT THING TO DO. I THINK IT WAS THE CLASSIC THING TO DO IN THAT COMPETITION. YOU KNOW RYDER CUP HAS EVOLVED SOMETIMES INTO SOMETHING THAT'S NOT WHAT IT SHOULD BE AND IT'S ABOUT, IT WAS ALL
ABOUT SPIRIT, THE GAME, YOU'RE TAKING YOUR COUNTRY ACROSS THE PINE. IT'S GOOD WILL. THAT WAS RYDER CUP. SURE YOU WERE TRYING TO WIN BUT I THINK RYDER CUP GOT A LITTLE BIT OUT OF HAND HERE, OF LATE.
PETER KESSLER
HAD YOU EVER SEEN A GESTURE LIKE THE ONE THAT JACK MADE AND WHAT IMPRESSION DID IT HAVE ON YOU?
RAYMOND FLOYD
I THINK THAT'S THE GAME. I THINK THAT'S THE GAME OF GOLF HAS A LOT OF CONNOTATION. IT'S A, IT'S A GENTLEMANLY GAME, IT'S A GAME OF HONOR, IT'S A GAME OF INTEGRITY AND I THINK THAT'S THE THING THAT, THE RIGHT THING THAT WAS DONE THERE.
PETER KESSLER
WE'LL BE RIGHT BACK. DON'T GO AWAY.
(MUSIC)
(BREAK)
Golf Talk Live – Raymond Floyd Transcript Segment 3
By GolfChannel.com Team
Posted: April 23, 2001
PETER KESSLER
WHAT DO YOU SUPPOSE MARIA SAW IN YOU THAT HELPED YOU EITHER DISCOVER OR REDISCOVER YOUR POTENTIAL AND YOUR GREATNESS AS A MAN AND AS A PLAYER?
RAYMOND FLOYD
OH, I DON'T KNOW, BUT I WAS VERY LUCKY, WHATEVER SHE SAW THAT UH, WELL I, I ALWAYS SAY I HAVE, I HAD TWO CAREERS BEFORE AND AFTER BUT WHAT MARIA DID WAS FOCUS ME. A LITTLE
STORY, THAT WE HAD BEEN MARRIED A VERY SHORT TIME AND I WITHDREW FROM A TOURNAMENT AND SHE WAS NOT VERY HAPPY ABOUT IT, AND WE HAD A HEART TO HEART AND SHE SAID HEY LOOK, YOU
KNOW, YOU'RE YOUNG. YOU'RE ONLY 30
YEARS OLD. IF YOU, IF YOU DON'T LIKE WHAT YOU'RE DOING, YOU KNOW, YOU, YOU THERE'S CAREERS OUT THERE. YOU CAN BE VERY SUCCESSFUL IN SOMETHING ELSE, AND WOW YOU COULD HAVE HIT ME UP ASIDE THE HEAD WITH THE BIGGEST
HEADED DRIVER YOU'VE EVER SEEN AND IT ABSOLUTELY WOKE ME UP AND IT WENT BACK TO THE ONLY THING I EVER DESIRED TO BE WAS A GOLFER AND WHEN SHE SAID IF YOU DON'T LIKE IT, YOU KNOW, YOU CAN GET OUT OF IT, I REALIZED THAT HEY
THAT I'M DOING SOMETHING I REALLY LOVE TO DO AND IT'S ABOUT TIME I STARTED APPLYING MYSELF.
PETER KESSLER
NOW BUT THAT WITHDRAWAL WAS ACTUALLY RIGHT. YOU PLAYED 27 HOLES OF A TOURNAMENT AND WITH 9 TO GO ON FRIDAY, SOMEBODY SAID LET'S GO DOWN TO THE TRACK AND HANG OUT FOR A COUPLE OF HOURS. IT WAS THAT KIND OF A WITHDRAWAL, RIGHT?
RAYMOND FLOYD
THAT WAS EXACTLY THE WITHDRAWAL.
(RAYMOND AND PETER LAUGH)
RAYMOND FLOYD
YOU WOULDN'T LET ME MISS IT WOULD YOU?
PETER KESSLER
I THOUGHT WE'D SNEAK THAT IN.
RAYMOND FLOYD
YEAH, SOUNDS GOOD.
PETER KESSLER
WHAT MADE YOU DECIDE TO PUT A 5 WOOD IN YOUR GOLF BAG BEFORE THE 76 MASTERS WHICH OF COURSE YOU WON?
RAYMOND FLOYD
I HAD PLAYED AUGUSTA NATIONAL SINCE 1965 AND I COULD REACH THE PAR 5'S BUT IN THE 60'S AND 70'S THE TROUBLE WITH THE PAR 5'S WAS THE HARDNESS
BEFORE THE BENT GRASS. IT WAS HOW FIRM THE GREENS WERE, AND I COULD TAKE A THREE OR A TWO IRON AND, AND GET IT TO THE GREENS BUT BOY WHEN IT HIT THEM IT WAS GONE LIKE 15, YOU NEVER
REALLY THOUGHT TOO MUCH ABOUT THE WATER IN THE FRONT BECAUSE YOU THOUGHT YOU'D HIT ENOUGH CLUB TO GET OVER THAT BUT IF YOU WERE TO CARRY SAY A THREE IRON UP INTO THE MIDDLE OF THE 15TH GREEN, IT WAS TOO HOPS INTO THE BACK LAKE OVER THAT FRONTS 16. THAT WAS THE REAL PROBLEM WITH THE 15TH HOLE AND WE TELL THE
YOUNGER PLAYERS THAT TODAY AND THEY LOOK AT YOU LIKE YOU'RE CRAZY. YOU COULD NEVER HIT A BALL BACK IN THAT LAKE, THEY SAY, BUT THAT WAS OUR PROBLEM, AND, 5 WOODS WERE NOT CLUBS THAT WE HAD EVER SEEN AT THAT
TIME. I THINK EVERY NOW AND THEN YOU'D SEE ONE IN A LADIES SET AND I STARTED THINKING ABOUT AUGUSTA IN THE FALL. IT WAS SOMETHING THAT I COVETED. IT WAS A TITLE THAT I REALLY
CHERISHED AND I WAS GOING TO GIVE IT MY ALL AND I STARTED THINKING, BOY, PAR 5'S ARE PARAMOUNT THERE. YOU MUST PLAY THE PAR 5'S WELL BUT WHAT AM I GOING TO DO? AM I GOING TO PLAY SHORT ON ALL THESE HOLES AND WEDGE UP? THE GREENS ARE STILL DIFFICULT
AND FIRM AND HARD WITH A WEDGE, AND I STARTED THINKING ABOUT MORE LOFT. HOW COULD I GET A, HIT, GET THE BALL HIGHER UP IN THERE AND SOMEWHERE, I DON'T KNOW EVEN HOW THE THOUGHT OCCURRED BUT, ABOUT A 5 WOOD, AND I WENT TO THE CLUB SHOP IN HOLLYWOOD, FLORIDA. THERE WERE, I FELT HIS NAME WAS DON, I CAN'T REMEMBER HIS LAST NAME, THAT OWNED THE CLUB SHOP, AND I SAID DO YOU HAVE ANY 5 WOODS HEADS?
AND HE HAD SOME RAW 5 WOOD HEADS AND I SAID LET'S MAKE A COUPLE UP. I, I WANT TO SEE IF I CAN GET ONE THAT'LL, THAT'LL WORK FOR ME, AND HE MADE ME UP A COUPLE OF HEADS AND ONE OF THE TWO WAS, WAS REALLY GOOD AND I
STARTED PRACTICING WITH IT IN THE WINTER OF '75 AND JACK GROUT WAS HELPING ME WITH MY GOLF GAME AT THAT TIME. HE WAS AT LAGOURAS DOWN IN MIAMI BEACH AND I CAME OUT WITH THIS 5 WOOD AND HE SAID WHAT IS THAT?
AND I SAID WELL THAT'S A 5 WOOD. HE SAYS WHAT IN THE WORLD YOU GOING TO DO WITH THAT? AND I SAID THAT'S FOR AUGUSTA. JACK, YOU KNOW, IF I CAN HIT THIS THING INSTEAD OF HAVING TO HIT TWO AND THREE IRONS, I CAN GET THIS CLUB UP HIGH AND COME DOWN AND I
THINK I CAN TAKE ADVANTAGE OF THE PAR 5'S, AND JACK WAS A LITTLE SKEPTICAL ABOUT MY 5 WOOD BUT THE MORE I PRACTICED WITH IT THE BETTER I GOT AND I WOULD PRACTICE WITH THAT
CLUB EVERY TIME I WAS HOME. I DIDN'T TAKE IT ON THE ROAD WITH ME WHEN I WAS PLAYING BUT EVERY TIME I CAME
HOME I PRACTICED WITH A 5 WOOD AND IT TURNED OUT TO BE THE SECRET WEAPON.
PETER KESSLER
AS THAT THE MOST IMPORTANT AND DELICIOUS VICTORY? THE '76 MASTERS?
RAYMOND FLOYD
WELL IT'S HARD, CERTAINLY, TO SEPARATE MAJORS. I THINK YOUR GOAL IS TO WIN MAJOR CHAMPIONSHIPS BUT IT'S, IT'S THE TITLE THAT I REALLY HAD THOUGHT ABOUT. IT, IT WAS THE GAME THAT I PLAYED WHEN I WAS 14 OR 15,
PUTTING OR GETTING ON A TEE AND SAYING, IF I CAN PAR THIS HOLE I WIN THE MASTERS OR IF I CAN MAKE THIS PUTT I WIN THE MASTERS. I WAS BORN AND RAISED VERY CLOSE TO AUGUSTA. I WAS BORN AND RAISED IN NORTH CAROLINA, SO GEOGRAPHICALLY IT WAS CLOSE.
IT WAS SOMETHING, I THINK MY FIRST TELEVISED GOLF TOURNAMENT WAS WATCHING ARNOLD WIN THE MASTERS SO IT HELD A VERY SPECIAL PLACE FOR ME AND PROBABLY I GUESS IF, IF, IF YOU MADE ME SAY TAKE ONE AND THROW THE OTHERS AWAY, I WOULD TAKE THE MASTERS, YES.
PETER KESSLER
WE'LL BE RIGHT BACK.
(MUSIC)
(WRITTEN TEXT)
RAYMOND FLOYD
SELECTED CAREER ACHIEVEMENTS
-28 TOP 10'S IN PRO MAJORS INCLUDING 4 WINS (HAD A TOP 20 FINISH IN A MAJOR EVERY YEAR BUT ONE BETWEEN 1965 -'94)
-ALONG WITH SAM SNEAD, ONLY PLAYER TO WIN AN OFFICIAL PGA TOUR EVENT IN 4 DIFFERENT DECADES.
-FIRST AND ONLY PLAYER TO WIN ON THE PGA & SENIOR PGA TOUR IN THE SAME YEAR (1992)
(BREAK)
Golf Talk Live – Raymond Floyd Transcript Segment 4
By GolfChannel.com Team
Posted: April 23, 2001
PETER KESSLER
NOW THAT'S THE STARE YOU THREATENED TO GIVE ME IF I ASK THE WRONG QUESTION, RIGHT?
RAYMOND FLOYD
(LAUGHS)
PETER KESSLER
(LAUGHS)
YOU KNOW JACK HAD THIS INCREDIBLE ROTATING GROUP OF CHALLENGERS HIS WHOLE CAREER. YOU AND ARNOLD, AND BILLY, AND GARY AND TOM AND LEE. DO YOU THINK THAT, THAT TIGER'S GOING TO NEED THAT SAME ROTATING GROUP OF CHALLENGERS TO SUSTAIN HIS LEVEL OF INTEREST IN THE NEXT FEW YEARS?
RAYMOND FLOYD
HE'S A VERY SPECIAL PERSON AND PLAYER I THINK AND I THINK THERE, THERE WILL BE THE CALIBER OF PLAYER OUT THERE THAT WILL, WILL CHALLENGE HIM, CERTAINLY. I DON'T THINK THAT
THE GUYS TODAY, MAYBE I SHOULD EXPRESS IT A LITTLE DIFFERENTLY, I THINK THE GUYS TODAY THAT HE HAS COME IN THE GAME WITH OR WERE JUST SLIGHTLY IN FRONT OF HIM ARE GOING TO HAVE A DIFFICULT TIME BEATING HIM, BUT WHAT I THINK WILL HAPPEN IS THE YOUNGER PLAYERS THAT ARE
COLLEGIATES NOW OR PLAYERS THAT ARE TRYING TO GET OUT THERE, THEY REALIZE THAT THE BAR WAS MOVED. THAT THE GAME HAS GONE TO ANOTHER LEVEL AND THEY'RE GOING TO HAVE THE MINDSET THAT THEY CAN DO IT AND THEY WILL
COME OUT AND CHALLENGE TIGER I THINK. I THINK A PHIL MICKELSON IS GOING TO WIN A MAJOR CHAMPIONSHIP. I THINK A DAVID DUVAL'S GOING TO WIN A MAJOR CHAMPIONSHIP, SO CERTAINLY THEY'RE GOING TO BE THERE AND
THEY'RE GOING TO COMPETE WITH HIM, BUT RIGHT NOW HE IS, PHEW, IT'S GOING TO BE TOUGH TO BEAT HIM.
PETER KESSLER
THE OPEN GOES BACK TO SOUTHERN HILLS OF COURSE IN JUNE AND YOU WON YOUR SECOND PGA THERE IN 1982. DO YOU THINK YOU EVER PLAYED A BETTER ROUND OF GOLF THAN THE OPENING ROUND 63 TO START THAT WIRE TO WIRE WIN?
RAYMOND FLOYD
OH, 63 ON A GOLF COURSE LIKE THAT, A HUNDRED DEGREE WEATHER, A PGA CHAMPIONSHIP, OPENING ROUND. THAT'S KIND OF HARD TO BEAT THAT.
PETER KESSLER
IS THAT WHEN YOU DID THE SMART PLAYING WITH THE LEAD AS OPPOSED TO BEING CONSERVATIVE THAT WE TALKED ABOUT EARLIER?
RAYMOND FLOYD
UH PROBABLY. I, I CAN'T RECALL EXACTLY THE MINDSET, BUT I KNOW I WAS PLAYING WELL BUT STILL TO THINK ABOUT PUTTING UP 63 ON A GOLF COURSE LIKE THAT IS, I DON'T THINK REALISTIC,
ESPECIALLY IN A PGA CHAMPIONSHIP. ROUGH, REALLY DEEP. YOU GOT TO HIT FAIRWAYS, YOU GOT TO HIT GREENS AND THEN YOU HAVE TO MAKE PUTTS, UH, IT'S NICE TO REFLECT ON THOSE THINGS AND KNOW THAT YOU'VE DONE IT (LAUGHS).
PETER KESSLER
NOW ANOTHER ROUND THAT MIGHT BE ALMOST AS GOOD, IF NOT AS GOOD AS A 63 WAS A CLOSING 66 THAT YOU SHOT AT SHINNECOCK IN 1986 TO WIN YOUR U.S. OPEN. WHAT WAS THE DIFFERENCE
BETWEEN THAT 66 UNDER ALL THAT PRESSURE AND THE 77 THAT YOU SHOT THE SUNDAY BEFORE AT WESTCHESTER WHEN YOU HAD BEEN RIGHT IN THE MIDDLE OF THINGS WITH A CHANCE TO WIN THAT GOLF TOURNAMENT?
RAYMOND FLOYD
WELL I THINK MARIA CAN TAKE CREDIT FOR THAT AS WELL. I HAD BEEN IN THE LEAD AT WESTCHESTER, OR TIED, I CAN'T REMEMBER EXACTLY, GOING TO THE LAST ROUND AND I THINK THE NEXT NINE PLAYERS, THE REST OF THE PLAYERS IN THE TOP TEN, COLLECTIVELY HAD NOT WON NEARLY AS MANY TITLES THAT I, AS I.
I WENT OUT AND BLEW AN ENGINE, HAD FOUR FLAT TIRES . EVERYTHING WENT TO HELL IN A HAND BASKET AND WE GOT IN THE CAR TO DRIVE FROM WESTCHESTER OUT TO LONG ISLAND FOR, FOR THE U.S. OPEN THE FOLLOWING WEEK AND ON THE DRIVE MARIA SAID, WHAT HAPPENED?
AND AGAIN, I'M GOING TO SHORTEN THIS STORY BECAUSE IT GOT A LITTLE BIT HEATED ON THE WAY OUT, BUT
PETER KESSLER
AND THAT'S A THREE HOUR DRIVE
RAYMOND FLOYD
YES, IT WAS A LONG DRIVE. AND SHE PUT IT TO ME THAT YOU HAVE TO ADDRESS IT. WHAT IF YOU'RE IN CONTENTION NEXT WEEK IN THE U.S. OPEN AND YOU DON'T ADDRESS WHAT HAPPENED TODAY. WHAT MIGHT HAPPEN IN THE U.S. OPEN?
YOU'RE PLAYING WELL. COULD IT HAPPEN AGAIN? AND WHEN YOU START THINKING ABOUT IT, SURE IT COULD, SO I… FINALLY SUCCUMBED. I WAS VERY UPSET. I'M ALWAYS ONE OF THOSE PEOPLE THAT
KIND OF PUSH IT UNDER THE RUG AND LET IT GO. IT'S GOLF, IT'LL, YOU KNOW, IT'LL WORK ITSELF OUT. MARIA IS FROM THE OTHER SCHOOL AND SHE WANTS TO TALK ABOUT IT AND LET'S FACE IT RIGHT NOW. WE DON'T, WE DON'T WAIT AND FORTUNATELY, THROUGHOUT THAT WEEK
I GAVE SOME THOUGHT ABOUT WHAT IF IT HAPPENS AGAIN. HOW ARE YOU GOING TO HANDLE THIS? WHAT, WHY DID YOU SHOOT 77. TO THIS DAY I DON'T KNOW THAT I KNOW WHY I SHOT 77. I'VE HAD THOSE ROUNDS BEFORE AND, AND ALL
OF US HAVE. WHEN THE WHEELS COME OFF, IT IS THE HARDEST SHIP TO RIGHT THAT YOU'VE EVER SEEN, BUT THE KEY IS TO NOT LET IT START SLIPPING. I THINK THAT'S THE REAL KEY, AND WHEN YOU, WHEN YOU GET AN OPPORTUNITY YOU HAVE TO CAPITALIZE BECAUSE YOU DON'T
HAVE A LOT OF CHANCES TO WIN ANY EVENT AND ESPECIALLY A MAJOR, SO, I THINK MARIA HAS THAT TROPHY ON HER MANTLE, ALONG WITH A LOT OF OTHERS THAT I'VE, THAT I'VE GOTTEN CREDIT FOR.
PETER KESSLER
WE'VE GOT ANOTHER TROPHY OF YOURS THAT WE'RE GOING TO RUN INTO, ANOTHER WINNING FLOYD, YOUR SON ROBERT, AS SOON AS WE COME BACK. DON'T GO AWAY.
(MUSIC)
THERE'S RAY AND RAY JUNIOR.
THERE'S RAY AND ROBERT, AND THE THREE OF THEM HAVE WON THE FATHER-SON CHALLENGE FOUR TIMES BETWEEN THEM.
(BREAK)
Golf Talk Live – Raymond Floyd Transcript Segment 5
By GolfChannel.com Team
Posted: April 23, 2001
PETER KESSLER
WE PROMISED YOU ANOTHER WINNING FLOYD AND WE WELCOME HIS SON, ROBERT. GREAT TO SEE YOU HERE.
ROBERT FLOYD, RAY'S SON (MALE):
NICE TO SEE YOU, PETER.
PETER KESSLER
IF YOU COULD HAVE ONE OF YOUR DAD'S GOLFING TRAITS TO ADOPT AS YOUR OWN, WHICH ONE WOULD YOU CHOOSE?
ROBERT FLOYD, RAY'S SON (MALE):
I'D SAY THE, THE MENTAL ASPECT OF THE GAME. I THINK OVER THE YEARS HIS SHORT GAME HAS OBVIOUSLY BEEN PHENOMENAL AND THAT'S WHAT'S STOOD
TIME MORE THAN ANYTHING, BUT HIS MENTAL APPROACH TO THE GAME, HIS MENTAL TOUGHNESS AND JUST BEING ABLE TO PREPARE MENTALLY AND BEING ABLE TO HANDLE MOST ANY SITUATION MENTALLY, THAT WOULD BE THE ASSET THAT I WOULD HAVE, WOULD HAVE LIKED TO INHERIT.
(WRITTEN TEXT)
PARTNERED WITH HIS FATHER TO WIN THE '00 OFFICE DEPOT FATHER SON CHALLENGE)
PETER KESSLER
HOW DIFFICULT IS IT FOR YOU, RAY, TO OBJECTIVELY AND WITH A FATHER'S LOVE BUT ALSO WITH THE TOUGHNESS REQUIRED, TELL HIM WHAT YOU THINK HIS STRENGTHS AND WEAKNESSES ARE?
RAYMOND FLOYD
THE, THE MOST DIFFICULT THING FOR ME IS WATCHING AND WATCHING HIS STRUGGLES. I'VE BEEN THROUGH THE SAME THINGS THAT, THAT HE WILL GO THROUGH AND HAS GONE THROUGH BUT I THINK THAT MAKES IT EVEN TOUGHER KNOWING THAT YOU'VE RUN THE
GAUNTLET THERE BEFORE, BUT ROBERT HAS BEEN A VERY GOOD PLAYER SINCE HE WAS A REAL LITTLE GUY. HE, HE WON AT EVERY LEVEL AND GOING UP FROM HIGH SCHOOL TO COLLEGE TO AMATEUR, NICE, PRETTY GOOD SIZE AMATEUR EVENTS, DOING WELL IN THE U.S. AMATEUR, HE'S, HE'S PLAYED VERY, VERY WELL AND IT'S
THERE. HE'S, HE'S DONE IT. HE KNOWS HOW TO DO IT AND I THINK HIS DISCIPLINE MIGHT HAVE BEEN A LITTLE… LACKING IF YOU WOULD, IN HIS YOUNG DAY. MAYBE HE TOOK THAT FROM ME, BUT I HOPE THAT HE WOULD REALIZE THAT IT'S A MUCH
TOUGHER GAME TODAY. THERE'S A LOT MORE TALENT OUT THERE. THE DEPTH OF FIELD IS INCREDIBLE. THERE ARE SO MANY PLAYERS LIKE ROBERT RUNNING AROUND PLAYING IN MINI TOUR S AND IN
OTHER COUNTRIES THAT HAVE NO PLACE TO PLAY HERE AND A GREAT POOL OF TALENT AND TO RISE ABOVE THE TOP OF THAT TODAY IS MUCH MORE DIFFICULT THAN I HAD COMING UP WHEN I WAS HIS AGE, SO, I THINK HE'S, HE'S ADDRESSED THAT NOW AND I THINK THAT ROBERT'S GOING TO COME TO THE FRONT WITH HIS GOLF AND BE VERY SUCCESSFUL WITH IT.
PETER KESSLER
OBVIOUSLY IT'S GOT TO BE A JOY TO BE RAY'S SON BUT YOU'VE ALSO GOT THE BURDEN OF COMPARISON. ARE YOU GETTING BETTER ABOUT IGNORING THAT OR DISREGARDING THE INEVITABLE COMPARISONS BETWEEN YOU AND YOUR DAD?
ROBERT FLOYD, RAY'S SON (MALE):
YEAH, I NEVER REALLY HAD A PROBLEM WITH IT. MY BROTHER ACTUALLY TOOK A LOT OF THE HEAT OFF OF ME. YOU KNOW, HE WAS RAYMOND FLOYD, JR. AND WE'D PLAY IN AMATEUR EVENTS GROWING UP AND JUNIOR EVENTS PLAYING, GROWING UP AND HE, HE WAS OLDER THAN ME,
AND YOU KNOW, I KIND OF SLID UNDER THE COVERS AND RAYMOND HAPPILY TOOK, YOU KNOW, TOOK THE BURDEN AND SO I WAS, I WAS ALWAYS ABLE TO GO OUT AND PLAY GOLF AND NOT WORRY ABOUT IT AND THEN, YOU KNOW, COMPARISONS ARE JUST SOMETHING, THEY'RE
COMPARISONS TO SOMEBODY YOU'RE VERY PROUD OF. SOMEONE YOU , YOU'RE VERY CLOSE TO AND IT'S NOT LIKE I WAS BEING COMPARED TO JACK NICKLAUS OR, OR IN SOME OF THESE KIDS CASES NOW, TIGER WOODS. SOMEONE THAT THEY
DIDN'T NECESSARILY, DIDN'T NECESSARILY KNOW SO I WAS BEING COMPARED TO MY, MY DAD WHO, WHO'S ALWAYS A VERY FINE PERSON IN MY LIFE AND I REALLY ENJOY TALKING ABOUT HIM, SO IT'S, IT'S NOT THAT HARD. IT'S
NOT SOMETHING THAT YOU ARE AWARE OF. IT'S NOT SOMETHING THAT WEIGHS ON YOU WHEN YOU'RE PLAYING GOLF, IT'S
JUST SOMETHING THAT YOU HAVE TO ANSWER TO THE MEDIA.
PETER KESSLER
HOW COMPETITIVE ARE THE MATCHES THAT YOU TWO PLAY INFORMALLY FOR FUN TOGETHER?
ROBERT FLOYD, RAY'S SON (MALE):
THEY'RE VERY, I REMEMBER BEFORE I, I HAD BEATEN HIM, THEY WERE THE MOST COMPETITIVE. IT WAS VERY TOUGH TO BEAT HIM. I REMEMBER THE FIRST TIME I LEGITIMATELY HAD A CHANCE TO BEAT HIM. I WAS THREE UP. I SHOT 33 ON THE
FRONT NINE AND HE SHOT 36 AT OUR HOME COURSE IN MIAMI AT INDIAN CREEK AND I ASKED HIM HOW MANY SHOTS HE NEEDED ON THE BACK NINE BECAUSE, YOU KNOW, IF I WAS GOING TO BEAT HIM
I WANTED
PETER KESSLER
BAD MOVE
ROBERT FLOYD, RAY'S SON (MALE):
I WANTED HIM TO KNOW I WAS GOING TO BEAT HIM. WELL HE BIRDIED TEN, ELEVEN AND TWELVE AND SO DID I SO I WAS LOOKING AT HIM LIKE ALRIGHT, YOU JUST CAME WITH IT AND I'VE STILL GOT A THREE SHOT LEAD. WELL HE BIRDIED
THIRTEEN, FOURTEEN AND FIFTEEN TOO AND THEN HE HAD AN EAGLE PUTT ON EIGHTEEN FROM ABOUT TWENTY FEET AND I HAD AN EAGLE PUTT FROM ABOUT TWENTY FIVE FEET AND I MISSED MINE AND HE LAGGED IT UP THAT FAR AND
BEAT ME BY ONE AND I KNOW IF I MADE MY EAGLE PUTT HE WOULD HAVE MADE HIS AND BEAT ME BY ONE TOO, SO THAT WAS THE FIRST TIME I'D EVER REALLY HAD A CHANCE AND YOU KNOW, SO
OBVIOUSLY THAT INSPIRED ME TO TRY TO BEAT HIM AND HE WASN'T GOING TO LET
ME WIN AND IT WAS EXTRA SPECIAL WHEN I FINALLY DID.
PETER KESSLER
HOW COMPETITIVE ARE YOU TWO AWAY FROM GOLF? OTHER SPORTS, OTHER THINGS IN LIFE?
RAYMOND FLOYD
WE'RE NOT COMPETITIVE AT ALL IN THAT, THAT RESPECT AND, AND I DON'T THINK WE'RE , EVEN TODAY WHEN WE PLAY GOLF NOW AFTER THE FACT, WE'RE NOT COMPETITIVE, OR I DON'T FEEL LIKE WE'RE COMPETITIVE WHEN WE PLAY. I ENJOY THE COMPANY AND WE GO OUT AND PLAY, BUT I FELT WHEN THEY WERE YOUNG, BOTH RAYMOND AND ROBERT,
THAT, THEY WERE GOING TO BEAT ME, THEY WERE GOING TO BEAT ME. IT WASN'T GOING TO BE THE FATHER AND THE SON RUNNING THE FOOTRACE AND LETTING THE CHILD BARELY WIN ALL THE TIME. WE, WE DID THOSE THINGS BUT ON
THE GOLF COURSE THE RULE WAS THEY WERE GOING TO HAVE TO BEAT ME. THEY WEREN'T EVER GOING TO HAVE IT GIVEN TO THEM AND I THINK THAT'S WHY HE BRINGS IT UP NOW. IT WAS SPECIAL KNOWING THAT I WAS PLAYING AS HARD AS I COULD PLAY THE DAY HE BEAT ME.
PETER KESSLER
WHEN THE TWO OF YOU WON THE FATHER SON CHALLENGE LAST YEAR AND DAD MAKES THE BIRDIE ON THE PLAY OFF HOLE TO BEAT THE MILLERS, WHAT DO YOU FEEL IF ANYTHING THAT YOU LEARNED FROM YOUR DAD AND JOHNNY ABOUT COMPETITION? ABOUT YOU TAKING YOU TO THE NEXT LEVEL?
ROBERT FLOYD, RAY'S SON (MALE):
WELL, I'VE BEEN AROUND, YOU KNOW, HIM FOREVER, AND, AND JUST, JUST THE FOCUS AND THEN THE FACT THAT YOU KNOW YOU'RE GOING TO BE ABLE TO DO SOMETHING . I PUTTED FIRST, THE BACK NINE, OR FROM
ABOUT NINE OR TEN ON, THE LAST ROUND OF THE FATHER SON, THE LAST FEW HOLES, AND WE WENT INTO THAT PLAY OFF AND, AND I PUTTED LAST, EXCUSE
ME, AND WE WENT TO THAT PLAY OFF AND HE SAID TO ME, HE GOES, YOU MIGHT WANT TO PUTT BECAUSE I'M GOING TO MAKE THIS, SO HE WANTED TO GIVE ME A
CHANCE TO MAKE IT AND THEN HE WENT AHEAD AND MADE IT AND THAT'S SOMETHING YOU LEARN BECAUSE I, I'VE DEFINITELY TALKED A GOOD GAME PLAYING WITH FRIENDS AND SAID
ALRIGHT I'M GOING TO MAKE THIS AND, YOU KNOW, YOU MAKE IT ONE TIME OUT OF TEN AND HE SEEMS TO BE THE OTHER WAY, HE MISSES ONE TIME OUT OF TEN, AND THAT'S, THAT'S SOMETHING I'VE LEARNED AND, YOU KNOW I DON'T NECESSARILY KNOW HOW HE DOES IT BUT
I GUESS THAT'S THE SECRET.
PETER KESSLER
THANKS FOR SPENDING A FEW MINUTES WITH US TONIGHT. WE'RE GOING TO LET YOU GO AND SPEND A FEW MORE MINUTES WITH DAD. DON'T GO AWAY. HERE'S DAD AND DAUGHTER ON COVER OF SPORTS ILLUSTRATED FROM 1986 WHEN RAYMOND WON THE U.S. OPEN AT SHINNECOCK.
(MUSIC CONTINUES)
(BREAK)
Golf Talk Live – Raymond Floyd Transcript Segment 6
By GolfChannel.com Team
Posted: April 23, 2001
PETER KESSLER
YOU KNOW ONE OF THE THINGS THAT YOU DISCOVERED EARLY ABOUT YOUR ABILITY TO SCORE WAS THAT YOU NEEDED TO WORK ON YOUR SHORT GAME AND OVER THE YEARS, ONE OF THE THINGS THAT WE'VE MARVELED AT IS THE ASSORTMENT
OF CHIPS AND PITCHES AND BUNKER SHOTS AND LITTLE THINGS THAT YOU DO AROUND THE GREEN TO SCORE. SO LET'S
TAKE A LOOK AT A RIP OF THINGS AND TELL US TO THE EXTENT YOU CAN, WHAT'S GOING ON, WHERE YOU REMEMBER, AND TALK TO US A LITTLE BIT ABOUT YOUR PHILOSOPHY OF PLAYING THOSE SHOTS AS WE LOOK AT THEM TOGETHER.
RAYMOND FLOYD
I'LL DO MY BEST PETER. NO GUARANTEE
PETER KESSLER
LOOK. 78 OPEN CHAMPIONSHIP. FINAL ROUND.
RAYMOND FLOYD
OH THIS IS ONE OF THE GREAT DIFFICULT SHOTS WITH THE, AT ST. ANDREWS AND I HIT IT HARD DOWN THROUGH THE, THE LITTLE DEPRESSION THERE AND RUN IT UP. THAT GREEN WON'T HOLD A FULL PITCH.
I DON'T REMEMBER THIS, BUT I'M COMING OVER A BUNKER.
PETER KESSLER
IT WORKED.
RAYMOND FLOYD
OBVIOUSLY WITH THE SWING I WAS IN DEEP GRASS. CAME DOWN PRETTY SOFT.
PETER KESSLER
DO YOU TRY TO TAKE THE BALL CLEAN ON THOSE SHOTS OR ARE YOU CATCHING A LITTLE GRASS
(?) AROUND THE EDGES?
RAYMOND FLOYD
NO, YOU'RE
YOU'RE PLAYING A, A BUNKER SHOT. YOU'RE ACTUALLY EXPLODING THE GRASS TO MAKE IT COME UP AND HIGH AND SOFT.
PETER KESSLER
WHAT ABOUT YOUR, WELL WHAT ABOUT WHEN YOU HAVE A LITTLE CHIP FROM THE EDGE? ARE YOU TAKING THE BALL CLEAN?
RAYMOND FLOYD
SURE. WHEN THE, WHEN THE BALL'S CLEAN YOU TAKE IT CLEAN, BUT WHEN IT'S DOWN, THAT WAS ONE OF THE REALLY GREAT BUNKER SHOTS OF MY CAREER. THAT WAS THE 15TH AT SHINNECOCK WHEN I WON THE U.S. OPEN.
PETER KESSLER
NOW HERE, OF COURSE, HERE IS THE NEXT HOLE ON THE SAME DAY.
RAYMOND FLOYD
THIS ACTUALLY WAS A DAY LATER. THIS, THIS IS THE FINAL ROUND. THAT WAS
PETER KESSLER
SATURDAY, YEAH
RAYMOND FLOYD
THE PUTT THAT WAS ON SATURDAY, AND I WAS DISTURBED THERE BY A CAMERA MAN WHO HAD A, WHAT DO YOU CALL THEM AN AUTOMATIC DRIVE AND HE TOOK ABOUT THREE CLICK, CLICK, CLICK RIGHT AS I WAS STARTING BACK. FORTUNATELY I REFOCUSED AND GOT BACK IN THERE AND HIT A PRETTY GOOD SHOT.
PETER KESSLER
WHAT DO YOU WATCH OUT FOR WHEN PLAYING THIS SHOT? WHAT DO YOU HAVE TO WATCH OUT FOR?
RAYMOND FLOYD
WELL I, I LOOK, LOSE SHOTS TO THE RIGHT WHEN I GO TO HIT THEM EASY, SO, AND THE WIND WAS BLOWING VERY HARD, AGAINST, FROM THE RIGHT, SO ALL I HAD TO DO WAS KIND OF HOLD IT OR CUT IT IN THERE AND I PREFER THAT OVER THE LEFT TO RIGHT WIND. SO I, I TOOK THERE AN 8 IRON AND HIT IT PRETTY SOLID THROUGH THE WIND.
PETER KESSLER
KIND OF A BRITISH OPEN ATMOSPHERE AT SHINNECOCK ISN'T IT?
RAYMOND FLOYD
YES IT IS. VERY MUCH SO.
PETER KESSLER
AND THE PLAYABILITY OF THE GOLF COURSE AS WELL.
THIS IS THE DOUBLE SANDY.
RAYMOND FLOYD
YES I WILL HIT A BAD DRIVE IN THE FAIRWAY BUNKER. HIT A PRETTY GOOD SHOT TO GET IT UP HERE INTO THE GREENSIDE BUNKER AND HIT THAT NICE SHOT AND MADE THAT TO GO INTO THE PLAY OFF.
WELL THIS WAS MY LAST WIN ON THE REGULAR TOUR IN '92 AT DORAL. THAT WAS A FAIRLY CLEAN LIE, AT THE 13TH, TO BE ABLE TO SPIN IT LIKE THAT YOU HAVE TO HAVE THE BALL CLEAN.
PETER KESSLER
YOU ALWAYS LOOKING TO TAKE THE STRAIGHTEST FACED CLUB YOU CAN?
RAYMOND FLOYD
WHEN, IF THERE'S ROOM. I LIKE TO GET THE BALL ON THE GREEN. I DON'T LIKE TO LET IT BOUNCE AND TUMBLE UNLESS IT'S ABSOLUTELY NECESSARY.
THAT WAS PROBABLY ONE OF THE GREATEST CHIPS I'VE EVER HIT IN MY LIFE AND TO EVEN THINK BACK ON HOW YOU COULD HOLE THAT SHOT'S PRETTY INCREDIBLE. THE FRONT OF THE 14TH AT AUGUSTA.
ALL OF THESE ARE, ARE PRETTY DIFFICULT BUNKER SHOTS THAT, AT THE PGA NATIONAL, YOU DON'T HAVE A LOT OF ROOM WHEN YOU GET IN THE BUNKERS THAT ARE FAIRLY DEEP THERE.
PETER KESSLER
WHEN YOU PLAYED IN YOUR FINAL RYDER CUP AS A PLAYER IN '93 AND HAD A CHANCE TO, NOT ONLY PLAY A SINGLES MATCH THE LAST DAY, BUT YOU PLAYED PROBABLY AS GOOD A GOLF AS YOU HAD
ALL YEAR, AT A CRITICAL MOMENT AND HELPED THE TEAM, WAS THAT SORT OF THE PERFECT, FINAL WAY TO END YOUR EXPERIENCES AS A PLAYER IN THE CUPS?
RAYMOND FLOYD
IT WAS A WONDERFUL WAY TO END, END THE EXPERIENCE. IT'S, RYDER CUP IS THE HARDEST GOLF THAT YOU WILL EVER PLAY. IT IS A LONG TRYING WEEK. YOU'RE PLAYING 36 HOLES. INTENSE PRESSURE. YOU'VE GOT THE WEIGHT OF
YOUR COUNTRY AND YOUR AND YOUR FELLOW RYDER CUP MEMBERS AND YOUR CAPTAIN AND I WAS PICKED. I WAS A CAPTAIN'S PICK, AND HERE I AM, PUT IN NEXT OR THIRD TO THE LAST SLOT AND
I'M PAIRED AGAINST OLAZABAL AND AS IT CAME DOWN I BEAT HIM TO WIN THE DECIDING POINT. IT WAS SOMETHING THAT WAS VERY SPECIAL AND I PLAYED PROBABLY AS WELL AS I HAD PLAYED IN 6 MONTHS AND I DON'T KNOW WHERE IT CAME FROM BUT IT CAME AT THE RIGHT TIME.
PETER KESSLER
I REMEMBER IT WELL. THE TWO IRON TO FOUR FEET, AND TO HITTING THE FLAG ON 15, THE 3 BIRDIES IN FOUR HOLES. WE'LL COME BACK AND TALK ABOUT WHAT YOU'RE DOING TO BUILD GOLF COURSES BASED ON ALL THESE EXPERIENCES. DON'T GO AWAY.
(MUSIC)
(BREAK)
Golf Talk Live – Raymond Floyd Transcript Segment 7
By GolfChannel.com Team
Posted: April 23, 2001
PETER KESSLER
THINGS ARE BUSY AT RAYMOND FLOYD DESIGN. YOU'RE BUILDING NEW COURSES, DOING RESTORATIONS, RENOVATIONS, PRACTICE FACILITIES. HOW COMMITTED ARE YOU PERSONALLY TO WHAT'S GOING ON AT RAYMOND FLOYD DESIGN? HOW HANDS ON ARE YOU?
RAYMOND FLOYD
WELL I'M VERY HANDS ON, PETER. I'VE BROUGHT EVERYTHING IN HOUSE AND WE HAVE A FULL SCOPE OF SERVICES DESIGN OUTFIT AND I HAVE TWO FULL TIME ARCHITECTS ON BOARD THAT ARE MY GUYS AND AFTER GOING ANOTHER WAY FOR A GREAT NUMBER OF YEARS IN, IN MY DESIGN CAREER, DOING, I WAS MORE OF A CONSULTANT, DOING, DOING JOBS WITH
DIFFERENT ARCHITECTS AND I LEARNED THEN THAT MY NAME WAS BEING USED AND MY NAME WAS GOING ON THE PRODUCT AND I WANTED TO HAVE A LITTLE BIT MORE CONTROL. I AM VERY HANDS ON. I LIKE TO BE ON THE SITE
A LOT, ESPECIALLY WHEN FINAL SHAPING'S GOING ON AND I'M INVOLVED WITH THE RALLYING AT THE FRONT END AND IT'S SOMETHING THAT I, THAT I REALLY ENJOY, BUT IT'S SOMETHING THAT I FELT THAT I HAD TO GIVE A HUNDRED
PERCENT TO. I COULDN'T GO IN AND VISIT A SITE TWO OR THREE TIMES AND COME BACK AND OPEN IT IN A GRAND OPENING AND PLAY IT AND SAY WOW I'M REALLY PLEASED THAT IT CAME OUT THE WAY I
WANTED IT. IT JUST DIDN'T SEEM TO HAPPEN THAT WAY, AS A CONSULTANT. THAT'S WHY I ELECTED TO BRING IT IN HOUSE.
PETER KESSLER
WHAT'S YOUR PHILOSOPHY? YOU'VE PLAYED EVERY GREAT GOLF COURSE AROUND THE WORLD, ESSENTIALLY. YOU'VE WON ON MOST OF THOSE GREAT COURSES. HOW DOES THAT IMPACT WHAT YOU LIKE TO SEE NO ONE DO, A RAY FLOYD GOLF COURSE?
RAYMOND FLOYD
WELL THE PERFECT SCENARIO IS TRADITIONAL. I'M A TRADITIONALIST. I LOVE THE OLD TRADITIONAL GOLF. I LOVE THE DONALD ROSS. I LOVE THE TILLINGHAUS, I LIKE THE MCDONALD, THAT ERA TO ME WAS JUST FASCINATING.
REASON, EARTH MOVING. TODAY WE HAVE HEAVY EQUIPMENT AND YOU CAN REALLY CREATE IN ANY PIECE OF, ON ANY PIECE OF LAND YOU CAN CREATE ANOTHER. YOU CAN BE IN THE DESERT AND YOU CAN CREATE A MOUNTAIN GOLF COURSE. STEVE WYND DID IT WITH FAZIO.
YOU CAN BE ON THE MOUNTAIN AND YOU CAN CREATE A DESERT BECAUSE OF HEAVY EQUIPMENT. I'M, I'M OF THE BELIEF THAT IF YOU PUT THERE WHAT NATURE HAS GIVEN YOU, LIKE THE OLDER GUYS DID WHEN THEY DIDN'T HAVE THE, THE BENEFIT OF THE HEAVY EQUIPMENT THE ROUTING WAS PARAMOUNT, HOW YOU LAID THE HOLES OUT, THE UTILIZATION OF THE LAND. IT ALWAYS DRAINED ITSELF, NATURALLY, SO
YOU HAD TO THINK OF THAT AND MOVE THE HOLES AND, AND THINGS LIKE THAT AND THAT'S, THAT'S THE PHILOSOPHY I HAVE, IF THERE'S ONE THAT I WANT TO STAY A
TRADITIONALIST
PETER KESSLER
AND YOU'VE USED GIFTS THAT NATURE'S GIVEN TO YOU.
RAYMOND FLOYD
WELL, THANK YOU.
PETER KESSLER
THANKS FOR BEING HERE TONIGHT. WE'LL DO THIS AGAIN. GOOD NIGHT EVERYBODY