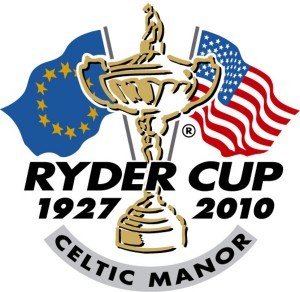 A friend of mine used to say that golf was the most fun you could have with your clothes on.  Now if The Ryder Cup had you happily rending your garments on Monday, well, then you were simultaneously watching some of the best golf in memory and doing it half naked, and if you were anything like as entranced or enthralled as I certainly was through those singles matches, you too were half crazed with delight at one of the great sporting event climaxes of all time. 
Some things that stuck me:
Where were the U.S. assistant captains?  Can you name one?
Tiger sure looked good on Monday. Tigeresque.
How can Westwood now be number two if he hasn't teed it up in a couple of months and when he could play he didn't play very well before he took time off when it mattered most?
Dustin Johnson started the Monday comeback.
Players of the week were Poulter, G Mac, Overton, Donald and the aforementioned Mr. Westwood.
Rory and Rickie are the break out real things.
Harrington.  Geeze, win three majors in fifteen minutes and then change your swing to get even better.  Brilliant.
Phil, Tiger and Dustin played better alone.
Should Tiger have been placed where Mahan was in the order?
It didn't matter who won. It was great theater and like most incredible golf, it was one part golf and one part entertainment.
Pavin did not hide Tiger and Phil and Rickie in the singles. He put them where they could make a difference if things got that far, which they did.
 Does the Fed Ex Cup push the Ryder Cup too deep into autumn? Yes.
There should be a playoff in the event of a tie.
Time to stop predicting who will win what and why. No one knows how anyone will play on any given day and on any given day any player from either team can beat any player on either team.
Rain suits will leak if they have pinholes from embroidery.
Monty for captain in 2012.
And Zinger.
And the winner was……….Golf.
PK