I love St Andrews, loved it before I ever got there, predisposed to love it since I was a little boy reading about the adventures of Bobby Jones. And I love The Old Course Hotel, especially room 238. Anytime I'm not in residence please feel free to ask for it – room 238.
The view takes your breath away, literally, and is overwhelming as you breath in the crisp sea air even if you don't play the great game.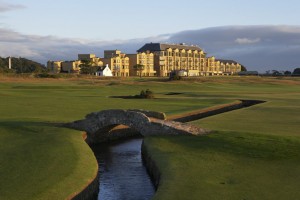 Before you is The Road Hole, number 17 of The Old Course, the most famous par 4 in the world. Below your room is exactly where a good drive puts you in position to have a clear go at the intimidating target, the road beyond the green waiting patiently for you should you be a touch too strong and the road hole bunker happily awaits anything short and left.  The room is also a spot where a howling slice might find its way to grazing the great hotel.
On the far side of number 17 and sharing ground is the 2nd hole with its curious mounding in front of the green, known as the Himalayas. Pull your pitch to the green on a calm day, and a longer shot, much, if the wind is against and you have a tough son of an up and down.
Just past the 2nd fairway is the clubhouse and beyond that The North Sea. When I was there in late October the moon was full and rose from the sea to a perch high above the clubhouse.
It's a view that promises rounds of golf, provides reasons to be optimistic about your world, and makes you grateful to be on the right side of the divot.