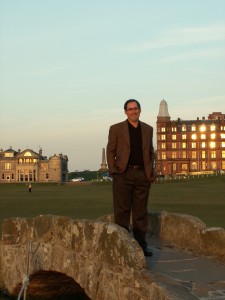 Jeff Wallach is the author of five books:  Beyond The Fairway: Zen Lessons, Insights, And Inner Attitudes Of Golf was published by Bantam Books in 1995, and is currently in its fourth printing.  The book is an adventure travel/golf philosophy book with a Zen flavor.  What The River Says: Whitewater Journeys Along The Inner Frontier was published by Blue Heron in 1996.  The book is a literary account of a season spent working as a whitewater river guide on Idaho's Salmon River, but it is also about the idea of the western frontier in American history.  Breaking 100: Eugene Country Club's First Century was commissioned and published by Graphic Arts in 1999.  Driven To Extremes, a sequel to Beyond The Fairway was  published by Burford Books in July, 2002.  Northwest Best Places to Golf, a guidebook in the "Best Places" series, was published by Sasquatch Books in spring of 2004.
In addition to his books, Wallach has written more than 600 features, columns, essays, and reviews for more than 50 different national magazines including Time, Money, Discover, Outside, Sports Illustrated, Men's Journal, Sierra, Backpacker, Men's Health, Men's Fitness, Health, Mountain Sports and Living, Rodale's Scuba Diving, Luxury Living, Travel Holiday, Alaska Air Magazine, Travel and Leisure Golf, GOLF Magazine, Golf Digest, Golf and Travel, Links, The American Book Review, and many others.  His short stories have been published in a number of magazines and literary journals and his work has won several awards.  He has taught writing at Milton Academy, the Oregon Graduate Institute, the Oregon Writers Workshop, and at writer's conferences throughout the west.
Wallach's corporate writing clients include Intel, Motorola, Microsoft Corp., Ford Motor Company, Subaru of America, Mazda, Acura, the U.S. Department of Energy, Citibank, Marriott International, Destination Hotels and Resorts, The Walt Disney Company, Hachette-Filipacci Magazine Group, Sunset Publishing Corporation, LIFE (insurance federation), Troon Golf, Grey Goose Vodka, Jantzen, Robert Trent Jones II (golf course architects), Nancy Lopez Golf, and others.
Wallach is also the founder of The Critical Faculty, a media/marketing and consulting  firm specializing in the golf, resort, and travel industries.  Clients of the Critical Faculty include The Jacob's Creek Championship (an annual golf event held in Australia); The Okanagan Golf Alliance, in British Columbia; Playa Las Tortugas, a residential development in Nayarit, Mexico; Golf Business Magazine; and a collection of some of the finest golf courses and resorts in North America.  He is a founding member and managing partner of Golf Media Network, LLC, which operates TheAPosition.com, a golf and travel website.
Wallach's second career is in real estate investing.  He is the founder and managing partner of Basalt Properties, LLC: Porch Swing Properties, LLC; and Sol Brothers, LLC, and also manages his own real estate portfolio.  Wallach has been buying, renovating, managing, and selling residential rental properties in the Portland, Oregon area for more than ten years.
Wallach holds a bachelor's Degree in English from Vassar College, and a master's in writing from Brown University.
A native New Yorker, he currently lives and writes in Portland, Oregon.  He is an avid skier, backpacker, mountain biker, river runner, scuba diver, squash player, soccer player, yoga devotee, and golfer, and claims to have a good short game for a journalist.