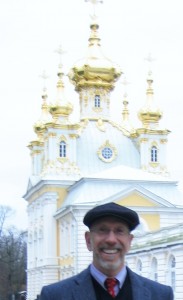 John Strawn is the author of many golf-related publications including:
               Driving the Green, The Making of a Golf Course (HarperCollins, 1991: rev. edition, Burford Books, 1997), and
                Golf the Greatest Game. One Hundred Years of the USGA (NY 1995)  Principal Contributor on the history of the USGA
He has also contributed to such publications as "Golf Journal," "Landscapes Architecture,"  "Golf Week," and "Golf Course Management," as well as industry related publications such as "Indian Gaming."
John is also the President and CEO of Hills/Forrest, International Golf Course Architects, a leading global golf course architectural firm based in the USA.  Responsible for business development and marketing, working with staff architects and regional representatives in creating world-class golf course projects in the United States, Asia, Latin American and Europe, Strawn has been a leading figure in international golf development circles, assisting in the creation of successful projects in Denmark, Sweden, Italy, Korea, China, and the Middle East, among other countries, as well as in the USA.  
Prior to joining Hills/Forrest, John was CEO of Robert Trent Jones II, Golf Course Architects.  In that capacity, he helped guide this legendary design firm to new heights, with projects completed during his tenure that earned many prestigious honors, such as multiple Golf Digest "Best New Course" awards as well as international recognition in such publications as Travel and Leisure, Golf, Inc, and The Links.  Among the projects completed by RTJ II during John's tenure and recognized for their superior design were: Bro Hof Slott, a 36 hole project in Sweden; Lubker Golf Resort in Denmark; the Tamarack Resort course in Idaho, USA; Anting Golf Club in Shanghai, China; and, perhaps most notably, Chambers Bay, a publicly-owned course in Tacoma, WA, which was invited by the USGA to host the 2010 US Amateur and the 2015 US Open, a unique and remarkable honor for both a new course and a municipally-owned course ("muni").  Just as Bethpage Black, the Long Island public course which hosted the "People's Open" to exhilarated New York galleries in 2002 and 2009, now has a special place in golf history as the first muni to stage an Open, Chambers Bay will be the first course in the Pacific Northwest to host an Open Championship.   
John has also been a featured speaker at such golf industry conferences as the GIS in the USA, KPMG's Golf Business Forum in Europe and the Golf Development Conference in China.  He has also organized and hosted major seminars on golf development in Russia, under the sponsorship of the government of Moscow, and in Italy, in collaboration with the Italian Golf Federation.