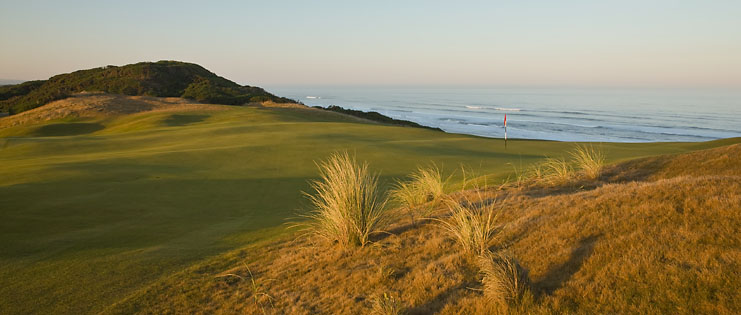 Old Macdonald, the fourth course at Bandon Dunes, opened on June 1, 2010.   To mark the first anniversary, I'm posting an excerpt from Dream Golf that provides a glimpse into the dynamics of the design team — the relationship between Mike Keiser, owner of the Bandon Dunes Resort, and co-designers Tom Doak and Jim Urbina, with cameo roles for design consultant Brad Klein and some of Mike's friends, or "retail golfers."  The morning described is November 5, 2008, the day after the presidential election, and Mike had flown that morning from Chicago to Oregon.

By ten A. M., Pacific Coast Time, Mike was standing on the first tee of Old Macdonald, holding an umbrella to protect him from the rain.  It was cold and steady, a heavy-duty coastal drizzle, but Jim Urbina didn't seem to notice.  Jim had been Tom Doak's right hand man during the building of Pacific Dunes; here at Old Macdonald, his role was much the same, but his billing was different.  At Mike's request, both Tom and Jim were listed as co-designers of Old Macdonald – or Old Mac, as everyone seemed to call it, going with the inevitable nickname.
With Tom scheduled to arrive later in the day, Jim was conducting this walk-around.   Drops of water beaded on his black jacket and dripped from the bill of his black cap, but Jim was too absorbed in his task to care.  In Mike's description, Jim is "one of those dirt guys who can do anything – and he's also a natural showman and storyteller."  Dark-eyed, olive-skinned, and animated, Jim is passionate in his beliefs about golf course design, and he was into Old Mac all the way, blood, guts, and feathers.   His voice brimmed with excitement as he explained the strategies of the opening hole, a short par 4 called Double Plateau.
The features of the hole had been roughed in so that its major shapes – the fairway, bunker, and green – emerged clearly from the sandy, soggy ground.   Jim started his remarks with a few thoughts about opening holes and the desirability of getting the golfer off to a smooth start, followed by a glancing reference to the first hole at National Golf Links, and a rhetorical question:  "Do you see how wide that fairway is?  If you can't hit that fairway, you should think about taking up another sport.  Right away, we wanted to show the golfer a wide fairway because that's what this course is about – width.  That's what they're going to see.  We're not saying you have to hit it here or hit it there.  We're saying, look at this huge fairway and YOU choose where YOU want to hit.   Macdonald never told anyone where they had to hit the ball."
"Width is good," Mike said.  "We like width."  But he did have plenty of questions.  How far away was that fairway bunker on the right?  A tour player could blast it right over that bunker, but could he?  Would it catch his drive?  Could he get out of it?  Was it too severe for an opening hole?
And so it went as the group moved down the fairway.  These walk-arounds had a well-established pattern of question-and-response, as Jim knew from his previous experience of working with Mike.  The dialogue was between the two of them, though the group that morning numbered about a dozen, including Mike's friends from Chicago; Ken Nice, the head superintendent at the resort; the three members of the Old Mac advisory panel, George Bahto, Brad Klein, and Karl Olson; a small KemperSports contingent, and a couple of media folk.  Mike hovered near that fairway bunker for a while, looking back at the tee and forward to the green, and said in an aside, "I'm not sure Tom is worried about what the retail golfer thinks."
Mike, however, regards himself as the voice of the retail golfer – the golfer who pays the freight at Bandon.   When everyone reached the green, dominated by a pair of mounds that formed the double plateau, Jim talked about how fond Macdonald was of this green configuration, and how often he and his associate, Seth Raynor, had employed it.  Nearly every course they built, he said, had a double plateau.  Still, Mike wasn't convinced about these humps that were of the size usually described as elephant burial grounds.  He had another barrage of questions:  How high were those mounds?  Weren't they higher than the mounds on the Double Plateau at National?  They looked higher.  Were they flat enough to hold an approach shot?  Not just a wedge shot, but the kind of approach he might hit?  If he was on the wrong plateau, could he two-putt?  What if his approach hit the side of a plateau – would it bounce off the green altogether?  How far off would it run?
Jim's eyes sparkled.  He was prepared for these questions.   Almost every answer contained a quote or reference to Macdonald, whose views on golf architecture Jim seemed to know by heart.  If any project was going to get Jim's creative juices flowing in full flood, it was Old Mac.  The first classical course that he'd ever made a special trip to study was National Golf Links, the course on Long Island that stands as Macdonald's most definitive statement on golf design.  And the first golf architecture book that he ever read was Macdonald's book, "Scotland's Gift – Golf."  Out here in Oregon, he carried his well-worn copy in the cab of his truck.  "The red book," he called it, and it was his Bible.
The discussion of the Double Plateau ended with an agreement to reconsider the height of the mounds.  "I am a leveler of greens," Mike muttered as the group trudged toward the nearby 17th hole, a par 5 that was just beginning to take shape.  Jim was eager to show Mike a new tee site, though it was difficult to see immediately just how the hole would play.  A small marsh encroached on the right side, a hill on the left, and in the middle of what seemed to be the fairway there was a ditch, a gash about eight feet wide and six feet deep.
"That's our burn," Jim announced, sweeping his arm like a magician making a revelation.
In classic design, the burn – the Scottish term for small stream — has a  pedigree that goes back to the Swilcan Burn at St. Andrews.  At various points in the design process at Old Macdonald, there'd been talk of incorporating a burn, but the right opportunity hadn't presented itself.  Now Jim thought he'd found just the place.   This 17th hole called for alternate fairways divided by a hazard of some sort.  Why not a burn?  As he described the tee shot, and the way the burn would wind through the fairway, Jim seemed to see it already, filled with clear water flowing between green banks.
Mike was still seeing a muddy gash.  In general, he was partial to the idea of a burn, and he liked the way the burns influenced play at St. Andrews and Turnberry, but the idea of a burn on this hole caught him off guard.  Jim had sprung a surprise, a tactic he often used in his work with Tom.  When he wanted to make a strong suggestion, Jim would sometimes go ahead and rough in a feature so that Tom could actually see it, an approach that was more dramatic than simply describing what he had in mind.
In this case, Jim hadn't gone to the trouble and expense of digging a big ditch just to make a suggestion.  That ditch had been cut to accommodate the main stem of the drainage pipe that would run through the course.   When he laid eyes on it, Jim couldn't stop imagining it as a burn.
"I think it would be bold," Jim said.  "And we want bold.  Macdonald took chances.  That's one of the great things about National – it's full of surprises.  And this would be a surprise.  A golfer comes off the green at 16 and walks through the saddle, and BAM!  What does he see?  A burn.  It's something he's not expecting."
For the next half hour, the group mulled over the burn and milled about, looking at potential tee sites and landing areas, trying to gauge what effect the burn would have on the playing of the the 17th hole and on the overall experience of the golf course.  Some were intrigued, some bemused, some turned off.    Mike didn't seem smitten, but he said diplomatically that he'd wait to hear what Tom had to say.
Then he and his buddies hustled off to get in a wet round of golf before dark.
That night, at a long table in the rear of the Gallery, the main restaurant in the Lodge at Bandon Dunes Resort, Mike hosted a dinner for the design team of Old Macdonald, and all the main players were present:  Jim, the members of the advisory panel, and Tom, who'd arrived on schedule and spent the afternoon at Old Mac, getting briefed on the walk-around he'd missed, and taking a hard look at the burn.
Before the first course was served, Mike rose to make a toast.  He was dressed casually in shirt and sweater, but he sounded dead serious when he lifted his glass.  As he saluted the talents and contributions of the course designers, there was a sense of we're-in-this-together, an attitude of damn-the-torpedoes-full-speed-ahead.  "To the success of Old Macdonald," he said in his ringing baritone.
Then Jim got to his feet.  He began his remarks by thanking Mike for the opportunity to work on such a great project.  He paused as he shifted gears, moving into more philosophical territory.  "A golf hole is a complex, beautiful thing.  Once you start to build it, it becomes a living thing, not just a pile of dirt to push around.  It starts to evolve, and as you get to know it, as you watch it take shape, you have to listen to what it's trying to say.  Sometimes the best ideas come from paying attention to what a hole seems to want.  Sometimes a hole starts to give you clues and makes you think about it in new ways. . . "
Tom interrupted him. "Are you still talking about No. 17 and the burn?"
"Yes, I am," Jim said, and he turned to Mike, pressing his hands together in a prayerful, imploring gesture.  "I'm ready to get down on my knees and beg for that burn."
"You're that passionate about it?" Mike asked, smiling at Jim's melodramatic plea.
"I am," said Jim.
In a clear, firm voice, Tom said, "I thought we settled it this afternoon."
Jim laughed nervously, skipping a beat before answering  "I guess it's settled.  You said you'd fire me if I built it."
Tom said flatly,  "It doesn't work."
Changing tactics, Jim tried to offer a practical rationale for the burn.  "We already have the ditch and it's not that wide.  The fairway is huge and the burn would only be about 8 percent of the area — 8 percent.  That's not much. The other 92 percent would be grass."
Brad Klein chimed in.  "That's a specious argument.  The 8 percent would be all that a golfer on the tee could see."
Jim still wasn't ready to back away.  "A burn wouldn't be just a hazard.  It would be aesthetically pleasing – we could make it look great.  It would be something that would make that hole completely memorable, and it would be a surprise."
Brad shook his head.  "It would just look odd.  There's nothing on the course that foreshadows it.  There's no water anywhere, no hint that there's a burn out there, and that it's going to be the major feature on one of the finishing holes.  There's a difference between surprise and stupidity."
That remark carried a sting, but it drew laughter, even from Jim.   Brad, an editor of Golf Week and prolific writer, was the member of the advisory panel who could be counted on to deliver the acid comment.  Jim took his seat, but the discussion banged on.  It wasn't exactly music to Mike's ears, but it was evidence of healthy conflict.   There were sharp opinions pro and con, and the discussion didn't end until Tom agreed to sleep on a final decision about the burn.