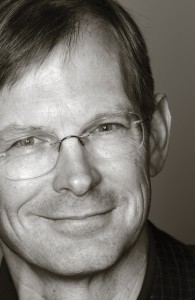 Based in Rockwood, Ontario, Tim O'Connor offers a Canadian perspective, but that doesn't mean he's always going to be nice and try to get along with everyone. Of course, he loves hockey too, so he does have a fiesty side.
Tim is also a married father of two teenaged boys. To keep up with them, he's runs and works out, plays hockey and golf (fortunately, one of his lads is a golf nut), learns as much as he can about psychology, and does what he calls his "men's work." A former music critic with The Canadian Press, Tim listens to everything from Miles Davis to Sonic Youth to Merle Haggard. He survived an interview with Lou Reed.
Tim has written three golf books, including The Feeling of Greatness: The Moe Norman Story published in 1995; The Ladies' 1924-1999: A History of the Ladies' Golf Club of Toronto published in 1999; and Devil's Pulpit: The First Decade published in 2001. He edited The Final Missing Piece of Ben Hogan's Secret Puzzle released in 2007. 
He has been published in Golf Digest, GOLF, Golf World, LINKS, Golfweek, pgatour.com, USGA Golf Journal, SCOREGolf, Golf Canada and Ontario Golf magazine. He was golf columnist for Canada's national daily The Financial Post for six years.
O'Connor was named International Network of Golf Reporter of the Year three straight years (1994-95-96). He twice won first place in the writing contest of the Golf Course Superintendents Association of America (1990 and 1993).
 Tim provides professional communications to the golf industry through O'Connor Golf Communications based in Guelph, Ontario. Canada's most experienced public relations consultant focused on golf, Tim has worked since 1998 with some of the most respected companies in Canada, including Nike Golf Canada, ClubLink Corporation, the Canadian PGA, Core Golf Academy and Thomas McBroom Associates, as well as in the United States, including Myrtle Beach Golf Holiday and The Putting Arc, Inc.. His communications website is www.oconnorgolf.ca.