It sounds like the set-up for a golf joke: Favorite golf courses are like old love interests. Given the turmoil in the golf industry in the last few years, though, the status of many once-thriving layouts is as fraught as looking up a girlfriend from, say, 20 years ago. You're curious, but almost afraid to ask.
Luckily, there are examples like Waubeeka Golf Links, in Williamstown, Massachusetts. As a member in the late 1980s and early 1990s, I loved the devotion of the everyman club roster (it's semi-private, meaning also open to outside play). I loved the course, too, but the welcome affordability seemed perennially paired with maintenance issues.
Long story short, a recent visit after a long hiatus found Waubeeka better than ever, though still familiar. Purchased in 2007 by Jim Goff, an investment banker with an extensive family history in Williamstown (he now resides in Colorado), management seems determined to enhance Waubeeka's community-asset appeal.
Overall course conditioning is much improved under the oversight of superintendent Greg Tudor. Instead of the jury-rigged driving range of yore, a first-rate practice facility — with a mountain backdrop adding idyllic perspective, as well as chipping and putting greens – occupies what was formerly the 10th hole.
Redesigned and renovated holes — a collaborative effort headed up by Mark Mungeam, principal at Mungeam Cornish Golf Design, based in Uxbridge, Massachusetts — make sense, particularly in relieving congestion where the older routing created "intersections" between greens and tees.
Additional bunkering has added intrigue to holes like the 8th, a par 5 that's still reachable in two, but not so easily accessible; and the 13th, a short par 4 with a straight-uphill approach, now guarded by a 10-foot-deep front bunker and a slickly re-contoured green.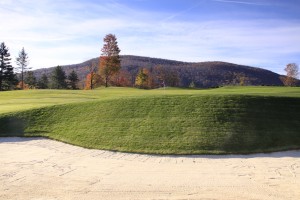 Like the gaping bunker on 13, the all-new 10th hole incorporates a couple of features reminiscent of the golden age of golf architecture, specifically Seth Raynor and the Yale University course where Goff competed as a collegian. Rather than the facile par 4 it used to be, the 10th is now an uphill par 3 playing as long as 230 yards. Deep bunkers collar the raised putting surface except for a narrow run-up alley on the right side of the green, which is further complicated by a spine running from back to front.
Future installments of the refurbishment promise similar refinements, while the star attraction remains the rolling topography and the setting: the New England of central casting. At 6,368 yards, par 71, slope 128 from the back tees – and with greens that roll as well as any in the area, including its justly esteemed cross-town neighbor, Taconic Golf Club – Waubeeka still packs plenty of punch.
Charm, too. In fact, I'd ordinarily avoid a phrase as hackneyed as "a course you'd be happy to play all the time." It's OK in this case, however, because I've tried it.
#         #         #