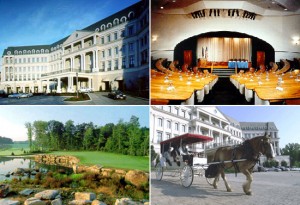 The contemplation of parallel universes is usually best left to cosmologists, but a similar phenomenon exists in resorts, a point driven home by a recent visit to Nemacolin Woodlands Resort and Spa.  Situated in rural Farmington, Pennsylvania, about 75 miles southeast of Pittsburgh and just above the West Virginia border, it is indeed a universe unto itself, with a critical mass to confer iconic status as the area's single most recognizable enterprise.
More important to all us non-cosmologists, though, Nemacolin and its cousins around the country have great golf.   And more important to non-golfers, resorts like Nemacolin – "destination" properties, in trade jargon, since they provide everything guests could want – offer boundless recreational possibilities.
Pinehurst, with its eight tracks, might lead the way among multi-course golf resorts, but Nemacolin's  golf package is intriguing for different reasons.  For the "resort" golfer – code for less accomplished, higher handicap, less frequent player – there is The Links.  At 6,643 yards, par 70 from the back tees, it is an enjoyable test, plenty challenging at slope 131.  Designed by Willard Rockwell, a pivotal figure in the development of the property, it opened in 1987.
Descriptives typically attached to The Links, which is open to the public and offers memberships for locals, are "fun," "scenic," "playable."  It is also customarily in lush condition, winding its way through the forests and streams of the Laurel Highlands.  Thus, while ample challenge itself, The Links is also the preferred method of easing your way into the Mystic Rock golf experience.
Constructed over a three-year timetable, Mystic Rock opened in 1995, during Pete Dye's sadist-to-our-masochist phase.  Site of the 84 Lumber Classic for the past four years, it is a par 72, 7,511 yards from the back tees, with a whopping course rating of 78.3 and a slope of 151.  Naturally the course can be made somewhat more manageable by playing from a shorter set of tees, but that will not eliminate confrontations with other standard Dye design elements:  sprawling waste bunkers, giant boulders, pot bunkers, gaping water hazards, stone walls.
In the likely event that Mystic Rock forces you to acknowledge your game's inadequacies, they can be addressed at the David Leadbetter Golf Academy, the only branch located in the northeast.  Alternatively, you may elect to try to get your head together at Fallingbrook, Nemacolin's miniature golf course, opened in 1992.  It even "listens to the land," incorporating indigenous-looking waterfalls and rock formations in the design.
Growing concern
Indeed, Nemacolin's incrementally expanding golf facilities form a microcosm of the resort's history generally, which is distinct from other grand resorts.  The area, colloquially known as Westylvania, long served as second-home territory for wealthy families, mostly from Pittsburgh.  Nemacolin Woodlands is the name first affixed to the private game reserve and hunting lodge established by Willard F. Rockwell, a Pittsburgh industrialist and, later, designer of The Links.  Nemacolin was a Delaware Indian trailblazer who served General George Washington, among others.
The property's modern history begins several incarnations hence, with the 1987 purchase at auction by Joseph A. Hardy III, the founder of 84 Lumber Company.  Determined to create a world-class resort, the process began with expansion of the Tudor-inspired lodge, a 68-room annex, new lobbies and executive conference center.  The program was both dynamic and prescient:  Two of its first components, a golf academy and a spa, may be standard today but were innovative in 1987.
Accommodations continued to multiply with the Townhouses on the Links.  The next surge, in 1992, included the opening of two new restaurants, the Caddy Shack and the Tavern, which showcases four vintage billiards tables, circa 1880.  The Equestrian Center has indoor and outdoor arenas, each with its own sound system, polo grounds, and bleacher seating.  There are also fly-fishing and off-road driving schools.
Mystic Mountain, a downhill ski area, debuted in 1995, as did the Activities Center and the resort's popular "Kidz Night Out" program.  It gives parents a break in the childcare routine, though many are known to stick around for the video and board games, arts and crafts, sports-related clinics, and golf simulator, not to mention the 1950s ice cream parlor.  Located just above the center is Heritage Court, Nemacolin's 55,000-square-foot shopping arcade.
A new dimension to the place was inaugurated on Memorial Day 1997, with the opening of Chateau LaFayette, a "French renaissance-style" structure modeled on grand European hotels.  Besides 125 luxury guest rooms and suites, it has a Tea Room, Cigar Bar, and Lautrec, the resort's upscale French restaurant.   Nemacolin's other signature touches include a $45 million art collection that is rotated regularly and the Commonwealth of Pennsylvania's largest wine cellar.
Self-sufficient though it may be, Nemacolin nonetheless embraces its community heritage, especially architecturally.  Frank Lloyd Wright was commissioned by the Kauffmann family to design nearby Fallingwater, now arguably Wright's best-known residential project.  The resort offers Rolls Royce-chauffeured excursions to it and a couple other examples of the master's work in the area.  Falling Rock, Nemacolin's luxury hotel and clubhouse, is designed expressly to employ Wright's design vocabulary.
# # #