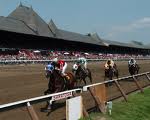 From the two-kinds-of-people-in-this-world file: For some, the guiding principle of summer recreation is contact with other people, often a particular stratum of the populace. Martha's Vineyard, the Hamptons, Bar Harbor — almost invariably, fellow contrarians and I prefer these places during the off-season, or at least off-peak.
An exception is Saratoga Springs, a half-hour drive north of Albany, New York. It's a summer institution that seems comfortable with its peculiar combination of tradition, style, and commercialism. It exudes the relaxed demeanor of an avowed summer resort town melded with the status-consciousness of a mostly affluent clientele, in an architectural environment that seems frozen in time, but seems to do so unselfconsciously.
And while that means no shortage of pricey renovated turn-of-the-century lodging options, like the Georgian-inspired Gideon Putnam Hotel, www.gideonputnam.com, there are plenty of affordable alternatives. The same is true of dining choices, of which there are many upscale, even elegant, restaurants; but we like Hattie's, a casual, nominally Cajun place that dates to 1938 and is known for the fried chicken, some unusual beers, and a lively crowd. www.hattiesrestaurant.com/)
The main attraction during summer, of course, is the thoroughbred racing season at ancient Saratoga Race Course, which usually begins in late July and runs through Labor Day – is a throwback to more genteel times, beginning with the free admission. The signature event is the Travers Stakes, late in August, which was first run in 1864, but there's top-drawer racing talent throughout the meeting,  www.nyra.com/Saratoga,
The racetrack does for horseracing what Wrigley Field does for baseball. Intimate in scale, with jockeys and patrons sometimes bantering in the paddock area, it also has period design details like outdoor ceiling fans.
The social scene revolves around the track, but there are plenty of other attractions. In fact, horseracing developed a following in the area only after it had already become a favorite get-away for the wealthy, partly due to the putatively therapeutic powers of its springs, which once numbered some 150.  A classic example is still to be found at the Roosevelt Baths and Spa, located in the state park. The Saratoga Springs Visitor Center also has information for self-guided mineral-waters tasting tours, www.saratogaspringsvisitorcenter.com.
It's a golf-rich area, too, but two choices that come to mind for variety and contrast are Saratoga National Golf Club and Saratoga Spa State Park Golf Course.
The latter is a 7,149-yard, par 72 layout that is wide enough to be playable, flat enough for a great walk, and, like its cousins in the state park system, blessedly affordable. Its back nine was designed in 1962 by William Mitchell, something of a cult figure in the area but little-known outside it, www.nysparks.state.ny.us/golf.
Saratoga National is a worthy progenitor of the "country club for a day" golf experience, thus a hefty daily fee, though with consistently great service. Opened in 2001 and designed by Roger Rulewich, longtime principal designer for Robert Trent Jones, it is an example of some distinctly modern aspects of golf course architecture. These include a sprawling, 450-acre site on a former horse farm; six different tee locations and corresponding yardages ranging from 4,913 to 7,237 yards, par 72; numerous forced carries; 24 bridges; 50 bunkers; stone walls; an island green; and a 35,000-square-foot clubhouse, www.golfsaratoga.com.
And if the Saratoga crowds get to you, don't forget there's plenty of space at six-million-acre Adirondack Park, the largest publicly protected place in the contiguous United States. It's in easy striking distance to the north.
# # #