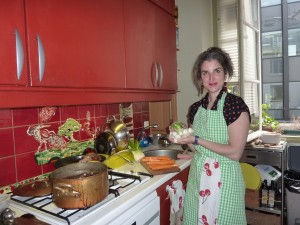 If the idea of sitting down to lunch with seven strangers in the Paris home of a Belgian-born, Ottawa-raised visual artist and gourmet cook appeals, meet Miss Lunch.
Her five-course creations are served up with three different wines and lively conversation in her funky loft near the Bastille. Miss Lunch cooks in a tiny galley space behind a curtain while a friend plays waiter.
Her summer menu includes: prosecco, fig and almond dumplings, pressed intelligence (brains), pollack with a salad of radishes and scallions, rabbit and veal sausage with charcutière sauce, red berry surprise, coffee or tea and mignardise of the moment. All this for €60.