In Mexico's first resort town you can swing day and night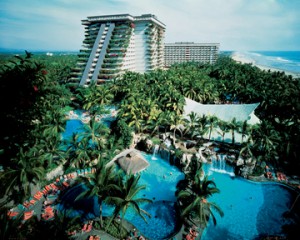 Looking to score some golfers' gold amigos? I think you'll find the Acapulco Princess to be just your cup of tequila.
My secret oasis is about 20 minutes from downtown Acapulco in the posh Diamante area where Fairmont Hotels operate two sister resorts, the Acapulco Princess and the Pierre Marques and its own championship golf course scenically tucked between the soaring Sierra Madre Mountains and the roaring Pacific Ocean.
Built in 1958 as the private retreat of multi-billionaire, J. Paul Getty, the Pierre Marques has the feel of a swanky secluded country club. Guest rooms are set amidst tropical gardens and three swimming pools with splendid views of Revolcadero Beach, the longest and least populated in Acapulco.
If life gets a bit too quiet here, take the shuttle over to the big-sister Princess, built like a modern Mayan temple of concrete and marble. Amidst the vast grounds you'll discover spectacular swimming pools with waterfalls and swim-up bars, numerous themed restaurants, smart boutiques and exotic gardens—home to sleepy flamingoes and strutting peacocks.
At both properties you won't find a more genial staff anywhere—from the singing maid who leaves hibiscus blossoms on your pillow to the waiters who positively beam while they refill your coffee cup for the fourth time to the marshals on the golf courses who'll help you fish for your lost ball.
If your game needs a tune-up, enroll in the Ochoa Golf Academy. Mexico's top golfer, Lorena Ochoa, has established her flagship teaching academy at the resort  and it's a state-of-the-art practice and learning centre.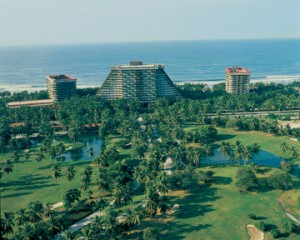 Golf Director, Ernesto Perez Acosta, describes the Princess course, surrounded by a stone and wrought iron wall covered in bougainvillea, with narrow fairways and water hazards on 12 holes, as "sneaky tough." Included in Golf Digest's Top 25 Golf Resorts, the signature hole is the 18th, a dog-leg par four around a large lake, 
leaving a second shot to the green that appears suspended in space over the unique pyramid structure of the hotel.  Recent improvements to the course included regrassing all greens and tees with Seashore Paspalum.
Most Mexican and Caribbean golf vacations require rising at the crack of dawn to avoid the stifling afternoon heat. Thankfully, in Acapulco the coolest time to play is early afternoon when the courses benefit from refreshing Pacific breezes—perfect for nighthawks who like to party late and sleep in. The climate from November to January is ideal; the rainy season is over and the fairways are verdant
When it comes to après golf and nightlife, Acapulco reigns supreme. Discos such Enigma and Baby'O rock from midnight 'til dawn. Should you feel the need for some pampering the next day, the Acapulco Princess's Willow Stream Spa is just what the doctor ordered. The Golf Performance Massage stretches the key muscles we use during a round. It's not a bad remedy for a late night of gyrating on the dance floor either.
Tourism in Acapulco began at the north end of the Bay in the 1940s when celebrities such as John Wayne and Johnny (Tarzan) Weissmuller hung out at La Cabaña on Caleta Beach. This rustic open-air restaurant is another idyllic spot to laze away an afternoon. Jesus, my favourite ever-smiling waiter, serves a mean margarita in a goblet the size of a goldfish bowl. Sit under an umbrella, dig your toes into the sugary sand and marvel at the constant parade of beach vendors selling everything from juicy mangos that have been squirted with fresh lime juice and dipped in chili powder to string hammocks to neck massages from Oaxaca, a wiry ancient Indian lady with fingers of steel.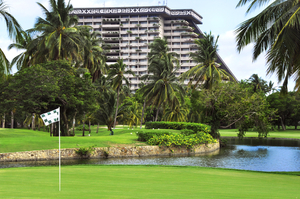 After another Margarita or two and a platter of grilled garlic shrimp, it's time to head over to La Quebrada, also in the old part of town, where cliff divers have been performing since the 1930s. There are several shows per day but I suggest going at 10:30 when the torch-bearing daredevils leap from a rugged cliff 35 metres high and disappear into the dark narrow and shallow chasm below. It's truly a remarkable feat; one that makes golf seem like such an easy game.