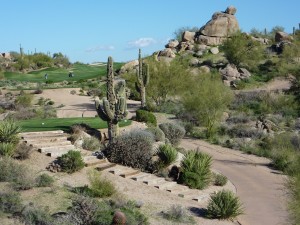 Play the Finest Desert Courses with a Clear, Green Conscience
Scottsdale is located in the heart of one of the most fragile natural environments in the world, the Sonoran Desert. Yet it also enjoys an international reputation as one of the world's top golf destinations. One might be tempted to jump to the conclusion that those courses are a waste of precious water. Not so. In total, Arizona's 338 golf courses account for just 4.2 percent of the state's water consumption. Plus, several of Scottsdale's courses are certified by the Audubon Cooperative Sanctuary Program, an international association that advocates the preservation of the natural environment and the heritage of the game. To achieve certification, courses must comply with strict standards for the maintenance of water quality, the conservation of natural resources and the protection of wildlife habitats.
It's true that the early desert golf courses in Arizona were studies in contrast, pitting the arid landscape against a lush green oasis complete with waterfalls, lakes and transplanted palm trees. Instead of harmonizing with nature, designers tried to eradicate it. But you'll be happy to know that the newer courses display a more enlightened environmental approach. Fifteen-time PGA tour winner, Tom Weiskopf, who has left his imprint on many of Scottsdale's finest tracts remarks, "Desert golf courses are different. The golfer has to bear with the fact that we respect our water resources out here. By law, we can only irrigate 90 acres of turf; consequently, most of the new courses are target-oriented. On the plus side, this makes for a unique, dramatic look, with striking contrasts of green against the rugged desert backdrop."
The Four Seasons has an exclusive arrangement with nearby Troon North's two championship courses, the Monument and the Pinnacle, that gives guests preferred tee times and free shuttle service . Golf Magazine calls Troon North "the crown jewel of desert design, a 36-hole complex by which all other such facilities are judged." I can't argue.
Designer Tom Weiskopf completed a total renovation of the two courses in 2007. Both are consistently rated in Arizona's top five.
Stunning vistas of Pinnacle Rock, arroyos, horned lizards and other critters will spice up your round on both tracts. The number three signature hole is called Monument after the immense bolder dominating the fairway. My favourite is the Lone Mountain par-three 16th. that plays from elevated tees from which you must fly your Titleist over first a canyon and then a couple of efficient bunkers before hitting the green. The Pinnacle features more of a links-style design and tougher bunkers but the same riveting "only-in-Scottsdale" scenery.
If your better half protests about the amount of time you spend on the fairways, consider the Monument Express. Every day starting at 3:30 p.m. adults pay just $20 and kids (under 15 playing with an adult) play free on a specially created nine-hole executive course measuring 1500 yards in length. Each junior also receives a complimentary set of Callaway rental clubs to use during his/her round. It's Troon's way of making the game more accessible to families.
You might spot Phil Mickelson striking a few balls at Grayhawk Golf Club , a favorite of the 2010 Masters champ for whom the club's grillroom is named. After your warm-up on the practice range where they pipe in rock music, choose between the Talon or Raptor courses. Talon's par-three eleventh starts with a walk over a rope bridge to the back tees, then calls for a carry over a canyon.
Stretching 7,135 yards from the back tees, Raptor offers players panoramic views of the rugged McDowell Mountains as it surrounds them with towering saguaros, palo verde, ironwood and mesquite trees that were preserved when creating the course. Designer Tom Fazio utilized water sparingly, but where it does come into play, he created intriguing hazards that add drama as well as aesthetic value.
Tucked seamlessly into the wilds of the Fort McDowell Yavapai Nation, We-Ko-Pa Golf Club offers a desert golf experience like no other. Golfers are completely immersed in the Sonoran Desert with no dwellings, roads or even out-of-bounds markers to distract them from the panoramic surroundings.
Sports Illustrated named architect Scott Miller's Cholla Course among the "Top 10 New Golf Courses in the World" when it opened at We-Ko-Pa in 2001. In 2006, the Saguaro Course was named one of Golf Digest's "Best New Public Courses." What I love about Saguaro is that is was built for walking with greens close to tees. On most U.S. golf courses, taking a cart is mandatory, but the Coore/Crenshaw design team believes in bringing the game back to its roots. They also advise that the boney ground and natural slopes may add an element of  "sting" to the course as your ball bounces and rolls along the native terrain.
Among its many attributes, the Fairmont Scottsdale Princess resort is located beside the famous TPC Stadium Course, home to the Phoenix Open, also known as the "Greatest Show on Grass."Fairmont's Golf Concierges will book your tee times, organize lessons at the ESPN Golf School (located at the TPC Stadium Course) and provide detailed maps and driving times to all the local links or coordinate transportation. "All you have to do is show up and hit it straight," quips concierge, Jan Braband.
Fairmont Hotels & Resorts worldwide have been pioneers in their commitment to being "green." The Stadium Course was one the first in Arizona to receive certification by the Audubon Cooperative Sanctuary Program for its commitment to a natural environment and wildlife preservation. You might spot roadrunners, coyotes, rabbits, hawks, herons and even a few rattlesnakes on this impeccably maintained links-style course designed by Tom Weiskopf and Jay Morrish.  Nestled in the Sonoran desert against the scenic backdrop of the McDowell Mountains, the Stadium with its cacti gardens, undulating knolls is a visual treat.
Another "green" star goes to the Sanctuary Golf Course at West World, another of the few where you can choose to ride or walk. It's also is the first golf course in Arizona and the 17th in the world to attain the coveted Audubon Signature Status. (www.sanctuarygolf.com).
Architect Randy Heckenkemper designed an eco-sensitive 6,624-yard course that takes advantage of the natural topography and vegetation. No native plants were destroyed during construction and no boulders were removed. On-site re-charge wells re-purify runoff water and return it to the ground, thus replenishing the area's natural water source.
So pack your clubs and a clean green conscience and head to Arizona's Valley of the Sun for some of the world's more spectacular desert golf.