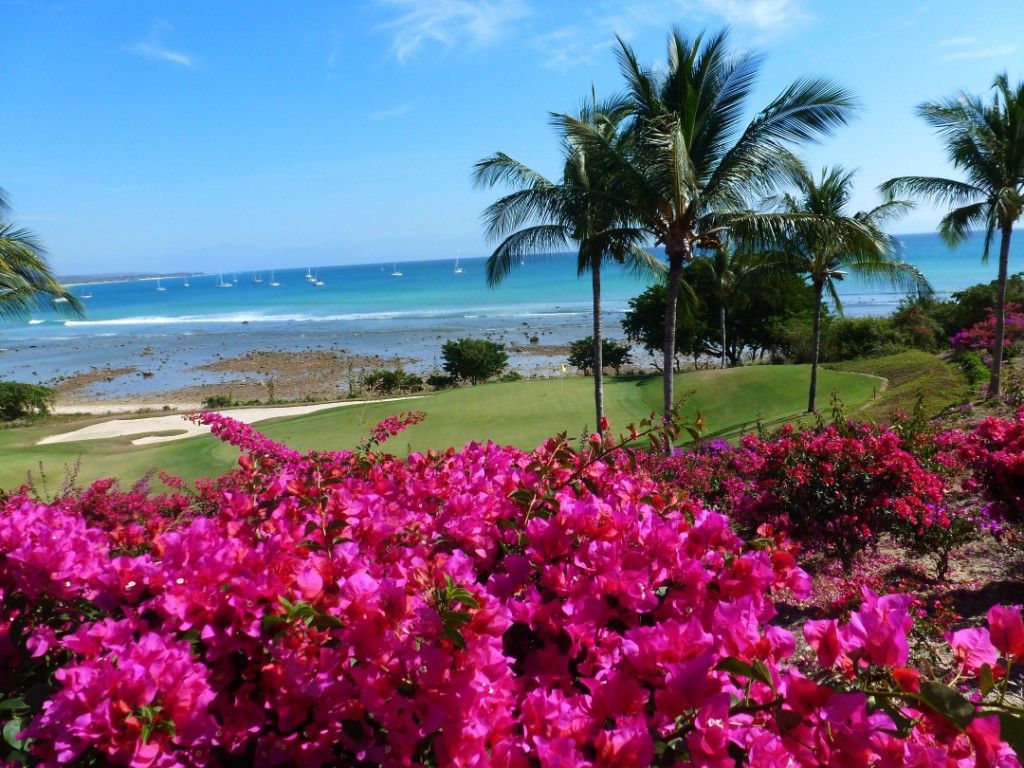 Guaranteed sunshine, lush green mountains, a turquoise sea and enough margaritas to stave off scurvy are a few of the reasons why I've made the Bay of Banderas my home-away-from-winter for almost ten years. But I am also a self-confessed golf addict and the Riviera Nayarit is arguably one of Mexico's top golf destinations.
Punta Mita
The Punta Mita resort (about 40-minute drive north of Puerto Vallarta Airport) boasts two Jack Nicklaus Signature courses. In June 2008, Pacifico was named the number one golf course in the world by the readers of Condé Nast Traveler. Pacifico boasts19 fairways and the world's only natural island green. To play this signature Tail of the Whale third hole you must carry your drive about 180 yards across the Pacific Ocean. In low tide, if you haven't made an offering to Neptune, walk over a rocky ocean-floor pathway to putt. Less adventuresome swingers can opt to play the alternate landlocked 3A. The Jack Nicklaus Signature design takes full advantage of vistas of the surrounding Sierra Madre Mountains, white coral sand beaches and a tropical landscape of palms and bougainvillea.
Jack's new Bahia Course may be less dramatic but the severely contoured greens will challenge your putting acumen. The grand finale fairways 17 and 18 take golfers within steps of Punta Mita's famed El Faro surfing beach.
These tracts are in such impeccable condition, you'd swear they trim the fairways with manicure scissors and sift the sand. And just when you're feeling a bit parched, the waiter at the halfway house greets you with complimentary iced towels and mango/banana smoothies. If only they could help me to hit that island green.
Note: The private Punta Mita Golf Club is open only to Punta Mita property owners and their guests, and guests of Four Seasons and St. Regis Resorts.
Gourmet Golf
The upcoming Punta Mita Gourmet & Golf Classic (April 3 to 6/2014) promises to be a delicious orgy of gourmet golf on both of Punta Mita's courses with "putt stops" on various holes to sample food and drink. Before and after the rounds, guests will indulge in dinners, beach bashes, wine and tequila tastings prepared by celebrity chefs, sommeliers and tequileros from around the world.
This year's special guest is Lorena Ochoa, who was the number one female golfer on the globe a few years back. Proceeds from the event will go to her charity, the Lorena Ochoa Foundation. If this sounds like your clients' "cup of tee and tequila," check out details on the website:
If it's too late to book  for this April, put in on the calendar for next year.
Las Huertas
This is my newest golf discovery in Riviera Nayarit. I was told that the owner is an avid golfer who used to play frequently at Punta Mita. When they decided that the two courses there would be available only to resort guests, Senior Hardesty decided to build his own course in San Francisco (nicknamed San Pancho). He called it Los Huertas (means orchard) as the fruity fairways incorporate mangos, grapefruits, cashew nut, cinnamon, tamarindo, black pepper and guanabana trees.
Las Huertas Golf Course is a nine-hole, par-32 track measuring 3,958 yards from the tips. There are only nine holes but sometimes that's all you want, or you can play the course twice. This is no "cow pasture." Fairways are nicely maintained, golf carts are state-of-the-art and there's a lovely patio restaurant with view of the Pacific while you sip your cerveza. Nine holes cost less than $40; 18 holes cost less than $60. Carts and clubs are available for rent in case you decide on a spur-of-the-moment round.
Litibu
There's been a shark siting on the Riviera Nayarit, between Sayulita and Punta Mita. Litibu, the newest of the Mexican government's Fonatur projects (the first was Cancun), means "song of the birds" in the language of the local Huichol Indians. With luck you'll be able to chirp about a few birdies on this spectacularly challenging tract that meanders over jungle, mountain and oceanside fairways.
From the tips, Greg Norman's design measures 7,022 yards. Number one is a narrow palm-lined par-four to a green protected by water—an indication that Norman's challenge will be no walk in the park. You can to let it rip on the uphill second par-five. At the number three green, golfers are treated to the roar of waves and beach below.
Norman's par-threes at Litibu are outstanding. Surf's up on the fourth, a downhill poke to a postage stamp green with a gorgeous view of the point at the end of the Bay of Banderas called Punta Mita. Another memorable par-three is the eighth where you must plop your ball on an almost-island green.
On the back nine Norman takes you on merry romp toward the undulating foothills of the Sierra Madre Mountains. Sixteen and seventeen are uphill battles fraught with plenty of bunkers. The stunning grand finale, number 18, brings you to an elevated green with views of the Pacific frothing below.
El Tigre
Further south, in Nuevo Vallarta, try to tame El Tigre. No, it's not named after Tiger Woods, but for the larger than life rescued Bengal tigers that live in cages on the 17th. You might also spot a cub tethered to a bougainvillea bush near the driving range. Between Robert von Hagge's brutal bunkering, gorgeous sculpted fairways, and island green and wild cats, El Tigre is the kind of course you'd want to play again and again.
Los Flamingos
Located at the south end of Bucerias, this is the best bargain in the area. Designed by Percy Clifford, Flamingos' unique fairways have a bit of everything—from plenty of forced carries and elevation changes to resident crocodiles. Players can save on greens fees by purchasing a discount package of five or more rounds. Golf cart, use of the driving range and bottled water are included in your green fee. The club also provides free afternoon shuttles back to your hotel most days. If decide to play here often, Flamingos offers free club storage and a local ATM bus will let you off right in front so you save on taxis.